A Contemporary White Spring Garden
---
Key words to describe the contemporary garden are 'simplicity' and 'balance'. And no color is more compatible with these concepts than white, the symbol of purity.
Endless bands of white daffodils, a field of white tulips, or a lawn sprinkled throughout with white crocuses – all are useful elements of the contemporary, crisply designed garden.
Concerning daffodils, 'Ice Wings' or 'Thalia' with their gracefully nodding, pure white flowers would be perfect choices for a delightful immaculate sight in the garden!
On the tulip side, why don't you try the classy and elegant Tulip 'Purissima', the impressive 'Maureen', the highly romantic 'Mount Tacoma', the tall 'White Triumphator' with its long-lasting and exceptionally large, pure white reflexed petals or 'Swan Wings' with its fringed petals resembling the immaculate feathers of a swan? Most of them have been rewarded with prestigious awards and are among the gardeners' favorites! Since they enjoy different blooming periods, mixing them would enable you to extend the white coloring of your garden.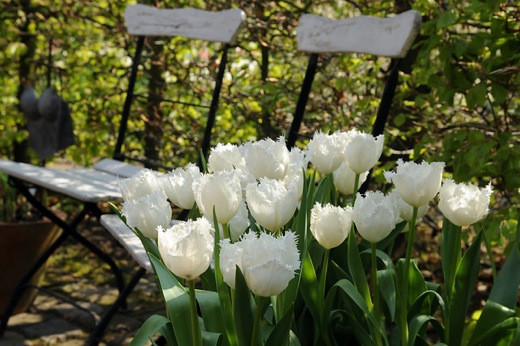 | | |
| --- | --- |
| | Anemone blanda, Muscari botryoides |
Flower containers and pots filled with white hyacinths and white grape hyacinths are also perfect for the minimalistic garden.
| | |
| --- | --- |
| Hyacinth 'Carnegie', Muscari botryoides 'Album' | |
And then, there are the more exceptional bulbous plants that deserve a place in the contemporary garden owing to their neutral or conspicuous appearance. Among them is Allium 'Nigrum', which, despite its name, is a white flowering onion, featuring creamy-white flat clusters of starry silvery florets. This is a great naturalizer that will come back year after year. Allium 'Mount Everest' is a tall, splendid beauty - a real eye-catcher for a spot with full sun.
While every effort has been made to describe these plants accurately, please keep in mind that height, bloom time, and color may differ in various climates. The description of these plants has been written based on numerous outside resources.