Lavender in the Garden
Lavender Hedges, Lavender in Borders, Lavender types, Growing Lavender
---
Beloved favorites of Mediterranean-style gardens, Lavenders are gifted perennials that are full of talents including being delightfully scented. They blossom over a long flowering season, provide attractive evergreen foliage, and can be used in a myriad of ways, such as edging, hedging, as accent plants, and in containers. Additionally, they are well-known and used for culinary or medicinal purposes.
Plant swathes of Lavender to create curb appeal. There is nothing as spectacular and enjoyable as the intoxicating fragrance of rows of Lavender swaying gracefully their colorful flower spikes in the summer breeze. Planted along a path or driveway, they will greet all passersby with their glorious curves and heavenly fragrance and will surely yield dozens of sweet-scented bouquets!
For tall hedges, you could select 'Royal Purple' (Lavandula angustifolia) with its profusion of vibrant lilac flowers, elegantly long-stemmed, or the strongly fragrant 'Grosso' (Lavandula x intermedia) which produces exceptionally large and rich, deep violet flower spikes from early to late summer and tends to re-bloom in the fall.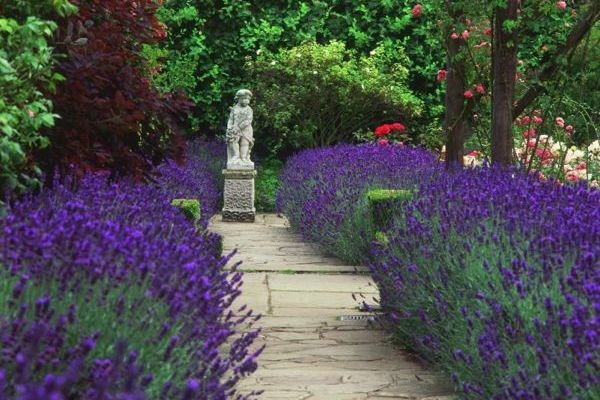 Lavender 'Hidcote - Rose Garden at Polesden Lacey (www.nationaltrust.org.uk) ©National Trust Images/Nick Meers
For low hedges, try the extremely fragrant 'Munstead' (Lavandula angustifolia) which remains attractive throughout the year, or the world-acclaimed 'Hidcote' (Lavandula angustifolia), which is prized for its long-lasting and delightful scent as well as the fashion in which its dark purple flowers contrast with its blue-green evergreen foliage.
To learn more about creating Lavender hedges, review this Lavender Hedge Guide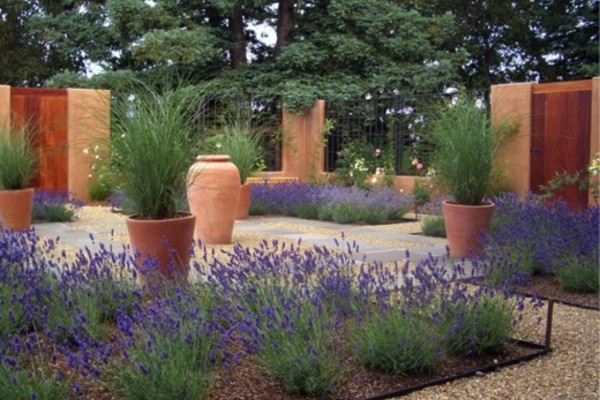 A Provencal courtyard - Suzman Design Associates
Combine various shades of lavender – rich purples, deep blues, light pinks, or snow-white. Mass them along a path or surround a seating area to create a perfumed retreat.
Plants, like people, are searching for companions that will bring out their best qualities and share their space with a serene balance. One of the most venerable shrub companions for Lavenders is roses. Paired together, their exquisite flowers create glorious borders for weeks of color and scent. Lavender helps also discourage naturally the pests (aphids) attracted by roses without having recourse to chemicals. Finally, a low-growing Lavender will act as a decorative ground cover for leggy roses.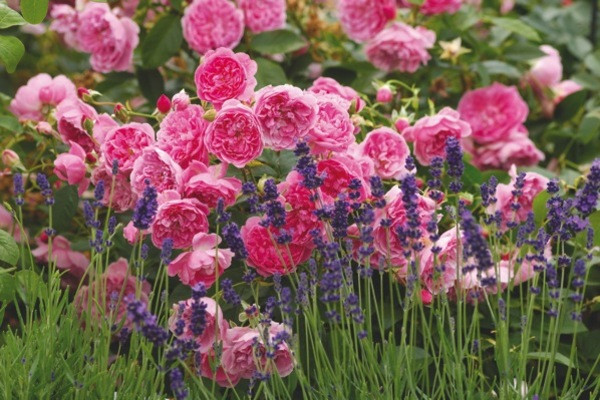 Rose 'Harlow Carr' & Lavandula angustifolia 'Hidcote'
Drought-tolerant, Lavenders have fairly limited needs: they need a site with good drainage and an open sunny situation (at least 6 hours of sunshine per day). Mix them with other sun-loving perennials requiring well-drained soils and create stunning combinations. Some great Lavender companion plants are Yarrow (Achillea millefolium), Wormwood (Artemisia), or Lamb's Ear (Stachys byzantina) with their lovely silver foliage,
Purple Coneflower (Echinacea purpurea) with their brightly colored daisylike flowers, the eye-catching Red Hot Poker (Kniphofia) or Black-Eyed Susan (Rudbeckia hirta), Cotton Lavender (Santolina chamaecyparissus) or Fake Sunflower (Heliopsis helianthoides).
| | | |
| --- | --- | --- |
| Lavender & Santolina | Lavender & Red Hot Pokers | Lavender & False Sunflowers |
English Lavenders (Lavandula angustifolia) and Lavandin (Lavandula x intermedia) are great in rock gardens where their blossoms and foliage color contrast superbly with trailing or creeping perennials such as Snow in Summer (Cerastium tomentosum), Thymes (Thymus) or Creeping Baby Breath (Gypsophila repens). Dwarf Lavender plants are particularly suited to rock gardens. Try the white cultivar 'Nana Alba' (Lavandula angustifolia) which is quite compact and very floriferous, 'Thumbelina Leigh' (Lavandula angustifolia) with its two-tone rich violet flowers or the extremely fragrant 'Munstead' (Lavandula angustifolia).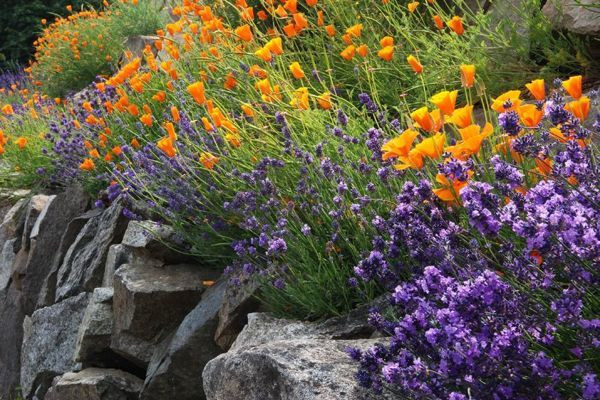 Lavender with California Poppies (Eschscholzia californica)
French Lavender or Spanish Lavender (Lavandula stoechas) makes great accent plants with their distinctive "ears" sprouting from each flower head. You can be certain their pinecone-shaped flowers and highly aromatic silvery foliage will steal the show! Blooming from late spring to late summer, these Lavenders are also remarkable in mass plantings or containers. Note that they are more tender (hardiness 8-9) than other Lavenders.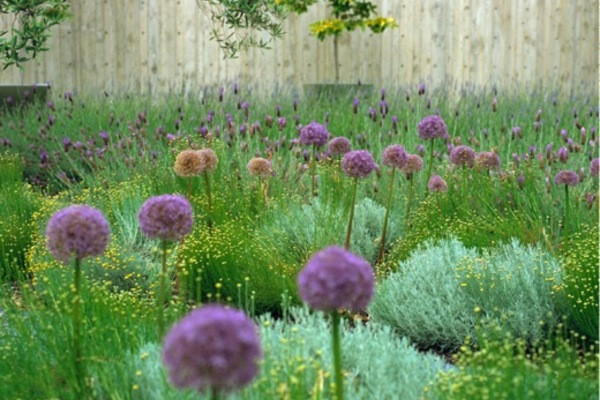 A serene landscape - WA Design
Lavenders look gorgeous in large terracotta pots or containers. What could be more delightful than a big pot of lavender in full bloom next to a doorway, greeting all passersby with its heavenly fragrance and colorful blossoms? Dozens of Lavender varieties are available and finding the right Lavender plant for your favorite containers is not always an easy task. To assist you in selecting the right plant, we have prepared this Potted Lavender guide, which we hope will be helpful to you.
Lavenders are also attractive to pollinators that are beneficial to the garden and repel unwelcome guests such as slugs, flies, or millipedes. Gently humming bees and butterflies will come and visit them and so will you. There is nothing more charming than the perfume released by Lavender when brushing the flowers as you pass!
Guide Information
| | |
| --- | --- |
| Plant Type | Perennials, Shrubs |
| Plant Family | Lavandula - Lavender |
| Attracts | Bees |
Photos: Sequim Lavender Festival, Botanik Foto, 123RF Stock Photo
While every effort has been made to describe these plants accurately, please keep in mind that height, bloom time, and color may differ in various climates. The description of these plants has been written based on numerous outside resources.