Register and Start Selling Today
Gardenia is a platform within the gardening world or "eco-system" that my team and I have developed and brought to life over the last decade. Gardenia has been created and built with the goal of "connecting the dots" between inspiration, products, nurseries, and customers. We believe we are filling a need by providing gardeners and would-be gardeners with exciting plant combination ideas; assisting them in creating their dream gardens; informing them on plant selections; and generally helping them create beautiful gardens and spaces in their homes or environments.
We are proud to report that we've grown to a community of 14 million yearly users and continue to see growing interest and demand from both amateurs and experts alike. Gardenia is ranked among the top gardening and landscaping websites in the US, United Kingdom, Canada, and Australia.
One of our key goals is to lead gardeners from our articles to a relevant supplier in order to help our users not only imagine but actually create their garden ideas and solutions. Selling plants is not one of our key goals, however, we believe we are uniquely positioned to play a role in connecting our users to various suppliers like yourself. More importantly, our users are increasingly expecting us to help them source products. This has led us to try and meet our readers' needs by linking them directly to the appropriate nurseries through our articles and website.
We have had good success in this initiative, and we invite you to join other nurseries and start uploading your product catalog to our Gardenia site. Joining as a Gardenia merchant will enable consumers who visit Gardenia to discover your website. The process is straightforward - as users find gardening ideas with Gardenia, we direct them to you where they can actually buy the products needed to fulfill those ideas.
We charge a modest $100 annual membership fee, no matter how many plants from your catalog you include. For your information, last year we made 484,000 connections between our users and our various supplier partners through this program. After a two-year period of usage, we may recommend an adjustment to the annual fee based upon actual referral performance.
How does this work?
It's very simple and takes a few minutes of your time.
Upload a spreadsheet that includes the information outlined below. If you have information about your plants in a different format as presented above, we can troubleshoot a solution. Here is a format example:

We will upload your spreadsheet within 24-48 hours after verifying that Genus, Species, and Cultivar information have been adequately provided.
You are then live on Gardenia!
- Your business appears in our list of recommended suppliers.
- Your products are listed on all our Buy pages.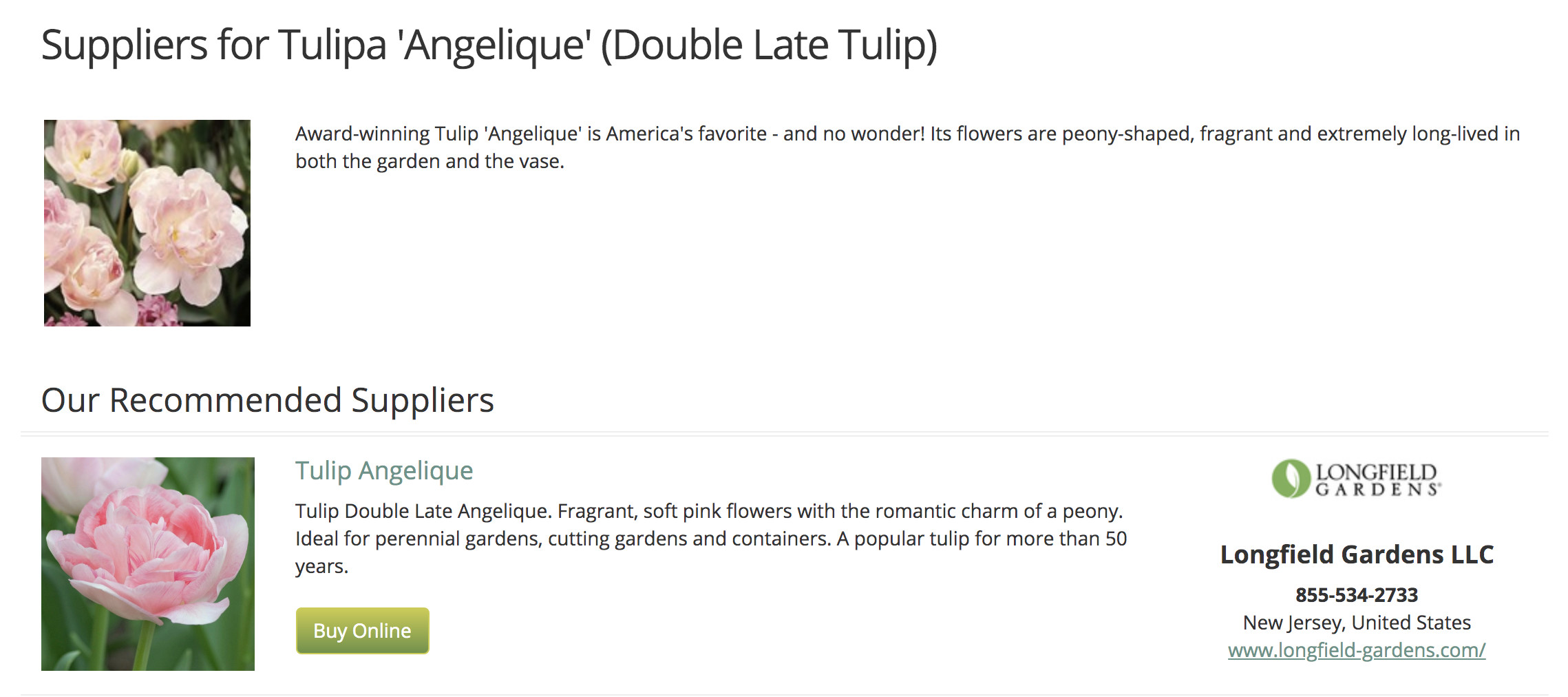 If some of your products are not aligned with ours, we try to fill those gaps and write articles on the missing plant varieties to increase relevance to you.
You can try this out without risk or cost. Should you decide later that your needs are not being met, we will remove all your information. We would be sad to see you go but would respect your wishes.
With the hope of a long-lasting partnership,
Isabelle Fleming
Founder / CEO Gardenia
[email protected]
https://www.gardenia.net/