What is Spot Anthracnose?
Spot Anthracnose, caused by the fungal pathogen Elsinoë corni, specifically targets dogwood trees, affecting the leaves, flowers, and sometimes young shoots. It's a seasonal disease that usually emerges in the spring and early summer.
Regions Impacted
The disease is prevalent in regions with a temperate climate, high levels of springtime humidity, and frequent rainfall. It is particularly common in the southeastern U.S.
Host plants
The disease predominantly affects Cornus florida (Flowering Dogwood). Other species like Cornus kousa (Kousa Dogwood) or Cornus mas (Cornelian Cherry) may have varying levels of resistance or susceptibility.
What Causes Spot Anthracnose?
The fungus Elsinoë corni typically proliferates in environments that are moist and humid, particularly during the spring season when new leaves are emerging.
The pathogen spreads via wind-blown or water-splashed fungal spores, often originating from infected plant debris left on the ground. These spores can land on the leaves, stems, or flowers of healthy dogwood trees and initiate a new infection cycle. Conditions like frequent rain, high humidity, and temperate climate are conducive for the spread of the fungus. Once the fungus infects a dogwood, it produces lesions or spots, causing aesthetic damage and potentially weakening the tree over time if not properly managed.
While Spot Anthracnose is not typically lethal to dogwoods, it can make them more susceptible to other diseases and environmental stresses. Therefore, proper identification and control measures are essential for maintaining the health of affected trees.
What are the Symptoms?
The symptoms of Spot Anthracnose are generally noticeable on the leaves, flowers, and sometimes young shoots. Here are some common symptoms:
Leaf Spots: One of the earliest and most visible symptoms is the appearance of small, purple to reddish-brown spots with lighter tan centers on the leaves. These spots may be irregular or circular in shape.
Leaf Distortion: In severe infections, the spots may coalesce, leading to distorted or curled leaves.
Flower Blight: The disease can also affect the bracts (the petal-like structures) of dogwood flowers, causing them to develop similar colored spots and potentially leading to premature dropping.
Premature Leaf Drop: As the disease progresses, infected leaves may fall off the tree earlier than usual, leading to reduced photosynthesis and overall tree vigor.
Young Shoot Infection: Although less common, young shoots and stems may also exhibit spotting or lesions.
The symptoms usually start appearing in spring when the environmental conditions are conducive for the fungus to proliferate.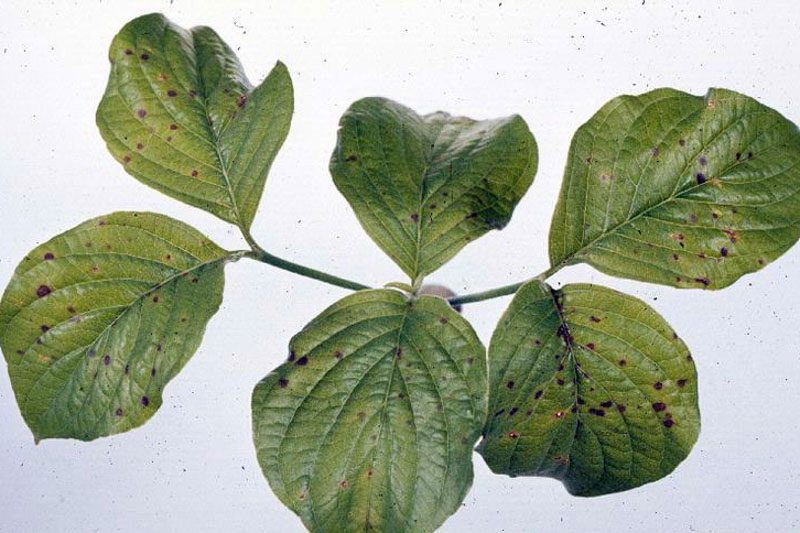 Disease Cycle
The disease cycle of Spot Anthracnose caused by Elsinoë corni is closely tied to environmental conditions and the lifecycle of the host plant, typically dogwood. Here's how the cycle generally unfolds:
Overwintering: The fungus survives the winter in infected plant debris or in latent infections on twigs and buds. It can also persist in the form of spores on the plant surface.
Spore Production: With the arrival of warmer and more humid conditions in spring, the fungal spores (conidia) begin to produce, usually timed with the budding and flowering of the host plant.
Infection: When conditions are humid and wet, these spores are disseminated by rain splash, wind, or even insects to new leaves, flowers, or young shoots. The spores germinate on the moist surface and penetrate the plant tissue, initiating infection.
Symptom Development: As the fungus colonizes plant tissues, symptoms like leaf spots, flower blights, and leaf distortions start to appear, usually within a few weeks after infection.
Secondary Infection: Infected leaves and flowers can produce more spores, leading to secondary cycles of infection throughout the growing season, especially if conditions remain moist.
Spread: The disease can also spread to neighboring plants through the movement of spores via wind, water, or mechanical means (like pruning tools).
Late Season: Towards the end of the growing season, the fungus may produce specialized spores or structures to survive the winter, completing the cycle.
Fall Cleanup: Infected leaves that fall to the ground can serve as a source of inoculum for the following spring unless removed.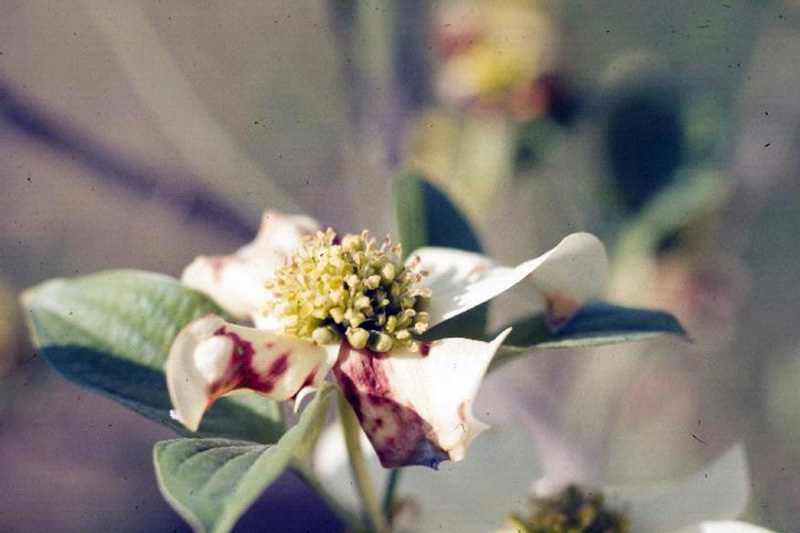 How to Control and Prevent Spot Anthracnose?
Controlling and preventing Spot Anthracnose involves a combination of cultural, mechanical, and chemical measures. Here are some effective strategies:
Cultural Practices
Site Selection: Choose well-drained locations for planting susceptible species to minimize waterlogged conditions that favor fungal growth.
Plant Resistant Varieties: Wherever possible, opt for plant cultivars known to be resistant to Spot Anthracnose.
Proper Spacing: Ensure adequate spacing between plants to facilitate good air circulation, which helps leaves dry more quickly.
Watering: Use drip or soaker hoses for watering rather than overhead sprinklers, as wet foliage can facilitate fungal growth. If you must use overhead irrigation, water early in the day so leaves dry quickly.
Mechanical Measures
Sanitation: Regularly remove and dispose of infected leaves and other debris to reduce the source of inoculum. This is especially crucial during the fall to minimize overwintering of the fungus.
Pruning: Trim away affected branches and leaves to reduce the spread of infection. Disinfect pruning tools between cuts to avoid transferring spores.
Fungicides
Given that the severity of the disease varies based on the wetness of the spring season, routine use of fungicides is generally not advised.
Once symptoms have appeared, fungicides won't reverse the damage.
However, for young trees severely affected by spot anthracnose, a registered fungicide can be applied at the onset of spring during bud break. Subsequent applications can be made every 7 to 14 days until the leaves have fully unfurled.
Monitoring
Regular Inspections: Regularly check plants for signs of the disease, especially during the wet season and during new leaf growth.
Test Applications: Before applying any fungicides, it may be advisable to test a small area first to make sure that the chemical does not damage the plant.
Integrated Pest Management (IPM)
Consult Local Extension Services: Your local agricultural extension office can provide specific advice tailored to your region's climate and prevalent diseases.
By implementing a comprehensive approach that includes cultural, mechanical, and chemical measures, you can effectively control and prevent Spot Anthracnose in your garden or landscape.
While every effort has been made to describe these plants accurately, please keep in mind that height, bloom time, and color may differ in various climates. The description of these plants has been written based on numerous outside resources.