What is Algal Leaf Spot?
Algal leaf spot, also known as green scurf, is a foliar disease caused by algae that primarily affects tropical and subtropical plants. The main causal organism is usually Cephaleuros virescens, a parasitic green alga.
Regions Impacted
Algal leaf spot is more commonly observed in hot, humid, tropical, and subtropical climates, particularly in regions with high rainfall. The Southeastern United States, as well as parts of Asia and Central America, is especially susceptible.
Host plants
Algal leaf spot primarily affects over 200 plant species, particularly in tropical and subtropical regions. Here are some commonly affected plant types:
Fruit Trees: avocado (Persea americana), vanilla (Vanilla planifolia), mango (Mangifera indica), breadfruit (Artocarpus altilis), guava (Psidium guajava), coconut (Cocos nucifera), cacao (Theobroma cacao) are particularly susceptible to algal leaf spot. Citrus trees can also be affected.
Ornamental Shrubs and Trees: Species like camellia, magnolia, cotoneaster, rhododendron, viburnum, and holly are often hosts for the algal leaf spot disease.
The range of host plants indicates that algal leaf spot is quite versatile in its ability to infect, which makes preventive measures all the more important for a diverse garden.
What Causes Algal Leaf Spot?
Algal leaf spot is caused by algae that are generally present in the environment and become problematic when conditions are favorable for their growth. Here are some factors that contribute to the onset of algal leaf spot:
High Humidity and Moisture: Algal leaf spot is most prevalent in humid, moist climates or during rainy seasons. Wet foliage provides an ideal environment for the algae to thrive.
Warm Temperatures: The disease is more common in tropical and subtropical regions where the temperature range is more conducive for algal growth.
Plant Stress: Plants that are already stressed due to poor nutrition, insect damage, or other diseases are more susceptible.
Poor Air Circulation: Dense plantings and lack of air movement can also contribute to higher moisture levels, encouraging the development of the disease.
Leaf Surface: The texture of the leaf surface can also play a role. Algae tend to colonize on rough or hairy leaf surfaces more easily than on smooth surfaces.
Inadequate Drainage: Poorly drained soils can contribute to overall plant stress and increase susceptibility to the disease.
Overhead Irrigation: Watering methods that keep the foliage wet for extended periods can promote the disease.
Contaminated Tools: While not as commonly spread this way, contaminated pruning tools can also transfer the algae from one plant to another.
Understanding these factors is crucial for both the prevention and treatment of algal leaf spot.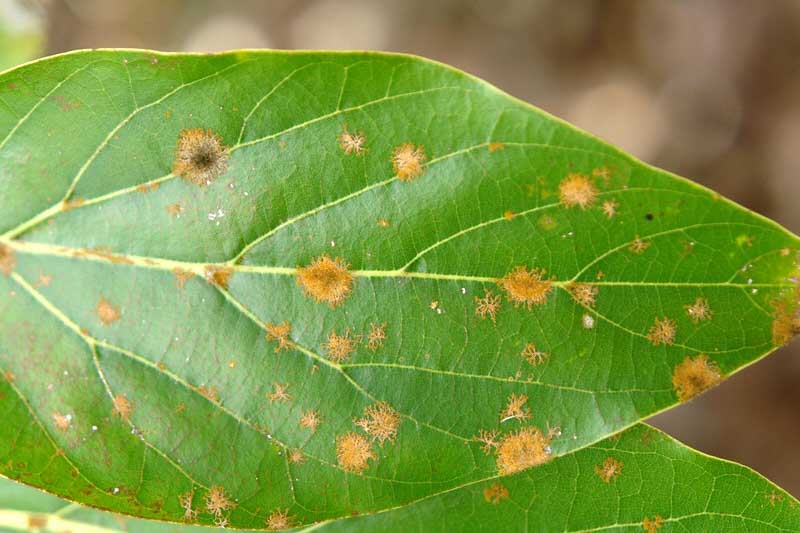 What are the Symptoms?
The symptoms of algal leaf spot can vary depending on the host plant and the severity of the infection. Here are some common symptoms:
Leaf Spots: The most obvious symptom is the appearance of spots on the leaves. These may be circular or irregular in shape, and they can vary in color from grayish-green to brown or even reddish.  The edges of the spots may be wavy or feathered.
Velvety or Rough Texture: The spots may develop a velvety or rough texture over time, which can be easily felt when touched.
Cracked or Raised Spots: In more severe cases, the spots may become cracked or raised, developing a crusty appearance.
Coalescing Spots: As the infection progresses, individual spots may merge to form larger, irregular patches of discoloration.
Leaf Discoloration: Aside from the spots, the surrounding leaf tissue may also show signs of yellowing or chlorosis.
Leaf Drop: In severe cases, the infected leaves may drop prematurely, affecting the overall health and appearance of the plant.
Fruit and Stem Spots: In some instances, the algae can also infect twigs, branches and fruits, although this is less common.
Observing these symptoms early on can help in taking timely action to manage and control the disease, reducing its impact on plant health.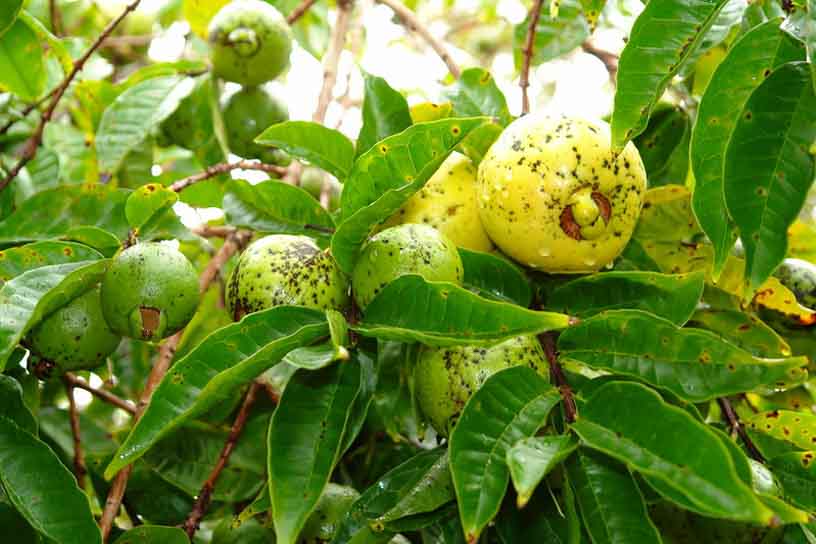 How to Control and Prevent Algal Leaf Spot?
Controlling and preventing algal leaf spot involves a combination of cultural practices, mechanical removal, and chemical treatments. Here's how you can manage this condition:
Cultural Practices:
Proper Spacing: Ensure adequate spacing between plants to promote good air circulation, which helps in faster drying of leaves.
Watering Technique: Use a soaker hose or drip irrigation system to water the plants at the soil level. This prevents water from splashing onto the leaves, which can spread the algae.
Sanitation: Regularly remove fallen leaves and other plant debris to prevent the algae from overwintering in the garden.
Mulching: Use organic or synthetic mulch to reduce soil splashing, which can spread the algae.
Mechanical Removal:
Pruning: Trim infected leaves and branches, carefully sterilizing pruning tools between cuts. Dispose of pruned material far from the garden area.
Hand-Picking: For mild infections, you can hand-pick affected leaves and dispose of them properly.
Chemical Treatments:
Copper-Based Fungicides: These are effective against algal leaf spot. Follow the manufacturer's instructions for application rates and timings.
By integrating these cultural, mechanical, and chemical controls, you can effectively manage algal leaf spot and prevent it from becoming a major problem in your garden. Always remember to follow all safety guidelines and recommendations when applying chemical treatments.
While every effort has been made to describe these plants accurately, please keep in mind that height, bloom time, and color may differ in various climates. The description of these plants has been written based on numerous outside resources.