What is Canker?
Canker is a term used to describe various diseases that cause necrotic, often sunken areas of damage on stems, twigs, or branches of plants. The term can also be applied to the lesions themselves. These diseases can be caused by a variety of pathogens, including fungi, bacteria, and occasionally viruses, and they affect a wide range of plant species.
Types of Cankers
There are several types of canker diseases that affect plants, and these are primarily characterized by the causal organism. Some of the most common ones include:
Cytospora Canker: Cytospora kunzei is a fungus that has a broad host range and can affect many different trees and shrubs. Some of the most commonly affected species include:
Phomopsis Canker: This type of canker is caused by Phomopsis species, which can affect a wide range of woody plants. Here are a few examples of the most commonly affected species:
Nectria Canker: Caused by several species in the Nectria genus, this disease can affect a wide range of deciduous trees and shrubs. Here are some examples:
Botryosphaeria Canker: Botryosphaeria dothidea and other species in this genus can cause severe damage on a wide variety of woody plants. Here are some of the species affected:
Bacterial Canker: Caused mainly by the bacteria Pseudomonas syringae, bacterial canker affects a wide range of plants. Here are some commonly affected species: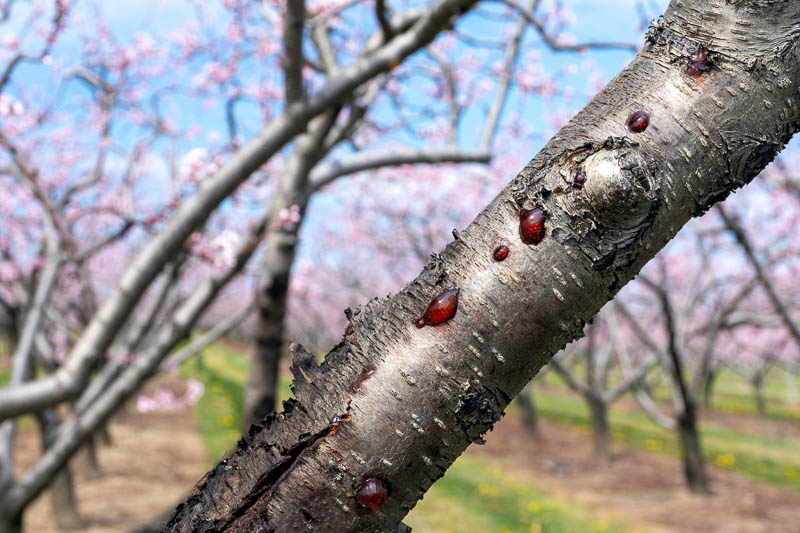 What Causes Canker?
Cankers in plants are typically caused by a variety of fungal and bacterial pathogens that infect the plant tissue. These pathogens can enter the plant through natural openings, such as stomata, or through wounds from pruning, insects, weather damage, or other mechanical injuries. Once inside the plant, these pathogens colonize the tissue and disrupt nutrient and water flow, leading to the formation of cankers.
Environmental stresses such as drought, frost damage, or nutrient deficiency can make plants more susceptible to canker diseases. Certain cultural practices, such as improper pruning or watering, can also promote the spread of canker-causing pathogens. Some specific pathogens known to cause cankers include species of the fungi Botryosphaeria, Cytospora, Nectria, and Phomopsis, and bacteria such as Pseudomonas syringae (which causes bacterial canker).
In many cases, a pathogen will be relatively harmless in one species of plant but can cause serious disease in another. For example, Cytospora is often associated with cankers in spruce and poplar trees but is less harmful to other species. Similarly, Botryosphaeria dothidea can cause serious canker disease in a wide range of plants, but its effects can vary greatly depending on the host species and environmental conditions.
Understanding the specific causes of canker diseases and the conditions that promote their development is key to managing these diseases in the landscape or garden setting. In many cases, maintaining plant health through appropriate watering, fertilizing, and pruning practices can help prevent canker diseases. If a plant does become infected, the diseased branches may need to be pruned out to prevent the spread of the disease. In some cases, fungicides or bactericides may also be used to manage canker diseases, although these are generally less effective than cultural control methods.
What are the Symptoms?
The most characteristic symptom of canker diseases is the presence of a necrotic, often sunken area on the stem, branch, or trunk of the plant. These cankers are often discolored relative to the surrounding tissue and may be associated with oozing of sap or resin. As the disease progresses, parts of the plant beyond the canker may wilt and die.
Damage and Detection
Canker diseases can cause significant damage, particularly in ornamental and fruit tree species. The formation of cankers can weaken stems and branches, making them more prone to breakage. In severe cases, the diseases can lead to plant death.
Detection typically involves visual inspection for the presence of cankers. Laboratory testing can be used to confirm the causal organism.
How to Control and Prevent Cankers?
Prevention and control of canker diseases involve a combination of cultural practices and, in some cases, chemical treatments:
Cultural Practices: These include regular inspection of plants for early signs of disease, proper sanitation to remove and dispose of infected material, and avoiding unnecessary wounding of plants. It's also important to maintain overall plant health, as stressed plants are more susceptible to disease.
Chemical Treatments: Fungicides or bactericides may be used in some cases to control canker diseases. These are typically applied as a preventative measure or at the first sign of disease. It's important to remember that these treatments will not cure existing cankers but can help prevent the spread of the disease to healthy tissue.
Resistant Varieties: Where available, planting resistant varieties can be an effective way to manage canker diseases.
In summary, canker diseases are a common and sometimes severe problem on a wide range of plant species. Effective management requires a combination of good cultural practices, early detection, and, in some cases, the use of chemical treatments.
While every effort has been made to describe these plants accurately, please keep in mind that height, bloom time, and color may differ in various climates. The description of these plants has been written based on numerous outside resources.