Be aware of the hardiness zone or heat zone in your area before you decide to buy plants. Some plants might not survive over winter or summer!
Based on the minimum ten-year average winter temperatures, plant hardiness zone maps have been progressively developed, first by the Department of Agriculture (USDA) for the United States and then more or less applied to the rest of the planet. The purpose of these hardiness zones is to identify how well plants will withstand the cold winter temperatures of these zones. But keep in mind that these maps are mostly guidelines as they do not factor in any potential micro-climates, precipitation, humidity, summer heat tolerance, etc.
If you are not sure which hardiness zone you belong to, please check the maps below: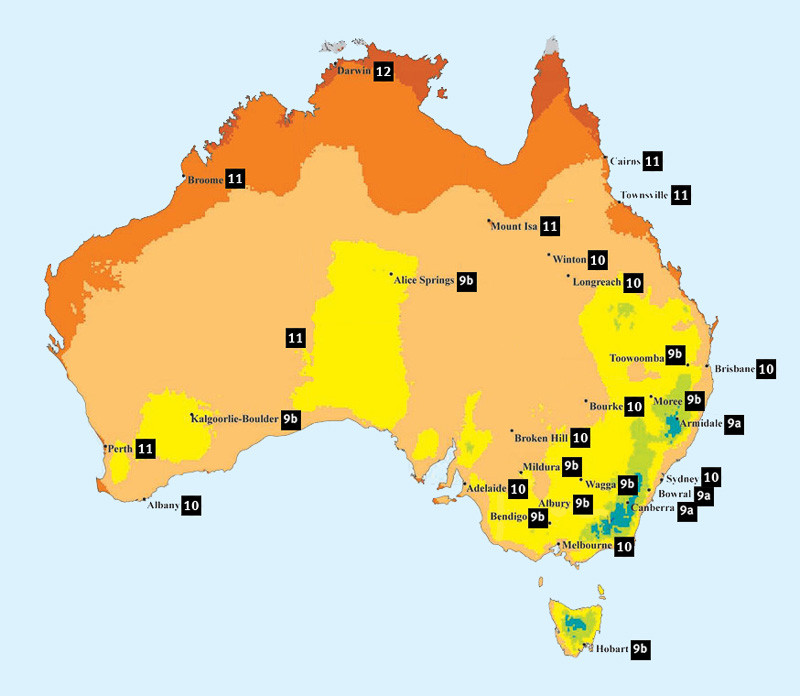 Selecting plants suited to the diverse Australian climate will be a key step to success. If you know your hardiness zone, find the best plants or exciting garden ideas for your geographic area.
Hardiness Zones in Australia
Australia lies in Plant Hardiness Zones 7 through 12 with some variations across regions and seasons.  5 main regions can be identified in Australia:
Arid Region:  This zone includes all the desert areas, Kalgoorlie, and Alice Springs as well as the dry inland areas of Queensland.
Cool Mountain Region with mild or warm summers and cold, frosty winters. This zone covers the high areas of New South Wales, Northern Tablelands (Armidale, Guyra, Glen Innes), Southern Tablelands, Canberra/ and most of Tasmania.
Sub-tropical Region with warm, humid summers and mild dry winters. This zone includes the eastern seaboard from Rockhampton to Brisbane and south through Coffs Harbour to Sydney, Coastal WA from approx Geraldton to Carnarvon Australia.
Temperate Region with warm summers and cool winters. This zone extends from inland Queensland to New South Wales tablelands and the coastal region south of Sydney, and much of southern coastal Australia from Melbourne, Adelaide through to Perth.
Tropical Region with hot, humid summers and warm winters. This region extends across the north of Australia from Canarvon through Port Hedland, Broome, Darwin, Cairns, and south to Rockhampton.
Heat Zones in Australia
Heat tolerance is another important factor to consider when ordering plants. While the effect of heat is not as immediate and radical as severe cold, it may slowly damage your plants and kill them. The most obvious heat symptoms include withering flower buds, drooping leaves, leaves discoloration (leaves may turn white or brown), or non-growing roots.
A Plant Heat Zone Map has been developed for Australia, which includes 12 zones, each indicating the average yearly number of days with temperatures over 86°F (30°C). This threshold represents the point when the plants start suffering from heat. These heat zones range from less than one heat day (Zone 1) to more than 210 heat days (Zone 12). Similarly to the hardiness zones, most garden plants provide heat tolerance information. Therefore, you will find 4 numbers on each plant: Maximum Hardiness Zone, Minimum Hardiness Zone, Maximum Heat Zone, and Minimum Heat Zone. For example, a tulip may be 3-8, 8-1. If you live in Hardiness Zone 7 and Heat Zone 7, you will know that you can leave tulips outdoors in your garden year-round. An English wallflower may be 5-8, 6-1. It is relatively cold hardy, but can't tolerate extreme summer heat.
Again, this Heat Zone map should be used as a guideline and gardeners may find that many plants will survive outside their respective heat zone. The reason is that other factors could have an impact on the life of your plant such as a lack of water (resulting from the heat), light (cloud cover, dappled shade), day length (the longer the summer day, the more impact on plant survival), air circulation (fast-moving air on hot days may quickly dehydrate the plants), surrounding elements (hard structures of stone, concrete) emit heat, raise the air temperature and soil pH.
Selecting plants suited to the diverse Australian climate will be a key step to success. If you know your hardiness zone, find the best plants or exciting garden ideas for your geographic area.
While every effort has been made to describe these plants accurately, please keep in mind that height, bloom time, and color may differ in various climates. The description of these plants has been written based on numerous outside resources.