Dandelions, often seen as common lawn weeds, are actually fascinating plants with some interesting characteristics
Surprising Facts You Didn't Know
Edible from Root to Flower
Every part of the dandelion plant offers unique flavors and nutritional benefits, making it a versatile edible wild green. The leaves are rich in vitamins A, C, and K, and minerals such as iron and potassium. Young leaves are less bitter and are excellent in salads or sautéed as a spinach alternative. As they mature, their bitterness increases, which can be tempered by blanching. When roasted and ground, the roots make a caffeine-free coffee substitute with a rich, slightly bitter flavor. They are also used in herbal teas. With their mild, sweet taste, dandelion flowers are popular in making dandelion wine, jellies, and syrups. These bright yellow blooms are also a charming edible garnish for salads and desserts. Across these uses, dandelions offer a combination of culinary versatility and health benefits, embodying the concept of food as medicine.
Medicinal Uses
Dandelions have been used medicinally for centuries, revered for their diverse health benefits. The entire plant has diuretic properties, promoting kidney function and helping the body eliminate toxins. The roots are particularly valued for liver detoxification and are believed to stimulate digestion by balancing the natural and beneficial bacteria in the intestines. Rich in antioxidants, dandelions can also help combat inflammation and manage blood sugar levels. High in vitamins and minerals, the leaves are used in herbal remedies to support overall health and nutrition. In traditional medicine, dandelion teas and tonics have been employed to treat ailments ranging from skin conditions to digestive disorders, showcasing their holistic healing potential.
Prolific Seed Producers
A single dandelion plant can produce over 5,000 seeds a year, traveling up to five miles from their origin. These seeds are uniquely designed for wind dispersal: each seed is attached to a parachute-like structure called a pappus, enabling it to drift on the breeze over considerable distances. This efficient seed dispersal mechanism allows a single dandelion plant to colonize large areas rapidly. This combination of high seed production and effective dispersal strategies makes the dandelion a master colonizer, capable of thriving in varied environments, from manicured lawns to disturbed wildlands.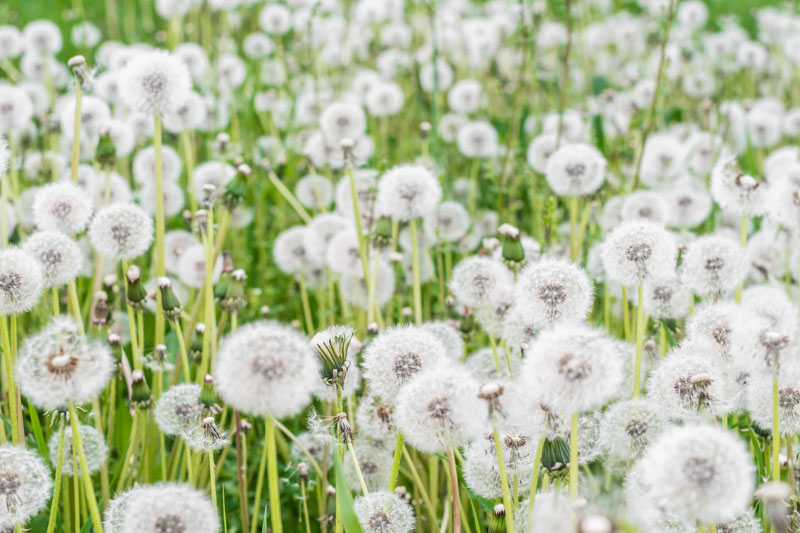 Dandelion Seed Heads (Taraxacum officinale)
Long Flowering Season
Dandelions boast an exceptionally long flowering season, making them a persistent and resilient presence in various landscapes. They typically start blooming early in spring and can continue flowering until the first frost in autumn.
Food for Wildlife
The dandelion, often undervalued in human-dominated landscapes, is in fact a vital food source for various wildlife. Its bright yellow flowers are among the first to bloom in early spring. They offer crucial nectar and pollen to emerging bees, butterflies, and other pollinators when other food sources are scarce. The leaves provide a feeding ground for certain moth and butterfly larvae, contributing to the biodiversity of insect populations. Additionally, the seeds of dandelions are consumed by various bird species. Even small mammals like rabbits occasionally feed on the nutrient-rich leaves. This makes the dandelion an important ecological player in supporting wildlife, particularly in urban and suburban areas where natural food sources can be limited. The plant's widespread presence and lengthy blooming period enhance its role as a consistent food source throughout the growing season.
Indicator of Soil Health
The presence of dandelions in an area can provide valuable insights into soil health. These plants often thrive in fertile soils, indicating a good level of nutrients essential for plant growth. Dandelions prefer slightly acidic to neutral pH levels, so their abundance might hint at the soil's acidity.
Not Native to North America
While dandelions are now widespread across North America, they were originally brought over from Europe by early settlers primarily for their medicinal and nutritional value. Dandelions are often considered invasive in regions where they've been introduced, such as North America. Their prolific seed production and ability to thrive in diverse conditions enable rapid spread, often outcompeting native flora. Find where dandelions are invasive in the United States.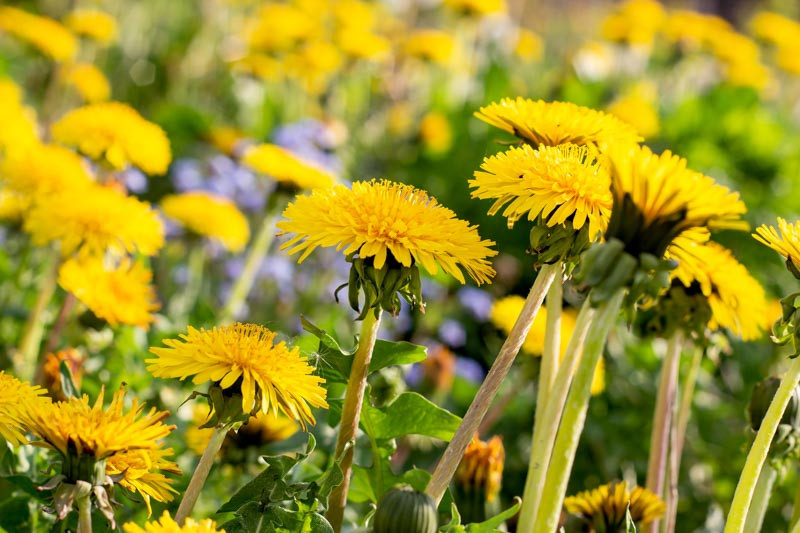 Dandelion Flowers (Taraxacum officinale)
Beneficial for Gardens
Dandelions offer numerous benefits for gardens. Their deep taproots break up compacted soil and draw up nutrients like calcium, enriching soil quality and aiding other plants. As one of the first spring blooms, dandelions are crucial for pollinators like bees and butterflies, providing an essential source of nectar and pollen when other flowers are scarce. The leaves also serve as a natural mulch and add organic matter when decomposing. Dandelions attract beneficial insects like ladybugs,  lacewings, and hoverflies, which help control common garden pests like aphids and mites.
Symbolism
Dandelions hold rich symbolism across various cultures and contexts, often representing resilience, growth, and the ability to thrive in challenging circumstances. Here are some key symbolic meanings:
Resilience and Perseverance: Due to their ability to grow in difficult conditions and their relentless nature, dandelions symbolize the strength to overcome challenges and hardships.
Hope and Wishes: The blowing of a dandelion's seeds is a universal activity associated with making wishes. The sight of seeds flying away in the wind symbolizes hopes and dreams being sent out into the world.
Healing: Given their medicinal properties, dandelions can symbolize healing and relief from emotional and physical pain.
Happiness and Joy: The bright yellow flowers of the dandelion resemble the sun and are often seen as symbols of happiness, positivity, and the warmth of life.
Transformation and Renewal: The transformation of a dandelion from a yellow flower to a fluffy, white seed head represents change, growth, and the ability to adapt and evolve.
Spiritual Enlightenment: In some traditions, dandelions are seen as symbols of spiritual enlightenment, growth, and the inner self, as their growth upwards towards the sky can represent a journey towards higher knowledge.
Natural Rubber Source
The sap in dandelion stems is being researched as a sustainable source of natural rubber.
Diverse Species
The dandelion, often mistaken as a single species, actually encompasses about 100 different species globally. These species vary in characteristics like leaf shape, flower size, and habitat preferences. Despite their differences, they all share the iconic yellow flower and fluffy seed head, thriving in a wide range of environments.
While every effort has been made to describe these plants accurately, please keep in mind that height, bloom time, and color may differ in various climates. The description of these plants has been written based on numerous outside resources.