Why is it important to create a bee-friendly garden?
Creating a bee-friendly garden is crucial for several interconnected reasons:
Pollination and Food Production: Bees are pivotal in pollinating a significant portion of our fruits, vegetables, and nuts. Without bees, many of the foods we rely on would either become scarce or disappear altogether. By creating a bee-friendly garden, you're supporting the pollination of local food crops.
Biodiversity: Bees contribute to the biodiversity of an environment. They help flowers reproduce, which in turn provides food for other wildlife. A bee-friendly garden supports a rich and varied ecosystem.
Declining Bee Populations: Bee populations are declining at alarming rates due to various factors, including habitat loss, use of pesticides, diseases, and climate change. Providing them with safe habitats can help counteract this decline.
Natural Beauty: Plants that attract bees, like wildflowers, beautify our environments. These vibrant, colorful, and alive gardens add aesthetic value to our spaces.
Chemical-Free Gardening: Bee-friendly gardens encourage organic gardening practices. Using fewer pesticides protects bees and keeps harmful chemicals out of our soils and waters.
Economic Impact: Bees contribute billions to the world economy through their pollination services. Supporting them supports agriculture and the economy at large.
Support for Other Pollinators: A garden that is friendly for bees also welcomes other pollinators like butterflies, birds, and bats. These creatures play essential roles in our ecosystems.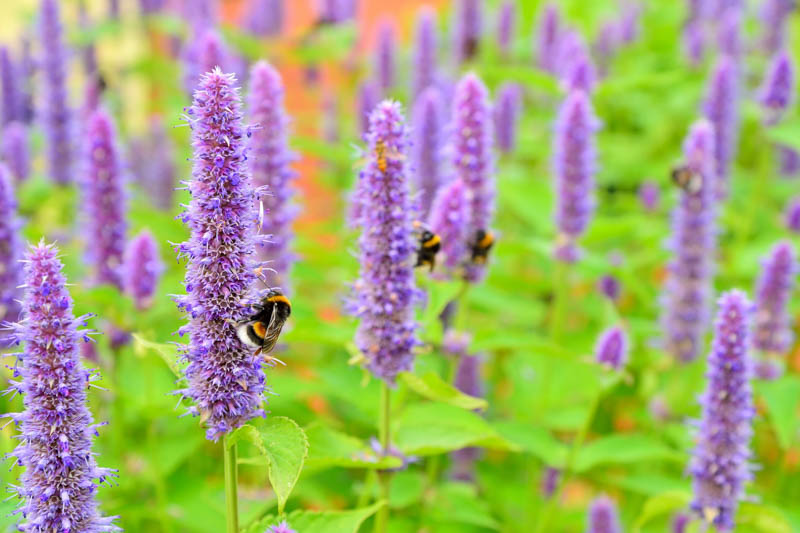 Bumblebees searching for nectar on the flower spikes of Kreant Mint (Agastache rugosa)
Best Flowers to Attract Bees
Bees are attracted to a variety of flowers based on color, fragrance, and the availability of nectar and pollen.
Did you know that a bee's tongue length significantly influences its flower preference? Bees have a proboscis (a long, flexible tongue) to extract nectar from flowers. Depending on the species, the length of this proboscis can vary considerably, which has implications for which flowers the bee can effectively feed from.
Long-Tongued Bees: Species like many bumblebees have long tongues that allow them to access nectar in deep, tubular flowers like foxglove, honeysuckle, and snapdragon. The flowers' morphology and the bees' tongue length are co-adapted in a way that ensures effective pollination while the bee feeds.
Short-Tongued Bees: These bees, including many species of solitary bees such as the mason bees, prefer flowers where the nectar is easily accessible, like daisies, asters, or sunflowers.
Some bees, such as the carpenter bees, can "cheat" by making a hole near the base of the flower to access the nectar without going through the full length of the petal. This behavior, known as "nectar robbing," doesn't help in pollination but showcases the adaptability of bees.
Given these dynamics, it's important to plant a variety of flowers catering to bees of different tongue lengths to support a diverse range of bee species.
While every effort has been made to describe these plants accurately, please keep in mind that height, bloom time, and color may differ in various climates. The description of these plants has been written based on numerous outside resources.