Bees are fascinating creatures that play an integral role in pollinating plants, ensuring the survival of many of our food crops. They belong to the Apidae family and are close relatives to ants and wasps.
Where to Find Bees?
Bees are found almost everywhere around the world, from dense forests to urban gardens. They thrive in environments with flowering plants since nectar and pollen are their primary food sources.
How Many Types of Bees?
Bees are incredibly diverse, with over 20,000 known species across the globe. They come in various sizes, shapes, and lifestyles. Here's a list of some of the more common types of bees:
Each bee type has its unique role in the ecosystem, with some specializing in pollinating specific plants while others are generalists. They all play a critical role in pollinating many of the foods we eat and plants in our environment.
What Does a Bee Look Like?
A typical bee has a black and yellow-striped abdomen, although colors can vary among species. They possess two pairs of wings and six legs. Their body is divided into three parts: the head, thorax, and abdomen. A pair of antennae on their head helps detect chemicals in their environment, aiding in communication and food location.
Bees can see ultraviolet light, which is invisible to humans. Many flowers have patterns in ultraviolet that guide bees to their nectar.
Life Cycle
The life cycle of bees is a fascinating process that involves four distinct stages: egg, larva, pupa, and adult. This progression, known as complete metamorphosis, is common to many insects. Let's delve deeper into the life cycle of bees, especially focusing on the honey bee (Apis mellifera), as it's one of the most well-studied and recognized bee species:
Egg:

The life of a bee begins when the queen lays an egg.
She places a single egg into each cell of the honeycomb.
Whether the egg becomes a worker bee, drone (male), or a potential new queen depends on what the workers feed the larvae and the size of the cell in which the egg is laid.

Larva:

After about three days, the egg hatches into a larva. At this stage, it looks like a tiny white grub and does not have legs or eyes.
Worker bees feed the larvae. The diet will vary depending on whether the colony needs a worker, drone, or new queen.
Larvae go through several molts as they grow.

Pupa:

After about six days (though this can vary depending on bee type), the larva spins a cocoon around itself and becomes a pupa.
During the pupal stage, the bee undergoes a significant transformation. Its body starts to take the familiar bee shape, developing wings, eyes, legs, and other adult features.
Worker bees seal the cell during this stage.

Adult:

Once development is complete, the adult bee chews its way out of the cell.
The role of the bee now depends on its caste:

Worker Bees: Female bees that do not reproduce. They perform various tasks like cleaning, feeding larvae, defending the hive, foraging for nectar and pollen, and making honey.
Drones: Male bees. Their primary role is to mate with a new queen. After mating, they die.
Queen: The primary role is to lay eggs. A hive generally has one queen. If the queen dies or becomes unproductive, the worker bees will produce a new queen by feeding a selected larva "royal jelly," a substance that triggers the development into a fertile queen.
How Long Do Bees Live? 
The lifespan of a bee varies depending on the type of bee (e.g., honey bee, bumblebee, solitary bee) and the role it plays within the colony. Here's a general breakdown for honey bees:
Worker Bees: They live for about 6 weeks during the active summer season. However, worker bees that are born in the late fall may live through the winter and thus can have a lifespan of several months.
Drone Bees: They live for around 8 weeks. However, they are ejected from the hive in the fall or when resources are scarce, as they do not contribute to the general work of the colony and consume valuable resources.
Queen Bee: The queen bee is the mother of most, if not all, of the bees in the hive. A queen honey bee can live for 3 to 5 years on average, though her egg-laying rate may decrease over time. When her productivity wanes or if she dies, the worker bees will create a new queen by feeding a selected young larva a diet of royal jelly.
For other types of bees:
Bumblebees: Queens can live up to a year, while worker bumblebees usually live for about a month. Males (or drones) tend to have a similar lifespan to the workers, living for several weeks.
Solitary Bees: The lifespan of solitary bees varies by species, but most solitary bees live for about a year, with the adult phase lasting a few weeks to a couple of months.
Environmental factors, availability of food, diseases, predators, and human-related factors can all influence the lifespan of bees.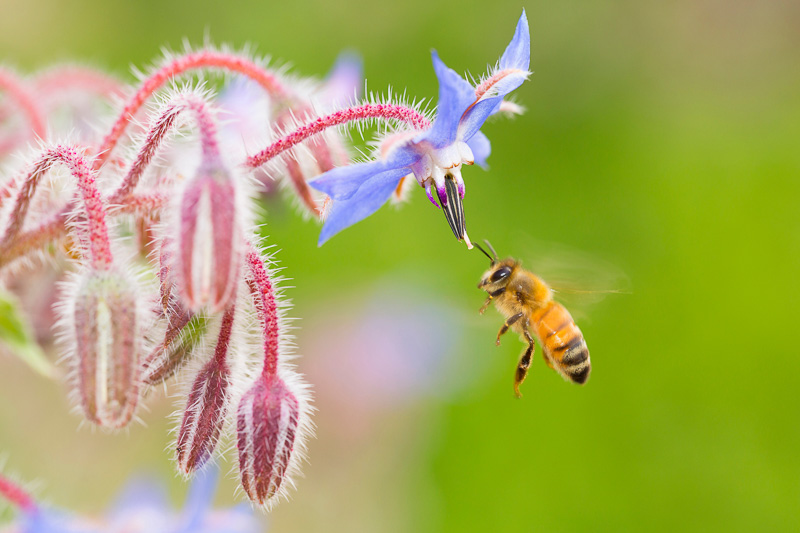 Closeup of a honey bee on borage flowers in summertime
Are Bees Endangered?
The status of bees in terms of endangerment is varied, complex, and depends on the species and region in question. Here's an overview:
Honey bees: Apis mellifera, or the Western honey bee, is the most well-known bee species and is not currently classified as endangered. However, they have faced significant challenges, including Colony Collapse Disorder (CCD) wherein large numbers of adult bees mysteriously disappear from hives. The reasons for CCD are still under investigation but are believed to include a combination of factors like pesticides, pathogens, malnutrition, and stress.
Bumblebees: Certain species of bumblebees have seen dramatic declines in recent years. In the U.S., the Rusty Patched Bumblebee (Bombus affinis) was listed as endangered by the U.S. Fish and Wildlife Service in 2017. Causes for its decline include habitat loss, disease, pesticides, and climate change.
Solitary Bees: Of the roughly 20,000 known bee species, most are solitary bees, and many of these species are poorly studied. Some solitary bees are known to be declining or threatened, but comprehensive data is lacking.
Factors Impacting Bee Health and Population:
Pesticides: Neonicotinoids, a class of insecticides, have been linked to bee deaths and declining health. They affect the central nervous system of insects, leading to paralysis and death.
Disease: The spread of diseases and pests, often facilitated by global trade and the movement of commercial bee colonies, poses a threat. The Varroa mite, in particular, is a significant concern for honey bee populations worldwide.
Habitat Loss: Urbanization, intensive farming, and other land-use changes reduce the availability of flowers that bees rely on for food.
Climate Change: Changing temperatures and weather patterns can affect the availability of food resources and disrupt synchronized relationships between bees and the plants they pollinate.
While not all bee species are officially "endangered," the decline in many bee populations is a grave concern, given the vital role they play in pollinating both wild plants and agricultural crops. Conservation efforts are ongoing worldwide to study, protect, and bolster bee populations. Everyone can help by planting bee-friendly plants, avoiding harmful pesticides, and supporting sustainable agricultural practices.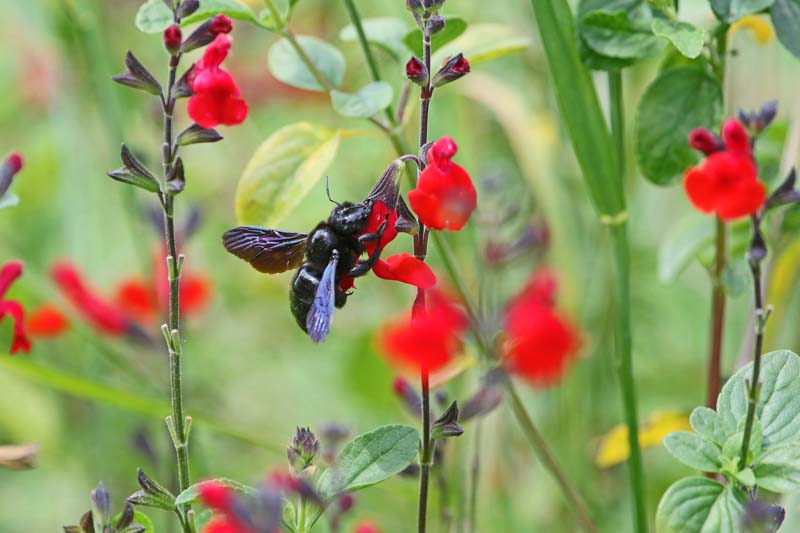 Carpenter bee feeding on scarlet flowering sage
Why are Bees Beneficial Insects?
Bees are often lauded as critical to our ecosystem and agriculture, and rightly so. As beneficial insects, they play several vital roles. Let's delve into why bees are so essential:
Pollination: A large proportion of the food crops we rely on (about one in every three bites of food) requires pollinators to produce fruit or seeds. Bees, especially honey bees, are among the most effective. Crops like almonds, berries, fruits, and vegetables depend heavily on them for pollination. Without bees, these crops would yield significantly less produce, affecting food supplies and economies.
Beyond agriculture, bees pollinate many plants within natural ecosystems. This pollination ensures the production of seeds, leading to more plants and thus preserving and propagating plant species diversity. Healthy ecosystems with diverse plant life support myriad wildlife, from birds to mammals.
Honey Production: Honey bees produce honey from the nectar of flowers. Honey is not only a natural sweetener but also has various medicinal properties and is used in several traditional remedies.
Beeswax Production: Bees produce beeswax, which has numerous applications, from candles to cosmetics, and even in food preparation.
Supporting the Food Chain: Many small birds and mammals feed on bees. Hence, they are a critical link in the food chain.
Indicators of Environmental Health: The health and behavior of bee populations can indicate changes in the environment. A decline in bee populations might signal broader ecological imbalances due to factors like pesticides, climate change, or habitat loss.
Medicinal Value: Bee products, including honey, pollen, and propolis, have been used for their medicinal properties for centuries. They're believed to have anti-inflammatory, antibacterial, and wound-healing properties.
Cultural and Spiritual Significance: Bees have been symbols in human culture, mythology, and religion for millennia. They've represented everything from industry and creativity to community and resurrection.
Their decline would ripple through ecosystems and economies, underlining the urgent need for their conservation.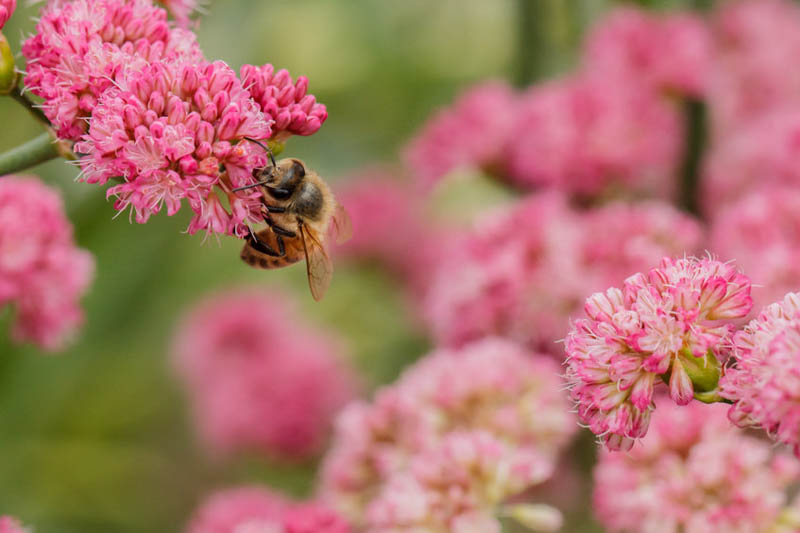 Honey bee (Apis mellifera) foraging for nectar and pollen on pink wild buckwheat (Eriogonum) wildflower.
How to Attract bees to your Garden
Attracting bees to your garden is a win-win situation. Not only do bees benefit from the nectar and pollen they collect, but your garden will thrive due to their pollination efforts. Here are several steps you can take to make your garden a bee-friendly haven:
Plant Bee-friendly Flowers:
Diversity: Grow a variety of flowers to cater to different bee species. Some, for example, prefer single-petal flowers like daisies, while others are attracted to flowers like foxgloves.
Seasonal Blooms: Ensure that flowers are in bloom as long as possible. Plant a mix of spring, summer, and fall bloomers.
Native Plants: Native plants are often best adapted to local bee species. Examples might include coneflowers, sunflowers, and goldenrods, depending on your region.
Herbs and Vegetables: Bees are attracted to many herbs like mint, sage, thyme, and rosemary. Let some of them flower. Allowing vegetables like broccoli, radish, and carrots to go to seed can also attract bees.
Avoid Pesticides: Many pesticides are harmful to bees. If you must use them, try to apply them in the evening when bees are less active and avoid spraying blooming plants.
Provide Fresh Water: Bees need water. Place shallow dishes with fresh water around your garden. Add some stones or twigs for the bees to land on, so they don't drown.
Offer Shelter: Leave some areas of your garden a bit wild. Patches of bare soil, piles of leaves, or logs can provide nesting sites for certain bee species. Consider installing bee houses or hives to attract solitary bees or honey bees.
Limit or Eliminate Mulch: Many native bees burrow in the ground to nest. Bare patches without mulch can be inviting for them.
Plant Clusters: Bees are more likely to be attracted to and stay in your garden if they find larger patches of their favorite plants.
Include Trees and Shrubs: Trees like willow, linden, and fruit trees are beneficial. Shrubs such as lavender, rhododendron, and butterfly bush also attract bees.
Plant Blue, Purple, and Yellow Flowers: Bees tend to be especially attracted to these colors. Flowers like salvia, aster, and cosmos are good choices.
Avoid Hybrid Flowers: Often, these have been bred for appearance rather than nectar and pollen production and may not be as attractive to bees.
Maintain a Chemical-free Lawn: Allow your lawn to grow a bit longer and consider letting clover, dandelions, and other "weeds" bloom, which are bee favorites.
Remember, supporting bees supports biodiversity. A bee-friendly garden isn't just buzzing with life; it's a sign of a healthy, thriving ecosystem.
While every effort has been made to describe these plants accurately, please keep in mind that height, bloom time, and color may differ in various climates. The description of these plants has been written based on numerous outside resources.