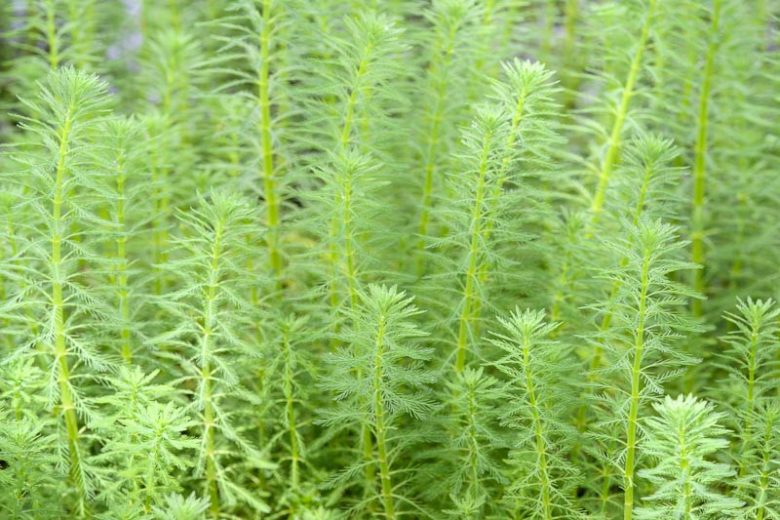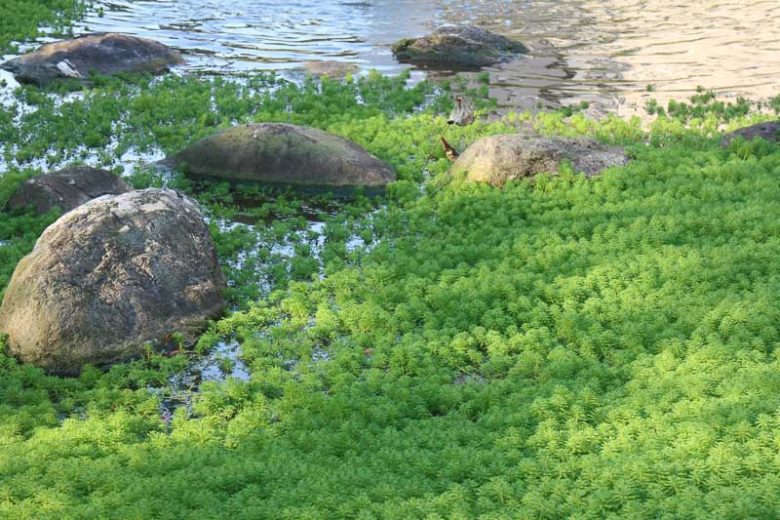 Myriophyllum aquaticum (Parrot Feather) is a submerged to emergent aquatic perennial with stout, blue-green stems bearing abundant, finely dissected, bright green leaves borne in whorls. The emergent stems develop a deeper blue-green color with shorter, stiffer leaves covered with a velvet sheen. The emergent stems can grow 5 ft. long (150 cm) and root in wet soil above the water. In summer, tiny, inconspicuous yellow-green flowers bloom from the leaf axils of the emergent stems. Native to South America, Australia and New Zealand, Parrot Feather is a common water garden plant which is useful as an oxygenator, helps control algae growth and provides a shelter for small fishes and aquatic invertebrates. However, Parrot Feather has the potential to escape into local waterways. It easily roots from vegetative parts and can form extremely dense stands which can clog waterways and interfere with recreational activities such as swimming and boating. Parrot Feather is now regarded as a major international aquatic weed, having been introduced to much of the warm-temperate to sub-tropical regions of the world. Before planting outdoors, gardeners should contact their local department of fish and wildlife for more information on invasive species and noxious weeds.
Grows up to 3-6 in. tall (7-15 cm).
Performs best in full sun to part shade in containers submerged in up to 6 in. of water (15 cm) or on wet banks, shallow margins of ponds.
No serious pest or disease issues.
Native to South America, Australia and New Zealand.
Myriophyllum aquaticum is listed as a notifiable/ prohibited weed in many countries and states worldwide.
Requirements
Hardiness
6 - 10

Plant Type
Aquatic Plants
Plant Family
Haloragaceae
Exposure
Full Sun, Partial Sun
Season of Interest
Spring (Mid, Late)
Summer (Early, Mid, Late)
Fall

Height
3" - 6"
(10cm - 20cm)
Spread
6" - 1'
(20cm - 30cm)
Maintenance
Average
Water Needs
High
Soil Type
Clay, Loam, Sand
Soil pH
Acid, Alkaline, Neutral
Soil Drainage
Poorly Drained
Native Plants
Australia
Tolerance
Wet Soil
Attracts
Birds
Garden Uses
Ponds And Streams, Rain Gardens, Water Gardens
Jerry Lin, Lee peiming, Shutterstock
While every effort has been made to describe these plants accurately, please keep in mind that height, bloom time, and color may differ in various climates. The description of these plants has been written based on numerous outside resources.