Chionodoxa is one of the earliest and loveliest spring flowering bulbs, adding beauty to the garden.
What is Glory of the Snow?
Chionodoxa, commonly known as Glory-of-the-Snow, is a genus of bulbous perennial plants in the Asparagaceae family. Native to the eastern Mediterranean, specifically Crete, Cyprus and Turkey, it's recognized for its early-spring blooms and vibrant color.
Habit and Size: Each bulb produces 2-3 narrow, basal leaves from which an upright flower stalk emerges. Each stalk supports one to three star-shaped flowers. The plant grows to a height of 4-6 inches (10-15 cm), making it a low-growing species.
Flowers: The small, star-shaped flowers, in shades of blue, pink, or white, display a contrasting white eye in their center. These dainty blooms add a pop of color to the spring garden.
Foliage: The leaves are thin and strap-like, similar to other bulbous plants, and die back after flowering.
Blooming Season: Chionodoxa blooms in early spring, often while snow is still on the ground, hence the common name. They're a wonderful sign that winter is ending.
Hardiness: Glory-of-the-Snow is hardy from USDA zones 3 to 8. Once established, the plants can tolerate cold winters and even late snowfalls.
Uses: Chionodoxa is perfect for naturalizing in lawns, rockeries, under trees, and in borders. They're particularly effective when planted in large drifts, where they can create a 'carpet' of color.
Pollinators: The flowers attract early-emerging pollinators such as bees, which are drawn to the nectar-rich blooms.
Toxicity: Chionodoxa bulbs are toxic if ingested and can cause digestive upset. They should be kept away from pets and small children.
Deer & Rabbit Resistance: The bulbs, leaves, and flowers of Chionodoxa are generally resistant to deer and rabbits.
Drought Tolerance: Once established, Chionodoxa can tolerate periods of drought, though they prefer consistently moist soil.
Invasiveness: Chionodoxa can self-seed and naturalize over time, but they're not considered invasive and their spread is usually manageable.
Key Facts: One of the key features of Chionodoxa is its ability to bloom in the snow, which makes it a star player in the spring garden. Despite its delicate appearance, it's a tough plant that thrives in challenging conditions.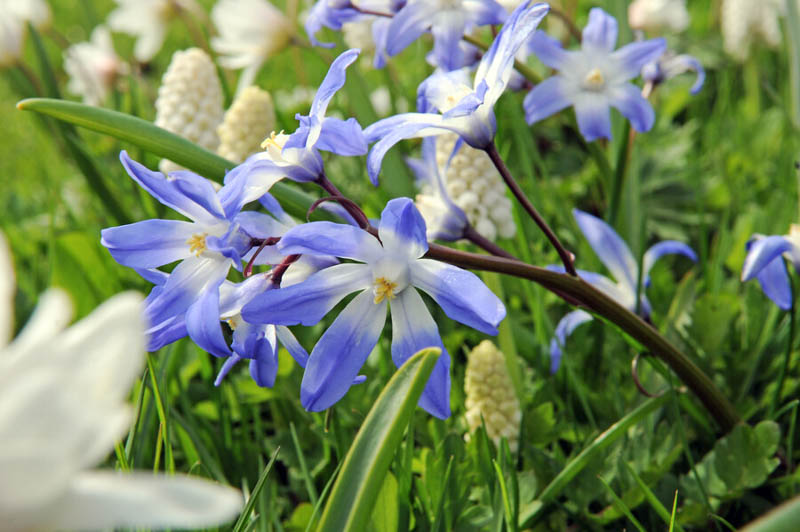 Why Should I Grow Glory of the Snow?
Growing Glory-of-the-Snow (Chionodoxa) can provide numerous benefits to your garden:
Early Spring Blooms: Chionodoxa is among the first flowers to bloom in the spring, often even in the snow. Its vibrant colors are a welcome sight after a long winter.
Easy to Grow: Once planted, Chionodoxa requires minimal care. It's hardy and resilient, able to tolerate cold winters and dry conditions.
Attracts Pollinators: Chionodoxa attracts early-emerging pollinators such as bees with its nectar-rich blooms, contributing to the biodiversity of your garden.
Naturalization: Chionodoxa is perfect for naturalizing. It self-seeds and spreads slowly over time, creating stunning drifts of color.
Deer and Rabbit Resistant: Chionodoxa is typically resistant to deer and rabbits, making it a good choice for areas where these animals are prevalent.
Versatility: Chionodoxa is suitable for a variety of garden locations, including borders, under trees, and even in lawns. Its compact size also makes it ideal for rockeries or container planting.
Drought Tolerance: Once established, Chionodoxa can tolerate periods of drought, adding to its low-maintenance appeal.
In short, Chionodoxa is an excellent choice if you're looking for a beautiful, low-maintenance plant that adds early spring color to your garden. Its ability to attract pollinators and resist common garden pests is an added bonus.
While every effort has been made to describe these plants accurately, please keep in mind that height, bloom time, and color may differ in various climates. The description of these plants has been written based on numerous outside resources.