Easy to grow, durable, and long-lived, Erythronium, also known as Trout Lily, enchants with its graceful nodding lily-shaped flowers and strikingly marbled elliptic leaves.
What is Trout Lily?
Erythronium, commonly known as dog's tooth violet or trout lily, is a genus of spring-flowering perennial plants that are native to the temperate regions of the Northern Hemisphere. There are over 20 species, most from Western North America, but a few are in eastern North America and Eurasia.
Description: Erythronium are notable for their nodding, lily-like flowers, which usually come in shades of yellow, pink, or white, often with strikingly patterned leaves. Each plant typically bears one to three flowers on a slender stalk.
Growth Habit and Size: These are low-growing plants that usually reach around 4-12 inches (10-30 cm) in height. They grow from a bulb and have a clump-forming growth habit. They are great naturalizers and gleefully multiply over time to form a carpet of foliage and flowers.
Flowers: Trout lilies are prized for their nodding, lily-shaped flowers adorned with gracefully reflexed petals. The flowers have six petal-like segments and are often marked with various colors.
Foliage: The leaves are basal, long, and often mottled or spotted with purple-bronze, giving rise to the common name 'trout lily'. The attractive foliage and delicate flowers make them a standout in the spring garden.
Blooming Season: Erythroniums are spring bloomers, usually flowering in mid to late spring, though this can vary slightly depending on climate and species.
Hardiness: Most Erythronium species are hardy and can withstand winter temperatures, making them suitable for growing in USDA zones 3-9.
Uses: Due to their beautiful flowers and foliage, Erythroniums are often used in woodland gardens, rock gardens, and naturalized areas. They can be planted in drifts under deciduous trees or combined with other spring-flowering woodland plants.
Pollinators: The flowers are known to attract bees and other pollinators, contributing to the biodiversity of your garden.
Toxicity: Erythronium is not known to be toxic to humans or pets. However, as with any plant, it's always a good idea to prevent ingestion and keep it out of reach of small children and pets.
Deer and Rabbit: Erythroniums are generally resistant to deer and rabbits, making them a good choice for areas where these animals are common.
Drought: Erythroniums prefer moist soil and are not particularly drought-tolerant. They do best in areas with consistent moisture, particularly in the spring during their growth period.
Invasiveness: Erythroniums are not considered invasive. They spread slowly over time but are not aggressive spreaders.
Key Facts: The common name 'dog's tooth violet' comes from the shape and color of the bulbs, which are white and elongated like a dog's canine tooth. Despite the name, they are not related to violets but belong to the lily family (Liliaceae).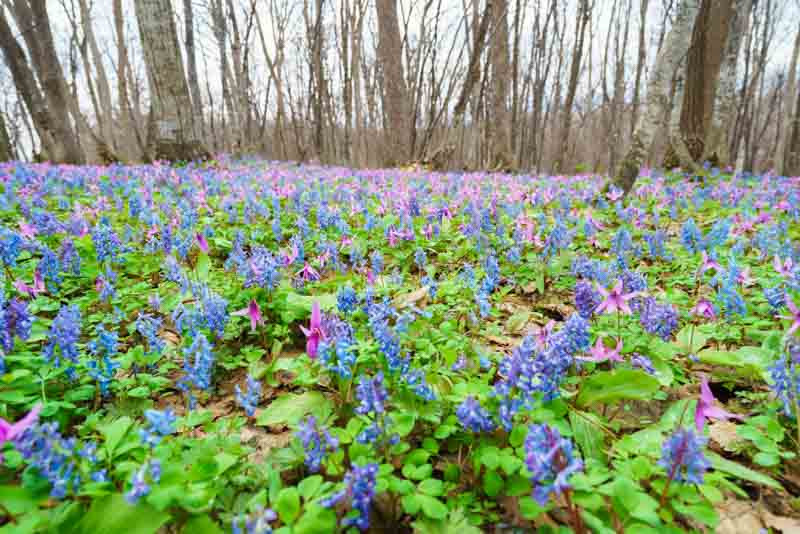 Why Should I Grow Trout Lily?
Growing Trout Lily in your garden comes with several benefits:
Stunning Spring Blooms: One of the primary reasons gardeners love Trout Lily is for its charming, nodding flowers that bloom in spring. Their bright colors can add a beautiful pop to your garden after a long winter.
Attractive Foliage: Even when not in bloom, Trout Lily contributes significantly to your garden's visual appeal. Its mottled leaves offer a unique texture that lasts beyond the flowering season.
Low Maintenance: Trout Lily is a hardy plant that requires little care once established. It's also relatively resistant to common pests and diseases, which means less work for you in the long run.
Good for Pollinators: Trout Lilies attract bees and other beneficial insects, promoting a healthy ecosystem in your garden.
Deer and Rabbit Resistant: If your garden is frequently visited by deer or rabbits, Trout Lily can be a good choice. These animals typically avoid the plant, leaving your flowers safe and untouched.
Naturalizes Over Time: Trout Lily spreads slowly, creating a beautiful carpet of leaves and flowers over time. It's excellent for giving a natural, woodland feel to a garden.
Versatile Planting Options: Trout Lily is ideal for shaded garden areas under trees or shrubs, and it can add beauty to rock gardens or border fronts. This versatility makes it a flexible addition to your landscaping design.
Historical and Cultural Significance: Several Native American tribes historically used parts of Trout Lily for medicinal purposes, and it's often seen in literature and folklore. Planting Trout Lily can be a way to connect with nature and history.
In summary, Trout Lily is an attractive, easy-to-care-for plant that adds beauty and biodiversity to your garden. It's a wonderful option for any gardener seeking to enhance their landscape with minimal effort.
While every effort has been made to describe these plants accurately, please keep in mind that height, bloom time, and color may differ in various climates. The description of these plants has been written based on numerous outside resources.