Hardiness Zones in the USA
Regional Gardening, USA Hardiness Zones, Plant Hardiness
---
USDA Hardiness Zones
Based on the minimum ten-year average winter temperatures, plant hardiness zone maps have been progressively developed, first by the Department of Agriculture (USDA) for the United States and then more or less applied to the rest of the planet. The purpose of these hardiness zones is to identify how well plants will withstand the cold winter temperatures of these zones.
The USDA Hardiness Zone Map divides North America into 13 zones of 10°F each, ranging from -60°F (-51°C) to 70°F (21°C). If you are planning to buy a shrub, perennial, or tree, you need to make sure that this new plant will tolerate year-round conditions in your area. Therefore, to ensure your new acquisition will survive and grow year after year, you will need to compare the hardiness zone of your area with the hardiness zone of your plant (included in most American reference books, nursery catalogs, and gardening magazines describing plants).
Keep in mind, however, that this USDA map is mostly a guideline. While the USDA map reflects pretty well the garden climates of the eastern half of North America, it does not factor in any elevation or precipitation which have quite an impact on western climates. It does not include microclimates, humidity, or summer heat tolerance either.
Selecting plants suited to your climate will be a key step to success. If you know your hardiness zone, find the best plants or exciting garden ideas for your geographic area.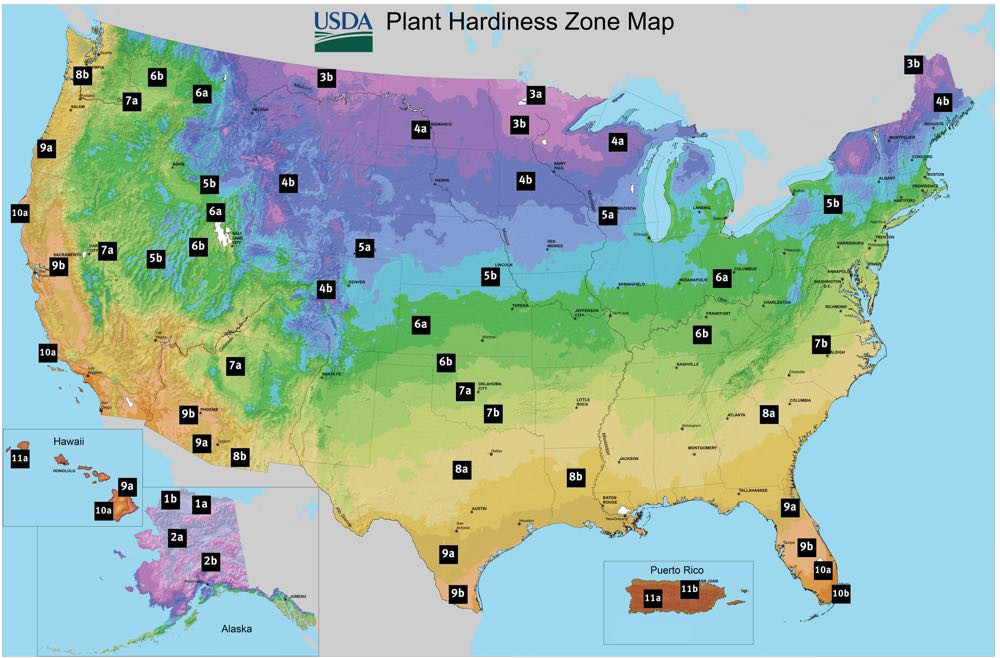 Find the best plants or exciting garden ideas for your hardiness zone
While every effort has been made to describe these plants accurately, please keep in mind that height, bloom time, and color may differ in various climates. The description of these plants has been written based on numerous outside resources.