Pear sawfly, also known as the pear slug, is an insect pest that belongs to the order Hymenoptera. It's scientifically recognized as Caliroa cerasi, and while it's called a "sawfly," it's not actually a fly but rather a relative of wasps and bees. Despite its name, the pear sawfly is not limited to pear trees but attacks a variety of fruit trees and some ornamental plants as well.
Host Plants
The pear sawfly, also known as pear slug, primarily targets pear trees as suggested by its name, but it's not exclusive to them. Here are some common host plants for pear sawfly:
Regions impacted
The pear sawfly is prevalent in various regions across North America and Eurasia, wherever host plants are found. It's particularly problematic in areas with temperate climates conducive to the growth of fruit trees, such as the Pacific Northwest and Northeastern regions in the U.S. and various parts of Europe, especially where commercial orchards are present.
Description
Adult pear sawflies are small, black or dark grey, wasp-like insects, about 3-5mm long. They're not typically noticed in gardens or orchards. The larvae, however, are more visible and have a slug-like appearance, hence the common name "pear slug." These larvae are initially greenish-black, slimy, and can grow up to 12mm long.
Life Cycle
The life cycle of the pear sawfly, or pear slug, is a fascinating process, and understanding it can aid in its control and prevention in orchards and gardens. Here's a breakdown of its life stages:
Eggs: Adult sawflies, which are small, black, wasp-like insects, lay their eggs singly on the undersides of leaves of host plants, typically in late spring to early summer, depending on the climate.
Larvae (Slugs): Once the eggs hatch, the larvae, commonly called "slugs" due to their slimy, slug-like appearance, emerge. These larvae are olive-green to black and have a slimy, wet appearance. They start feeding on the upper surface of the host plant's leaves, skeletonizing them and leaving only the veins and lower epidermis intact. This stage lasts for up to 4 weeks, after which the larvae drop to the ground.
Pupation: Upon reaching the soil, the larvae burrow into the ground and create a small chamber where they pupate. They remain in the soil as pupae through the fall and winter.
Adult Emergence: Adults emerge from the soil in late spring to early summer, completing the life cycle. They then mate and lay eggs, starting the process over again.
The species typically has one generation per year, but there may be two generations in warmer climates.
Damage and Detection
Damage
Pear sawfly larvae cause distinctive damage, primarily through their feeding habits. They feed voraciously on the foliage of host plants, specifically on the leaf's epidermal layers, creating a skeletonized appearance, as they typically leave the veins and a thin layer of tissue intact.
This feeding pattern results in transparent patches on the leaves, which eventually turn brown once the tissue dies. If the infestation is heavy, trees can experience substantial defoliation.
The premature leaf drop and the stress induced by significant leaf loss can lead to reduced fruit yield and diminished tree vigor, making the plant more susceptible to other pests, diseases, or environmental stresses.
| | |
| --- | --- |
| Pear Sawfly Larvae | Pear Sawfly Adult |
Detection
Detecting an infestation of pear sawflies involves regular inspection of the host trees, particularly during the spring and summer months when sawflies are most active. Look for the following signs:
Skeletonized leaves: The most indicative sign of their presence is the unique feeding pattern they create, leaving leaves lacy and skeletonized.
Presence of larvae: Check the undersides of leaves for slug-like, greenish-black larvae. They may curl up into a "C" shape when disturbed.
Adult sawflies: Though harder to spot, adult sawflies are small, wasp-like insects that can sometimes be seen on or around host plants.
Premature leaf drop: An unusual amount of leaf loss during the growing season could be a sign of a heavy infestation.
Early detection is crucial to effectively manage the population of pear sawflies and minimize the potential damage they can cause to the host plants.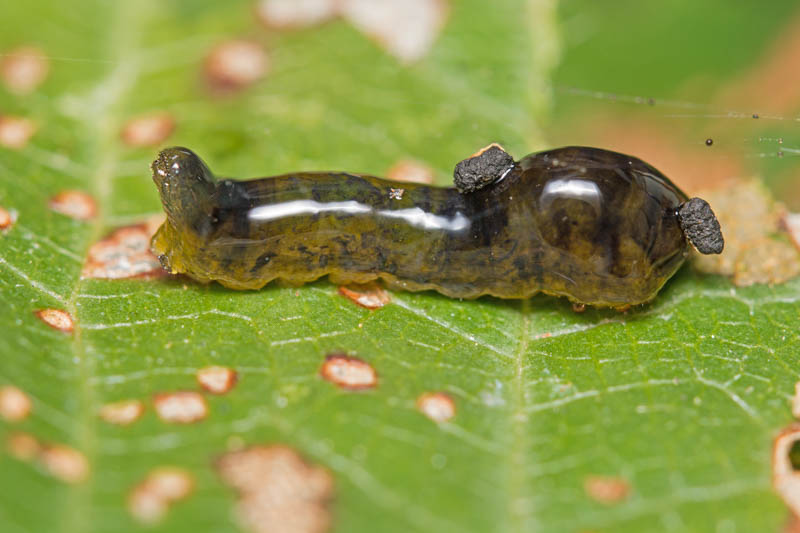 Prevention and Control
Prevention
Regular Monitoring: Inspect pear trees and other susceptible plants regularly for signs of sawfly larvae or the distinctive skeletonizing of leaves. Early detection is key to effective management.
Cultivate a Healthy Garden: Ensure your trees are healthy, as stressed plants are more susceptible to pest infestations. Proper watering, fertilization, and pruning practices help maintain plant health.
Clean Debris: Remove and dispose of plant debris, especially fallen leaves, in the autumn to eliminate overwintering sites for the larvae and pupae.
Control
Manual Removal: If infestations are localized, and numbers are low, larvae can be hand-picked from the foliage and dropped into a bucket of soapy water. This method is time-consuming but effective for small-scale infestations.
Water Spray: A strong water jet from a garden hose can dislodge larvae from leaves. However, this may need to be repeated as it doesn't always eliminate them.
Insecticidal Soap and Horticultural Oils: When applied directly, these can be effective against the larval stage. They are less harmful to beneficial insects but most effective on young larvae. Ensure coverage on the underside of leaves and follow product instructions.
Chemical Pesticides: More severe infestations might require chemical controls. Use products labeled for sawfly control on fruit trees, and follow the manufacturer's instructions to protect pollinators and minimize environmental impact. It's often best to consult a local extension service or a professional before using chemical treatments.
While every effort has been made to describe these plants accurately, please keep in mind that height, bloom time, and color may differ in various climates. The description of these plants has been written based on numerous outside resources.