The Dogwood Sawfly (Macremphytus tarsatus) is an insect that targets various species of dogwood trees and shrubs. A part of the Hymenoptera order, which includes bees, wasps, and ants, the sawfly poses a threat to dogwoods by consuming their leaves, causing aesthetic and potentially more serious damage.
Host Plants
Primarily, the dogwood sawfly targets Cornus species, such as red-twig dogwood (Cornus sericea), gray dogwood (Cornus racemosa), and flowering dogwood (Cornus florida). However, they have also been known to attack pagoda dogwood (Cornus alternifolia).
Regions impacted
Dogwood sawflies are commonly found in the United States and Canada, particularly in regions where their host plants are abundant. This includes the Eastern and Midwestern United States, stretching from New England to the Great Lakes and even as far west as the Rocky Mountains.
Description
Adult sawflies are wasp-like but without the narrow waist characteristic of wasps. They are generally black or dark grey with a body length of around 1/2 inch. The larvae resemble caterpillars and may have several different appearances in their various instar phases, ranging from a creamy white with a powdery, waxy coating to a yellow with black markings.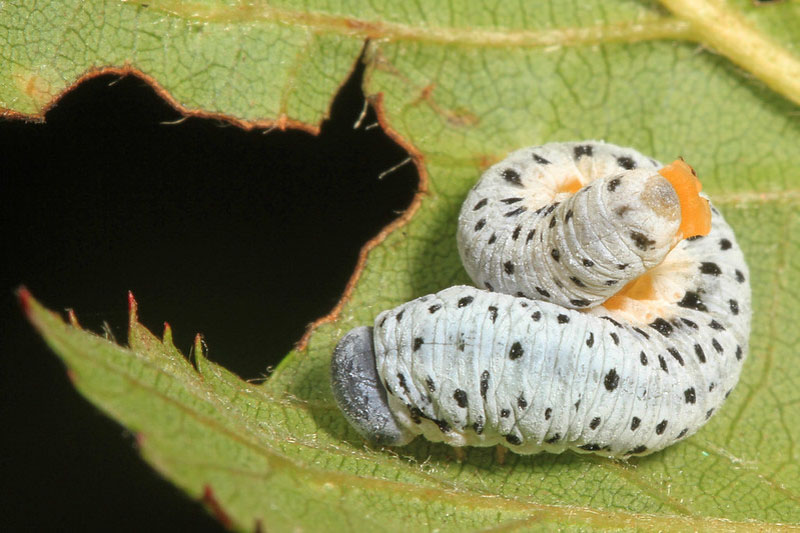 Life Cycle
The life cycle of the dogwood sawfly typically follows an annual pattern, although this can vary depending on environmental factors like temperature and availability of host plants. Here is a general outline of the dogwood sawfly's life cycle:
Egg-Laying (Late Spring to Early Summer): Adult sawflies emerge in late spring or early summer. Females lay up to 100 eggs on the undersides of dogwood leaves, often in a cluster. Each egg causes a small bump that eventually turns brown. The adult sawflies die shortly after the egg-laying process is completed.
Larval Stage (Summer): The eggs hatch into larvae, similar to caterpillars. Initially, they are often covered in a powdery, waxy substance and are creamy white. The last larval instar undergoes a dramatic color change, developing a yellow body with black markings. During this stage, the larvae are voracious feeders, consuming the leaves of their host dogwood plants. They often eat the tissue between the veins, leaving a skeletonized leaf behind.
Pre-Pupal Stage (Late Summer to Early Fall): Once they have reached maturity, the larvae descend to the soil beneath the host plant. There, they create small chambers in which they will pupate.
Pupal Stage (Fall to Early Spring): Inside these soil chambers, the larvae transform into pupae. This pupal stage is where they will overwinter, protected from the elements.
Adult Emergence (Late Spring): As temperatures warm in the following spring, the adult sawflies emerge from the soil, and the life cycle begins anew.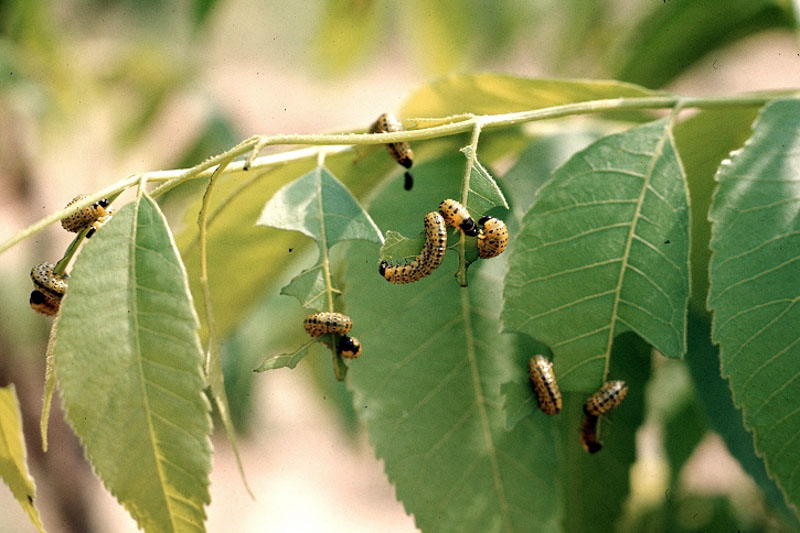 Damage and Detection
Damage:
The dogwood sawfly primarily damages dogwood plants during its larval stage. The larvae feed voraciously on the leaves, often skeletonizing them by consuming the leaf tissue between the veins. In severe infestations, larvae can defoliate entire branches or even whole trees. Early signs of damage may include a lace-like appearance to the leaves. Eventually, affected leaves may brown, curl, and fall off. Although healthy, mature dogwood trees can typically tolerate some defoliation without long-term harm, young or stressed trees may experience reduced growth and vigor due to the feeding damage.
Detection:
The first step in detecting a dogwood sawfly infestation is close visual inspection of your dogwood trees, mainly focusing on the leaves' undersides where eggs and larvae are commonly found.
Watch out for leaves that are skeletonized or have a lace-like appearance, as this is a telltale sign of sawfly feeding. You may also notice small holes in the leaves, indicating that the larvae have started to feed.
If you're still not sure if you're dealing with a sawfly infestation, gently shake a branch over a white sheet of paper; the larvae should fall off and be easily identifiable.
By being proactive and regularly inspecting your dogwood trees, you can catch infestations early and manage them more effectively.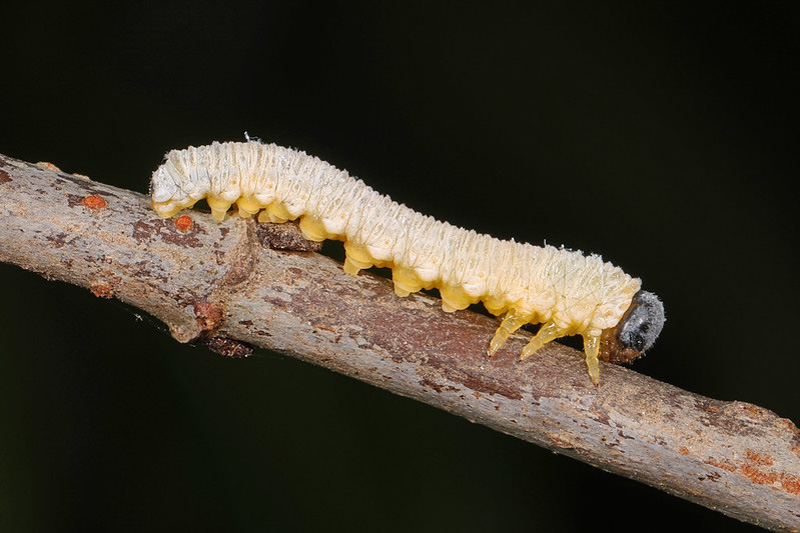 Prevention and Control
Prevention:
Regular Monitoring: One of the best preventive measures is to regularly inspect your dogwood trees for signs of sawfly activity, especially during late spring and early summer when the larvae are most active.
Cultural Practices: Keeping the area around your trees clean and free of debris can deter sawflies from laying eggs. Proper watering and fertilization also help the tree withstand minor infestations.
Natural Predators: Encouraging birds and beneficial insects can help naturally control sawfly populations. Ants, predatory wasps, and other insects are known to prey on sawfly larvae.
Resistant Varieties: Opt for dogwood varieties that are less susceptible to sawfly infestation, based on local agricultural advice.
Control:
Manual Removal: For low-level infestations, removing the larvae by hand and dropping them into a bucket of soapy water can be effective.
Insecticidal Soap: Spray the larvae directly with insecticidal soap. This is effective if the dogwood sawfly caterpillars are less than an inch long.
Professional Help: For persistent or severe infestations, consider consulting a certified arborist or pest management professional.
While every effort has been made to describe these plants accurately, please keep in mind that height, bloom time, and color may differ in various climates. The description of these plants has been written based on numerous outside resources.