Borers are insects that spend a portion or all of their larval stage inside the stems, trunks, branches, or fruits of plants, where they feed and grow. The term "borer" encompasses a range of insect species from various families, but they all share the habit of burrowing into plant material.
Types of Borers
There are thousands of species of borers belonging to various insect families. It's estimated that there could be tens of thousands of borer species worldwide, each adapted to specific host plants and habitats. Here's a breakdown of the major types of borers:
Clearwing Borers (Family: Sesiidae)

Description: These moths closely resemble wasps.
Example: Peachtree borer (Synanthedon exitiosa), which attacks stone fruits.

Flatheaded Borers (Family: Buprestidae)

Description: Also known as metallic wood-boring beetles, the adults often have a flattened body and are shiny or metallic in appearance.
Example: Emerald ash borer (Agrilus planipennis), which has devastated ash tree populations in North America.

Roundheaded Borers (Family: Cerambycidae)

Description: Also referred to as longhorned beetles because of their long antennae.
Example: Asian longhorned beetle (Anoplophora glabripennis), which targets a variety of hardwood trees, including maple, birch, horse chestnut, poplar, willow, elm, and ash.

Stem and Cane Borers

Description: Various beetles and moths whose larvae bore into the stems of herbaceous plants and woody shrubs.
Example: Raspberry cane borer (Oberea bimaculata).

Fruit Borers

Description: Insects that primarily bore into fruits.
Example: Codling moth (Cydia pomonella), a primary pest of apples.

Vine Borers (Family: Sesiidae)

Description: These are moths that attack vine plants.
Example: Squash vine borer (Melittia cucurbitae).

Twig Borers

Description: Borers that specifically target the twigs of plants.
Example: Peach twig borer (Anarsia lineatella).

Palm Borers

Description: Beetles that target palm trees.
Example: South American palm weevil (Rhynchophorus palmarum).

Shoot Borers

Description: These insects target the new shoots of plants.
Example: Sugarcane shoot borer (Chilo infuscatellus).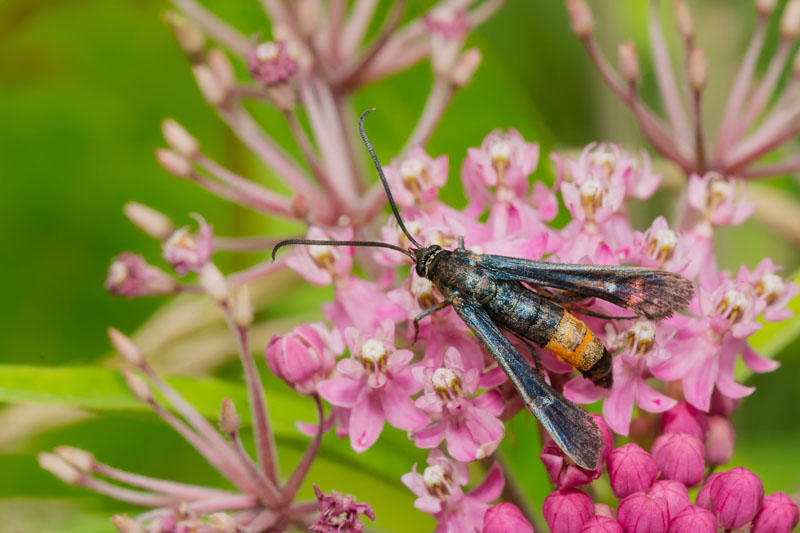 Peachtree Borer Moth
Different types of borers tend to be specific to certain host plants and regions. Proper identification of the borer type is crucial for implementing effective control measures.
Host Plants
Borers can be quite selective when it comes to their host plants. Here's a list of some common borers and their primary host plants:
It's essential to remember that borers often prefer stressed, weakened, or older trees. Thus, a key prevention strategy involves keeping plants healthy and well-maintained. Moreover, some borers have a broader host range than others, and regional variations might influence their choice of plants. Always refer to local resources or experts to determine the primary hosts in a specific area.
Regions impacted
Borers are found worldwide, from the temperate regions of North America and Europe to tropical regions in Asia, Africa, and South America. Their distribution is largely determined by the presence of their host plants and climatic conditions conducive to their life cycle.
Description
Larvae: Typically legless or with only a few legs, they are often creamy white and cylindrical or slightly flattened.
Adults: Can be moth-like or beetle-like, depending on the species. Some may be brightly colored, while others are drab.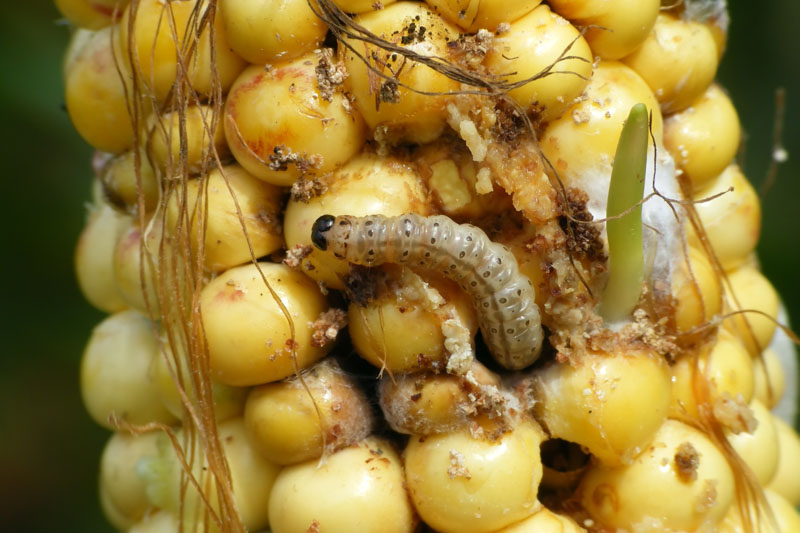 European corn borer larva
Life Cycle
The life cycle varies among borer species, but a general pattern is:
Egg: Laid on the bark, stems, or leaves of host plants.
Larva: Hatches and bores into the plant, where it feeds and grows. This is the destructive stage.
Pupa: After fully growing, the larva pupates, often within the plant.
Adult: Emerges from the plant to mate and lay eggs, starting the cycle again.
Damage and Detection
Entry and Exit Holes: Small round holes in trunks, branches, or stems.
Frass: The fine, sawdust-like waste produced by borers.
Dieback: Affected branches or stems may wilt and die.
Canopy Thinning: Trees heavily infested might have a thin, unhealthy canopy.
Gumming: Trees, especially stone fruits, might produce gum or sap at the site of the infestation.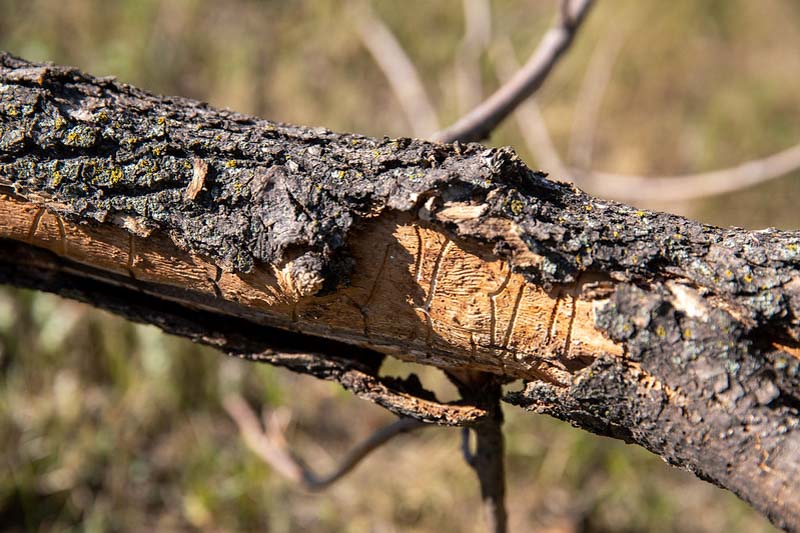 Emerald Ash Borer damage
Prevention and Control
Cultural Practices: Healthy plants are less attractive to many borers. Proper watering, fertilizing, and pruning can keep plants healthy.
Physical Barriers: Tree wraps can prevent some borers from reaching the bark to lay eggs.
Beneficial Insects: Parasitic wasps can help control borer populations.
Chemical Control: Insecticides can be applied to the bark or around the base of plants. Timing is crucial as the product must target newly hatched larvae before they bore into the plant.
Pheromone Traps: Used to capture male moths, reducing mating and subsequent egg-laying.
Resistant Varieties: Some plant varieties are less susceptible to borers.
Biological Control: Beneficial nematodes or fungi can be introduced to target the larvae.
Remove and Destroy Infested Material: This helps reduce the population of borers and prevents them from spreading.
Borers, though diverse, share the destructive habit of tunneling through plants, weakening or even killing them. Understanding the biology and behavior of these pests is crucial for effective prevention and control. With vigilance and a combination of cultural, physical, and chemical strategies, gardeners and farmers can protect their plants from these insidious pests.
While every effort has been made to describe these plants accurately, please keep in mind that height, bloom time, and color may differ in various climates. The description of these plants has been written based on numerous outside resources.