The Dogwood Twig Borer (Oberea tripunctata) is an insect pest that targets dogwood trees, primarily in Eastern and Central North America. It bores into twigs and branches, causing structural damage and weakening the host plant.
Host Plants
The Dogwood Twig Borer primarily targets various species of dogwood trees (Cornus spp.) as its host plants. However, it is not restricted solely to dogwoods. It has been known to infest other types of trees as well, including:
Regions impacted
The distribution of the Dogwood Twig Borer closely aligns with that of the flowering dogwood, predominantly found in eastern and central North America. Its range extends from Maine in the north to Florida in the south and reaches westward to Texas, Kansas, and North Dakota.
Description
Adult: The adult Dogwood Twig Borer is a slim, long beetle about half an inch long. Its head is black, while the chest area, belly, and legs are yellow. The chest has two black bumps on top and another black spot closer to the head. The wing covers are usually a light tan with black lines on the edges.
Egg: The eggs are yellow, slightly curved, and tiny—ranging from about one-eighth to one-sixth of an inch long and barely visible in width.
Larva: The larva is pale yellow with a dark brown head. They are about an inch long and smooth, shiny, and legless. The body gets narrower toward the end.
Pupa: The pupa, or the stage before the beetle becomes an adult, is off-white and about half an inch long.
Life Cycle
The life cycle of the Dogwood Twig Borer begins with the adult beetle laying eggs, typically in the spring. These eggs are laid on susceptible host plants, mainly dogwood trees.
Once the eggs hatch, the larvae emerge and start to bore into the twigs of the host tree. They feed on the inner tissues, creating tunnels as they go along. This stage is where most of the damage occurs to the host plant. The larval stage can last several weeks to months, depending on environmental conditions.
As the larvae mature, they undergo pupation. During this stage, they transform into a pupa, which is an intermediate stage before they become adult beetles. This stage occurs inside the same tunnels created by the larvae, and the time it takes for pupation can vary.
Finally, the adult beetles emerge from the pupal case, exiting the tunnels to mate and lay eggs, completing the life cycle. Adult beetles are active in the late spring and early summer, when you're most likely to spot them. Once they've laid their eggs, the cycle begins anew.
| | |
| --- | --- |
| | |
Damage and Detection
The damage caused by Dogwood Twig Borers is primarily seen in the twigs and branches of host plants. The larvae bore into the wood, creating tunnels that weaken the structure and interfere with nutrient and water flow within the plant. This can result in wilting, dieback, and in severe cases, death of branches. These symptoms often appear as drooping leaves or dead tips on the branches.
Detection can be challenging due to the internal nature of the damage. However, several signs can indicate an infestation:
Entry and Exit Holes: Small holes in the twigs or branches indicate where the larvae have entered or exited.
Frass: A sawdust-like material, known as frass, may be visible near entry and exit holes, which is the waste material produced by the larvae.
Wilting or Yellowing: Affected branches may show signs of wilting or leaves turning yellow due to disrupted water and nutrient flow.
Dieback: Tips of branches may die back, and in extreme cases, entire branches may die.
Visual Confirmation: Adult beetles may be seen on the plant, especially during their active months in late spring to early summer.
Early detection and management are key to minimizing damage. Regularly inspecting your dogwood trees, especially during the active beetle season, will help you identify an infestation before it becomes severe.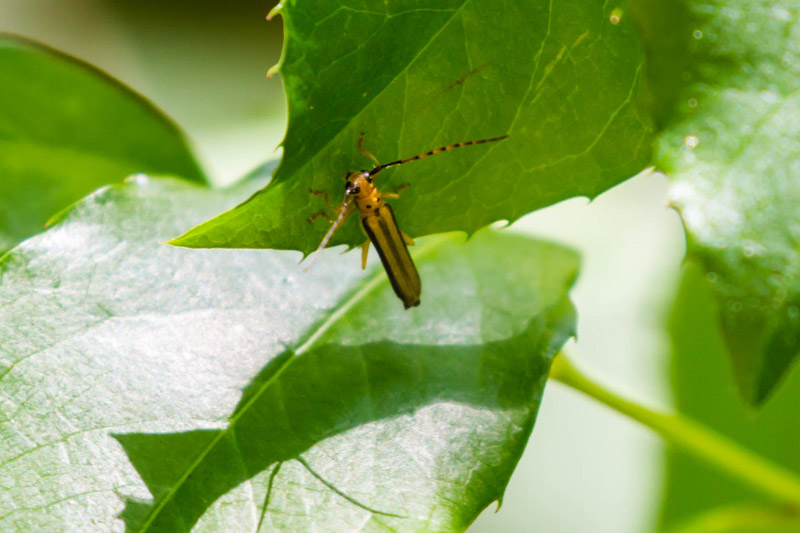 Prevention and Control
Managing Dogwood Twig Borer infestations requires a combination of cultural, mechanical, and chemical methods for effective prevention and control. Here are some strategies:
Cultural Methods
Proper Planting and Care: Healthy trees are less susceptible to infestation. Make sure your dogwoods are planted in suitable soil and receive adequate water and nutrients.
Pruning: Remove infested or damaged branches to prevent the larvae from spreading to the rest of the tree. Make sure to dispose of these branches properly.
Sanitation: Keep the area around the dogwood tree clean to eliminate potential hiding spots for adult borers.
Chemical Methods
Insecticides: Chemicals like pyrethroids can be effective but should be used as a last resort and according to manufacturer guidelines. Spray insecticides when you first notice signs of infestation, usually in late spring or early summer.
Biological Control
Natural Predators: Encourage natural predators like woodpeckers and parasitic wasps which can help control the borer population.
Monitoring
Regular Inspections: Consistently monitor your trees for signs of damage or the presence of adult borers. Early detection is crucial for effective management.
By employing a combination of these strategies, you can effectively manage and control Dogwood Twig Borer infestations and protect the health of your dogwood trees. Always consult professionals or local agricultural extensions for specific advice tailored to your region.
While every effort has been made to describe these plants accurately, please keep in mind that height, bloom time, and color may differ in various climates. The description of these plants has been written based on numerous outside resources.