Spanish Bluebell (Hyacinthoides hispanica) is a charming and resilient bulbous perennial boasting nodding bell-shaped flowers on sturdy stalks and adding beauty to the spring landscape.
What are Spanish Bluebells?
Hyacinthoides hispanica, commonly known as Spanish bluebell, is a flowering bulbous perennial native to the Iberian Peninsula, including Spain and Portugal, and northwest Africa.
Habit and size: The plant has an upright growth habit and will spread to form beautiful colonies if allowed to naturalize, spreading by bulb offsets (bullets). It can reach a height of 6-18 inches (15-45 cm) with a similar spread.
Foliage: Spanish bluebells produce smooth, linear, glossy green leaves, forming a fresh green, attractive, clump-forming mound.
Flowers: Each bulb produces attractive, nodding, bell-shaped flowers hanging from sturdy, round flower stalks. The flowers appear in various colors – blue, pink, white, or lavender.
Blooming Season: Spanish bluebells bloom in mid to late spring.
Hardiness: The plant is hardy in USDA zones 3-8, able to withstand cold winter climates and return year after year.
Uses: Due to its attractive flowers and foliage, it is commonly used in woodland gardens, borders, rock gardens, or for naturalizing in lawns. It is particularly effective in shady areas where other plants may struggle.
Pollinators: Bees and other pollinators are attracted to the flowers, making it a good choice for a pollinator garden.
Toxicity: All parts of the bluebell plant contain toxic glycosides that are poisonous to humans, dogs, horses, and cattle.
Deer and Rabbit: The plant is deer and rodent resistant.
Invasiveness: Spanish bluebells can be invasive in some areas as they can reproduce by bulb or by self-seeding. Find where this plant is invasive in the U.S.
Spanish bluebells can create a stunning display when planted in large numbers. Unlike many other spring bulbs, they can tolerate a fair amount of shade, making them a versatile choice for many garden situations. They are often confused with English bluebells (Hyacinthoides non-scripta) but can be distinguished by their straight stems, blue (not cream) pollen, and the fact that their bell-shaped flowers are open and spread fairly evenly around the stem, not hanging to one side.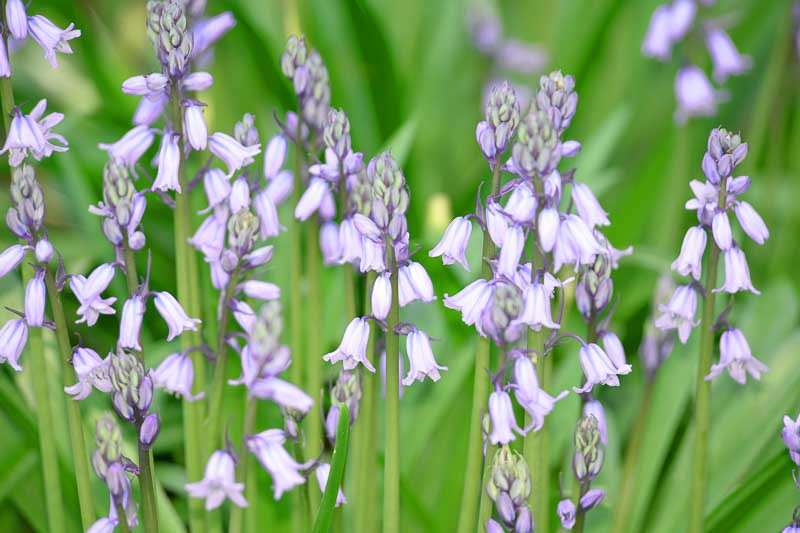 Why Should I Grow Spanish Bluebells?
There are several reasons why growing Spanish Bluebells (Hyacinthoides hispanica) could be an excellent choice for your garden:
Versatility: Spanish Bluebells are very versatile plants. They tolerate a range of light conditions, from full sun to shade, and are adaptable to various soil types. This makes them a great option for a variety of garden environments.
Naturalizing Abilities: These plants are excellent for naturalizing in the garden. They will multiply and spread over time, creating beautiful drifts of color. They can even be grown in lawns to create a colorful spring meadow effect.
Low Maintenance: Once established, Spanish Bluebells require very little care.
Attracts Pollinators: The flowers attract bees and other beneficial pollinators to the garden, promoting biodiversity.
Deer and Rabbit Resistant: Thanks to their toxic bulbs, they are usually avoided by deer and rabbits, making them a great choice for areas where these animals are a problem.
Cut Flowers: Spanish Bluebells make lovely cut flowers. Their long, sturdy stems and long-lasting blooms make them perfect for vases, allowing you to bring a touch of spring indoors.
For these reasons, Spanish Bluebells can be a great addition to almost any garden, providing beautiful, easy-care color in late spring.
While every effort has been made to describe these plants accurately, please keep in mind that height, bloom time, and color may differ in various climates. The description of these plants has been written based on numerous outside resources.