This glowing garden is part of Andrew Grossman's own garden located in Seekonk, Massachusetts. Contrasting with the Blue & White section of Andrew's garden, this "Hot Colored" garden is a festival of yellows, reds, and oranges. For Andrew, color schemes are very important to create style and appeal. Extensively flowering from spring to frost in geographic areas where the average minimum winter temperatures are higher than -28°C or -20°F. The overall structure and planting in this garden took about one month. The checkerboard planting scheme is one of the highlights – this simple design of paving stones and plants really creates a dramatic courtyard effect. Here thyme has been used, which requires trimming by hand twice a summer.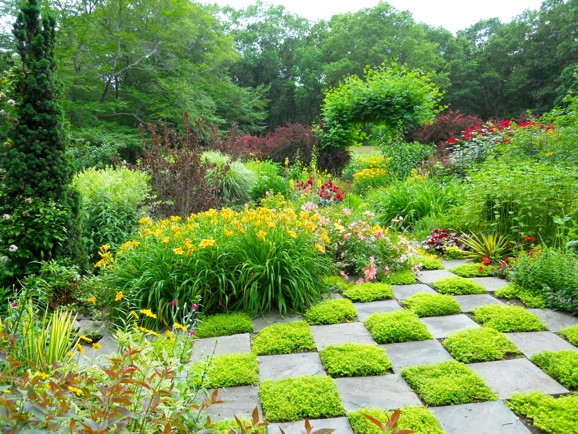 June – A Hot Colored Garden by Andrew Grossman
As with Claude Monet, Andrew likes neither organized nor constrained gardens. He marries flowers according to their colors and allows them to grow rather freely. Here, the golden daylilies 'Black-Eyed Stella', the coral roses 'Floral Carpet', and Rosa europeana offer a bright bouquet of colors illuminating the checkerboard.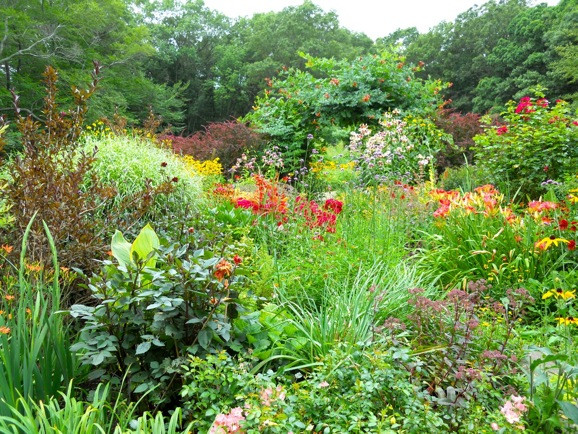 July – A Hot Colored Garden by Andrew Grossman
Some glorious Canna Pretoria, Dahlia Bishop of Llandaff, and Black-Eyed Susan (Rubbeckia hirta) are enjoying the last ray of summer sunshine.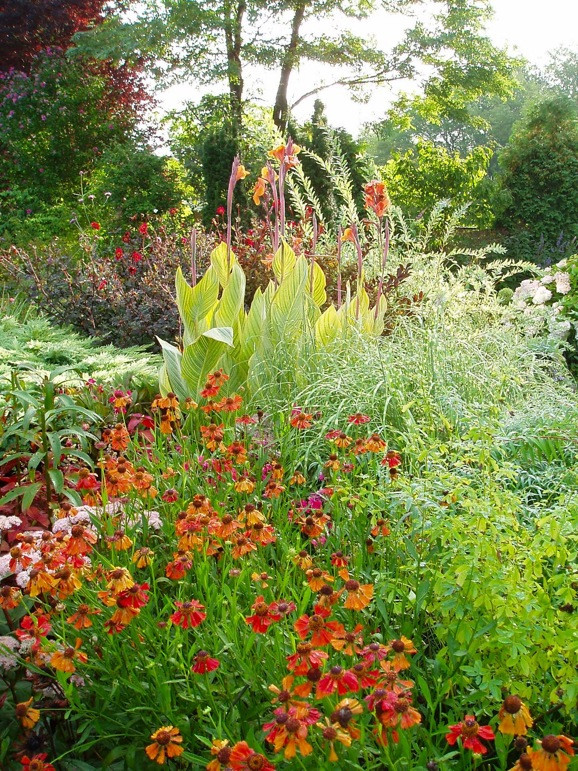 September – A Hot Colored Garden by Andrew Grossman
A beautiful arbor covered with orange and yellow Trumpet Vines (Campsis Radicans) signals the entrance to this hot-colored garden, a joyous space where lounging for a couple of hours would be a treat!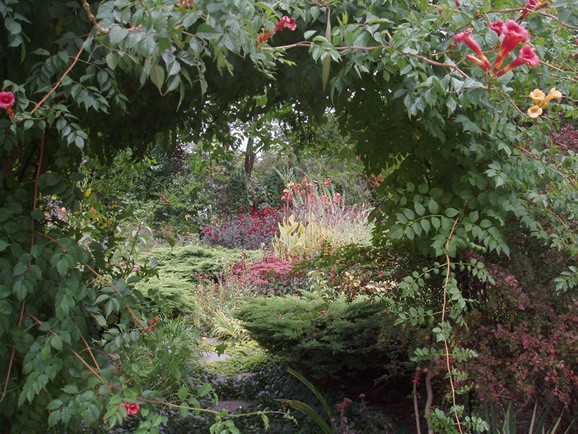 September – A hot Colored Garden by Andrew Grossman
Plants in the garden

Bulbs

Oriental Lily 'Black Beauty' Oriental Lily 'Scheherazade'
Dahlia 'Bishop of Llandalf'
Canna Pretoria
Gladiolus
Blackberry Lily

Perennials

Daylily 'Cheery Cheeks'
Daylily 'Black Eyed Stella'
Bee Balm 'Jacob Cline'
Rosa 'Flower Carpet'
Rosa europeana
Rosa robusta
Rudbeckia 'Herbstsonne'
Sedum 'Purple Emperor'
Verbena Bonariensis
Yucca Gold Sword
Heuchera 'Prince of Silver'

Shrubs

Dappled Willow (Salix integra Hakuro Nishiki)
Barberry ' Rose Glow' (Berberis thunbergii)
Weigela
While every effort has been made to describe these plants accurately, please keep in mind that height, bloom time, and color may differ in various climates. The description of these plants has been written based on numerous outside resources.