This warm and perfectly neat 'Salmon Bay' gravel path, beautifully framed by 'Otto Quast' Spanish lavender and other Mediterranean plantings, creates a rustic outdoor room for the fire pit area. This natural-gas fire pit has been constructed with a brick interior and sandstone veneer exterior. The painted wood benches nicely complement the curves and rustic finish of the pit and its surroundings.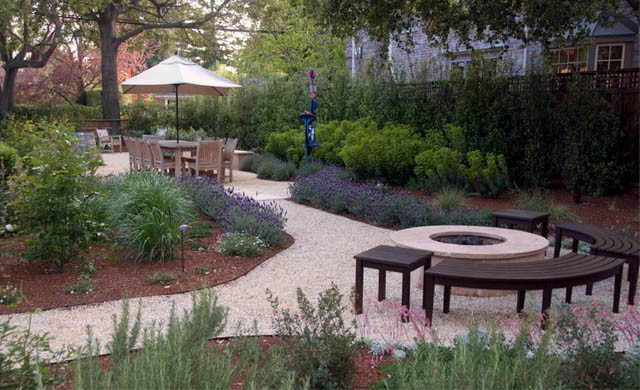 Lavender makes a fantastic edging plant, gently sprawling over the edges and softening harsh outlines. Not only does it look beautiful, but as you walk along it, it releases its delightful relaxing scent. Also leading to the dining patio, this path is nicely complemented by the buff and peach Arizona sandstone, laid on an aggregate bed, and creating the informal elegance of this garden space.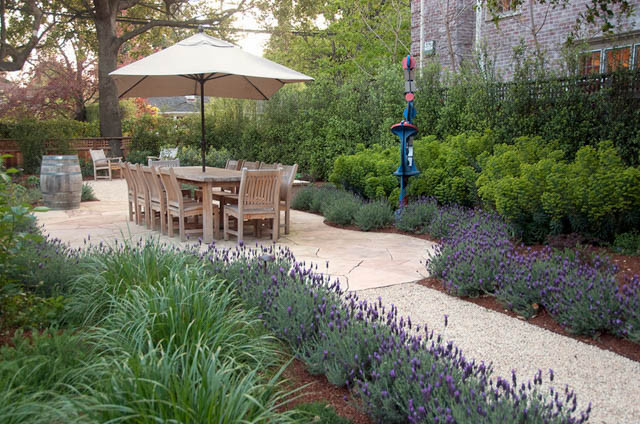 It is beautifully paired with chartreuse Euphorbia for contrast. Notable for its peculiar flowers and handsome foliage, Siberian Spurge (Euphorbia seguieriana subsp. niciciana) is an upright, bushy, clump-forming perennial which is perfect to brighten any border. It produces exceptionally eye-catching clusters of bright lime-green flowers in late spring which last for months. The semi-evergreen foliage of narrow, blue-green leaves, radiates from exquisitely branched mahogany-red stems and combines attractively with ornamental grasses, Alliums or Lavenders.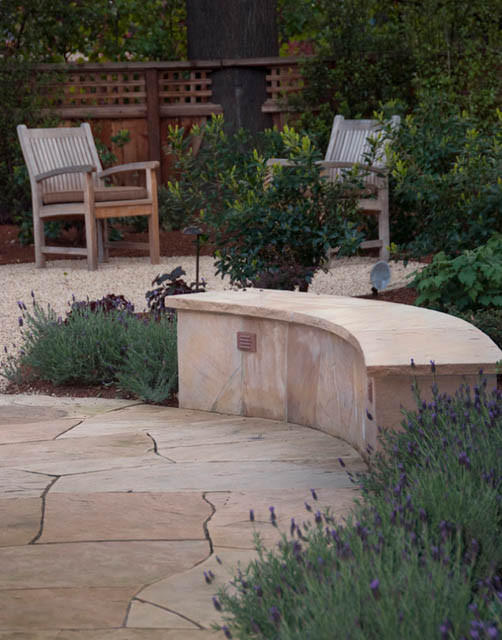 This curved seat wall both defines the edge of the dining patio and provides additional gathering space. An intimate seating area that is beyond perfect for one-on-one conversations. The purple Spanish lavender complements the warm buff and peach tones of the Arizona flagstone used on the wall and the patio floor.
While every effort has been made to describe these plants accurately, please keep in mind that height, bloom time, and color may differ in various climates. The description of these plants has been written based on numerous outside resources.