This remarkable oasis, set in Wentworth Falls, Australia, is Arthur Lathouris's own garden, an award-winning landscape designer with 25 years of experience.
Covering approximately one acre, this garden is divided into a variety of 'rooms' that are all connected via winding, pebble, and mulched paths. Free-flowing, there is a feeling of quiet serenity emanating from the various plantings, carefully selected on the basis of their form, texture, and color.
Water use in the garden is minimal and all green waste passes through the compost making this garden very sustainable. There is no watering system and most of the water received is rain.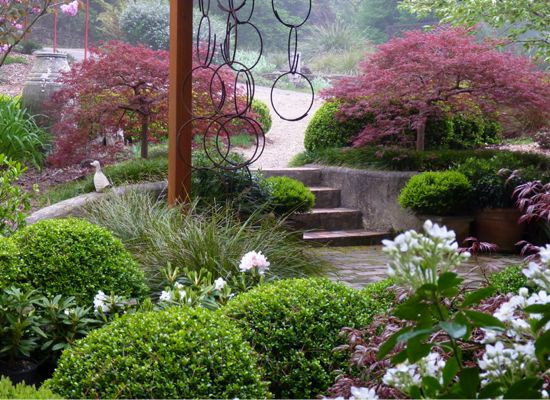 This colorful courtyard reveals the beauty of a pair of Weeping Japanese Maples (Acer palmatum 'Dissectum Atropurpureum') covered with their claret red spring foliage which turns deep orange and crimson in the fall. Contrasting with their hot-colored foliage and adding its delightful fragrance is a Mexican Orange Blossom (Choisya ternata) which exhibits orange-scented, white blossoms in spring and sporadically throughout the year. Its glossy, evergreen leaves are aromatic too.
Sheared into formal globes are a few evergreen Japanese Boxwood (Buxus microphylla var. japonica). Their small, glossy, bright green leaves, as well as their small flowers in spring, enjoy a distinct fragrance.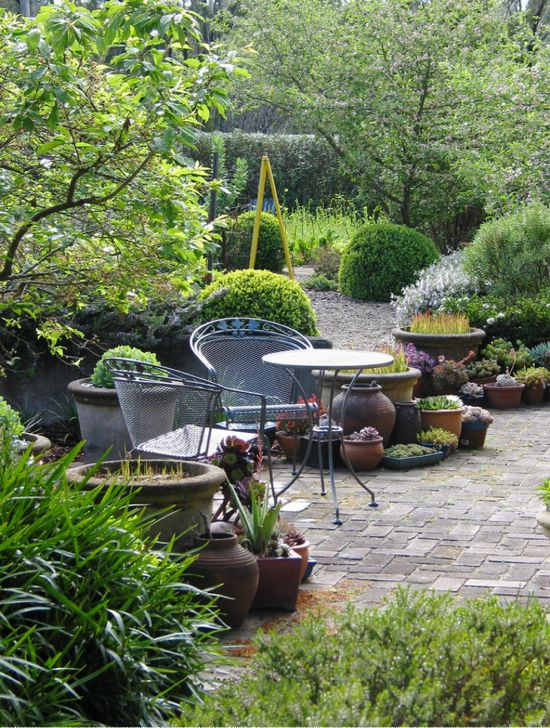 A casual and inviting sitting area with clusters of pots and containers is used to grow a rich collection of succulents.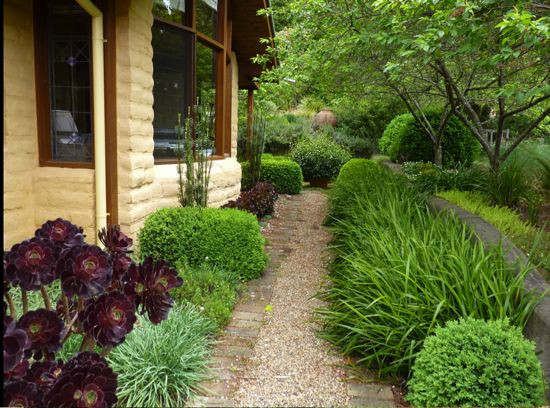 Adding drama to this small natural stone path is the rich, plum-colored Black Tree Aeonium (Aeonium 'Schwarzkopf'). This fascinating succulent shrub enjoys flattened rosettes of leaves that get blackest in full sun. Drought tolerant, it survives on almost no water and can be used as a stunning plant specimen in pots or in the ground. It is beautifully combined with Dianella caerula 'Little Jess', a dwarf variety with short canes that do not fall over and produces masses of purple flowers in the fall. Drought tolerant and low maintenance, it acts as a lovely hedge.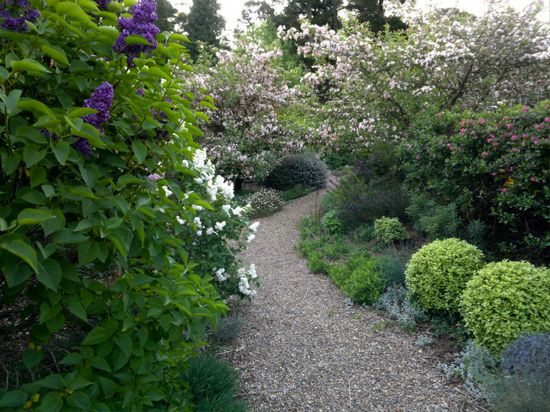 Here the wanderer of this garden will find a curving gravel pathway lined with Bechtel Crabapples (Malus Ioensis 'Flora Plena') covered with fragrant, pale pink double blossoms. These small trees (20′ – 6 m) enjoy both an excellent spring floral display and lovely fall colors. They are combined with bright mint-green Pittosporum tenuifolium and the handsome and fragrant foliage of Escallonia macrantha, a great shrub for sheltering windy garden, that is often so red with blossoms in summer as to be conspicuous from a distance.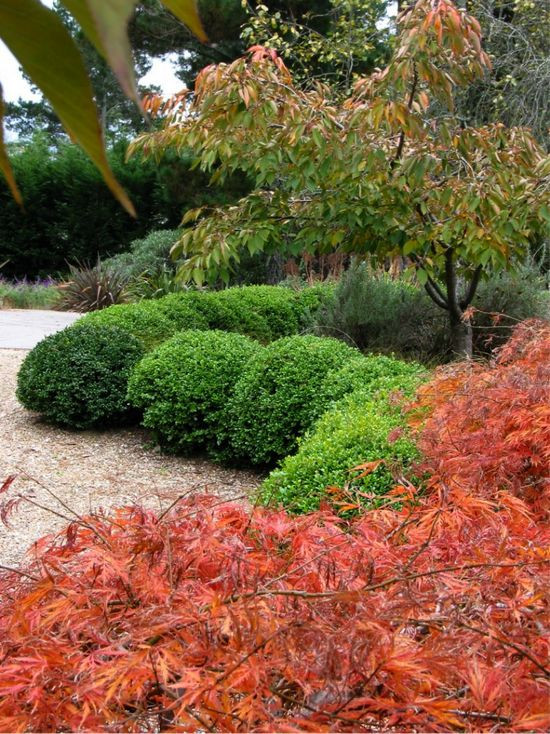 Sensitive to forms, textures, and colors, Lathouris carefully selected plants that enjoy marked seasonal variations, contributing to the constantly changing landscape. Here the informal hedge of bright green Japanese Boxwood pruned into domes contrasts with the fiery coral-red colors of the Japanese Maple.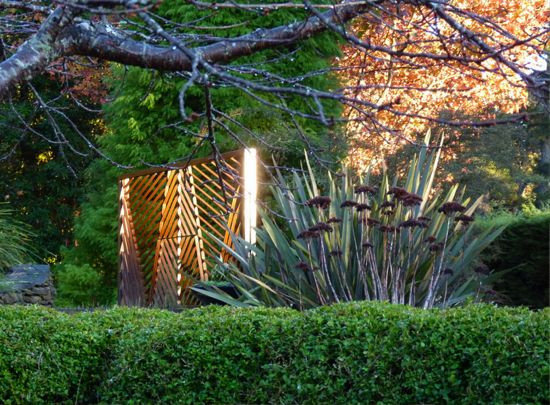 Sculptures, urns, and other decorative accessories adorn the various small gardens, providing architectural interest and clearly drawing the eye. This "Golden Gate" sculpture is beautifully complimented by the bold, sculptural form and ornamental seed heads of Sedum 'Herbsfreude' or 'Autumn Joy'. Recipient of the Award of Garden Merit of the Royal Horticultural Society, this standout perennial forms a 2 feet tall (60 cm) clump of thick, fleshy gray-green foliage topped with flower buds resembling broccoli. Gradually, these densely clustered buds will reveal tiny, star-like pink flowers in mid to late summer, which softly give way to rich rose and then coppery-rust in the fall as they die.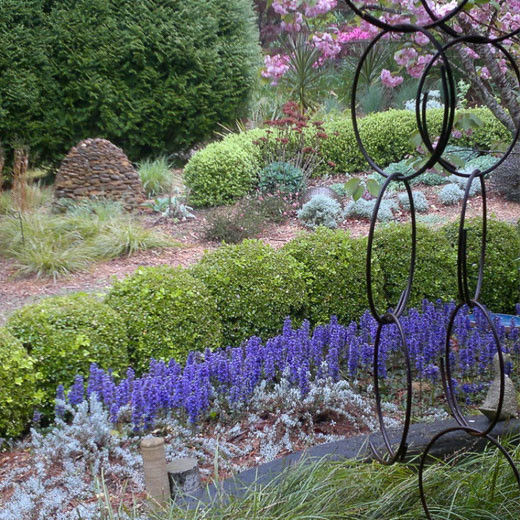 Behind these rusty steel ring mobiles hanging from the veranda beam, a pastel-colored Japanese flowering Cherry Tree (Prunus serrulata 'Kanzan') puts on a great show with its double, deep cyclamen pink blooms. This deciduous tree flowers in Spring, around late summer in the Blue Mountains west of Sydney (1000 m elevation). It flowers earlier in warmer climates and later in colder climates. In fall the leaves color in a range of vibrant hues from orange to red before dropping for the winter dormancy period. Competing for attention are the deep blue blossoms of the Bugleweed (Ajuga reptans), a light shade lover that is a wonderful spreader and can quickly make a colorful ground cover.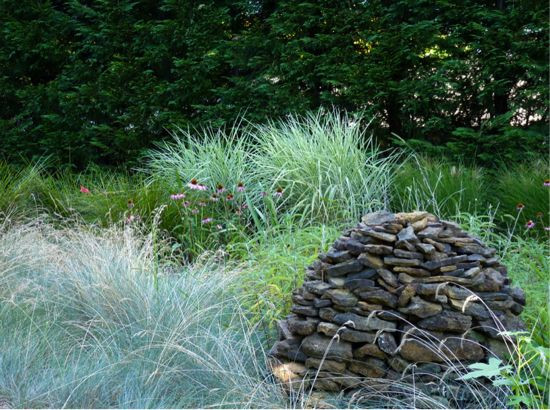 Ironstone which is found naturally on the site has been used for retaining and feature walls. Lathouris even used it to create a "hive" looking sculpture in the midst of Eulalia (Miscanthus sinensis 'Variegata'), Blue Fescue (Festuca glauca), and Purple Coneflower (Echinacea purpurea). A delightful setting!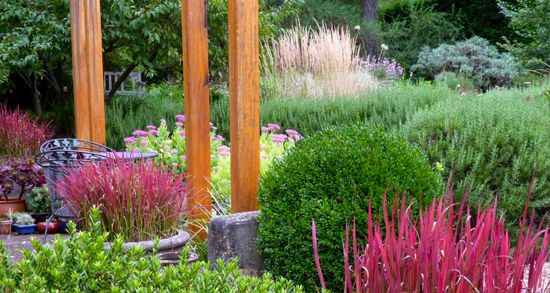 Grasses and strappy-leaved plants feature prominently in the garden. Here the eye-catching Japanese Blood Grass (Imperata rubra), green at the base and scarlet at the tops, creates a stunning effect for months, whether grown in the ground or in containers. The spiky, bright red foliage is delightfully echoed by the Feather Reed Grass (Calamagrostis x acutiflora), a majestic ornamental grass, highly valued for its erect feathery pinkish flower plumes and bright mounds of green-and-white striped leaves. Combined with the round vivid balls of English Boxwood, (Buxus sempervirens) makes a strong statement that is a real feast for the eyes!
While every effort has been made to describe these plants accurately, please keep in mind that height, bloom time, and color may differ in various climates. The description of these plants has been written based on numerous outside resources.