Anthemis tinctoria: A captivating perennial with golden yellow blooms and fragrant foliage.
What is Golden Marguerite?
Anthemis tinctoria, also known as dyer's chamomile or golden marguerite, is a perennial flowering plant that is native to Europe, the Mediterranean, and Western Asia and naturalized in scattered locations in North America.
Description: Anthemis tinctoria is a bushy, clump-forming perennial bearing attractive, daisy-like flowers. The stems are erect and typically lightly covered in fine hairs, giving the plant a somewhat fuzzy appearance.
Habit & Size: This plant typically forms a mound, growing about 2-3 feet (60-90 cm) in height and spreading to about the same width. It grows rapidly, self-seeds under favorable conditions, and can become quite vigorous if not managed.
Flowers: The flowers of Anthemis tinctoria are its most striking feature. They are similar in appearance to daisies, with a vibrant yellow center and radiating petals that range in color from lemon yellow to canary yellow or creamy white. Each flower is about 1-2 inches (2-5 cm) across, providing a cheerful display throughout the blooming season.
Foliage: The foliage of Anthemis tinctoria is finely dissected, giving the leaves a feathery appearance. The leaves are medium green, sometimes with a slightly grayish tinge, and remain attractive even when the plant is not in bloom. The foliage is aromatic and emits an herbal fragrance reminiscent of chamomile. It is evergreen in mild climates, adding some winter interest to the garden.
Blooming Season: The plant blooms profusely throughout summer and sometimes into fall, adding vibrant color to the garden for a long period. Deadheading spent flowers will promote further blooms and extend the flowering period.
Hardiness: Anthemis tinctoria is a hardy plant, capable of withstanding temperatures as low as -30°F (-34°C). It's generally suited to USDA hardiness zones 3-8.
Uses: Due to its striking flowers and long blooming season, Anthemis tinctoria is often used in perennial borders, rock gardens, and cottage gardens. It also makes excellent cut flowers. Historically, its vibrant yellow flowers were used to produce dye, hence its common name dyer's chamomile.
Pollinators: The bright, daisy-like flowers of Anthemis tinctoria are a magnet for a variety of pollinators, including bees, butterflies, and other beneficial insects.
Toxicity: Caution should be exercised with Anthemis tinctoria, as it has potential toxicity. It is important to handle this plant with care and ensure that it is kept out of reach of children and pets.
Deer & Rabbit: The plant is typically resistant to deer browsing, which can make it a valuable addition to gardens in areas where these animals are common.
Drought: Once established, Anthemis tinctoria is moderately drought-tolerant. However, it prefers evenly moist soil for optimal growth and flowering.
Invasiveness: While this plant can self-seed prolifically under favorable conditions. Gardeners should keep an eye on its spread to prevent it from taking over other plants in the garden. Find where Anthemis tinctoria is invasive in the U.S.
Key Facts: Anthemis tinctoria is prized for its beautiful, daisy-like flowers, long blooming season, and pollinator-attracting abilities. Despite its somewhat untidy growth habit, it brings a wild, natural look to gardens and can be a great addition to various garden styles due to its versatility and hardiness.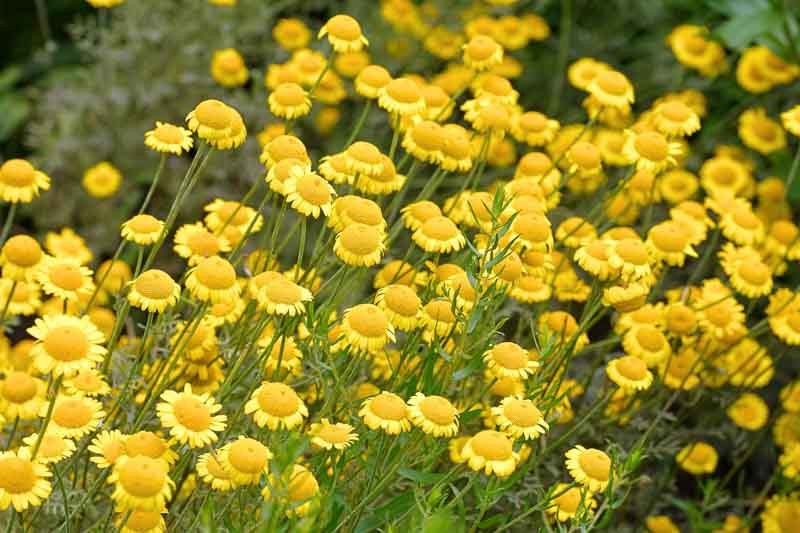 Why Should I Grow Anthemis?
There are several reasons why you might consider growing Anthemis tinctoria in your garden:
Attractive Blooms: The vibrant, daisy-like flowers of this plant are its main draw. They add a splash of bright yellow color to the garden from early summer to early fall, providing a continuous display throughout much of the growing season.
Long Blooming Season: Compared to many other perennials, Anthemis tinctoria has an exceptionally long blooming season, providing color in the garden for months at a time. This makes it a valuable plant for ensuring continuous interest in your garden.
Pollinator-Friendly: The bright flowers of Anthemis tinctoria are a magnet for a variety of pollinators, including bees and butterflies. By planting it, you're helping to support these beneficial creatures, which play a crucial role in ecosystems and agriculture.
Drought Tolerance: Once established, this plant is moderately drought-tolerant, making it a good choice for gardens in drier climates or for gardeners who prefer low-maintenance plants.
Deer Resistant: If your garden is frequented by deer, Anthemis tinctoria can be a great choice because these animals typically avoid it. This can save you a lot of frustration and damage to your garden.
Versatility: Anthemis tinctoria can be used in a variety of ways in the garden. It works well in borders, rock gardens, cottage gardens, and even containers. Plus, its relaxed growth habit can bring a lovely, natural look to your garden.
Easy to Grow: This plant is generally easy to grow and doesn't require a lot of special care. It's also fairly hardy, capable of withstanding cold temperatures. This makes it a good choice for beginner gardeners or those looking for plants that won't require a lot of effort to maintain.
Remember, it's always important to consider the specific conditions and needs of your garden when choosing new plants to grow.
While every effort has been made to describe these plants accurately, please keep in mind that height, bloom time, and color may differ in various climates. The description of these plants has been written based on numerous outside resources.