Asclepias, commonly known as Milkweed, is a vibrant and essential perennial that attracts pollinators and adds beauty to any garden with its colorful flowers and unique growth habit.
What is Asclepias?
Asclepias, commonly known as milkweed, is a genus of herbaceous perennial flowering plants belonging to the dogbane family Apocynaceae (formerly in Asclepiadaceae). These plants are adorned with clusters of small, interestingly shaped flowers in shades of yellow, green, purple, pink, or orange. Milkweed gets its name from the milky sap that exudes from the leaves and stems when the plant is cut or bruised.
Habit and Size: Milkweed plants have a bushy and upright growth habit, reaching heights of 2 to 6 feet (60-180 cm).
Flowers: The flowers are unique and complex, generally formed in umbrella-like clusters. Depending on the species, they are often fragrant and come in a range of colors, including pink, orange, yellow, green, and white. After flowering, milkweed produces seed pods that split open to reveal seeds with long, silken threads that catch the wind, aiding their dispersal. This process is a delight to behold and can add winter interest to the garden.
Foliage: The foliage of milkweed plants is typically light to dark green. The leaves vary in shape by species, but many have long, oval leaves that are pointed at the end and can be smooth or hairy.
Blooming Season: Most milkweed plants bloom between late spring and late summer, depending on the species and location,
Uses: Attractive and easy to grow, milkweed plants shine in many perennial gardens and are a key component of butterfly gardens, cottage gardens, or prairies and meadows.
Monarch Butterfly: Milkweed plants are critical to monarch butterflies' survival. Without Milkweed, monarchs cannot successfully reproduce. However, milkweed has been negatively impacted by habitat loss and the use of pesticides and herbicides. In the last 20 years, the monarch butterfly population in North America has decreased by 90%. By planting milkweed in your garden, you can help reverse the fortune of these beautiful insects!
Pollinators: Milkweed's nectar-rich flowers also attract a wide range of other pollinators, including bees and hummingbirds. I
Toxicity: Milkweeds are toxic to humans and animals and can cause a range of symptoms if ingested. The plant contains a milky sap containing cardenolides, toxic compounds that can cause gastrointestinal distress, nausea, vomiting, and other symptoms.
Deer and Rabbit: Deer and rabbits typically avoid milkweed because of its toxicity.
Drought tolerance: Milkweeds are fairly drought-tolerant and are adaptable to various soil conditions, though they prefer well-drained soils.
Invasiveness: Milkweed plants are not considered invasive. However, they can be vigorous growers and potentially spread beyond their intended area. Learn how to prevent milkweed from spreading.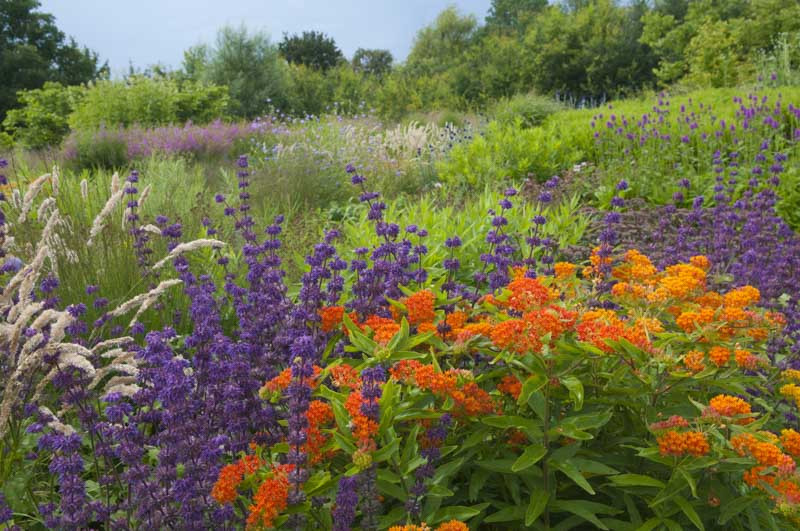 Why Should I Grow a Milkweed Plant?
Growing milkweed in your garden is a wonderful way to support local ecosystems, especially those of pollinators. Here are some reasons why you should consider growing milkweed:
Support for Monarch Butterflies: Milkweeds are the primary food source for Monarch caterpillars and are essential for their survival. By planting milkweed, you can provide much-needed habitat and food for these beautiful butterflies, whose populations have declined.
Attract Pollinators: Milkweed plants produce nectar-rich flowers that attract a wide range of pollinators, including bees, butterflies, and hummingbirds.
Drought Tolerance: Milkweed species generally tolerate dry conditions, making them a good choice for gardens in arid climates or areas subject to water restrictions.
Low Maintenance: Once established, milkweed requires little care. They're resistant to many pests and diseases and can thrive in a variety of soil conditions.
Unique Beauty: Milkweed flowers are unique and beautiful, and they can add bright pops of color to your garden during their blooming season.
Educational Opportunity: Planting milkweed can provide an excellent opportunity to educate children and adults alike about the life cycle of Monarch butterflies and the importance of plant-pollinator relationships.
Remember, it's always best to plant native species of milkweed as they're best adapted to your local climate and most beneficial to your local ecosystems. Check with a local nursery or extension service to find out which species are native to your area.
While every effort has been made to describe these plants accurately, please keep in mind that height, bloom time, and color may differ in various climates. The description of these plants has been written based on numerous outside resources.