Why Should I Grow Catmint?
Nepeta racemosa is an attractive and highly versatile plant to consider for your garden. Here are some reasons why you might want to grow this plant:
Aesthetic Appeal: Nepeta racemosa has lovely spires of lavender-blue flowers that bloom from late spring to early fall, adding color and interest to your garden for an extended period.
Attracts Pollinators: Its flowers are known to attract bees, butterflies, and other beneficial pollinators, making it a great choice for those looking to support biodiversity in their garden.
Drought Tolerant: Once established, Nepeta racemosa is drought-tolerant, making it an excellent choice for gardeners in drier climates or those seeking low-maintenance plants.
Deer and Rabbit Resistant: This plant is not very palatable to deer and rabbits, so it's less likely to be damaged by these garden pests.
Aromatic Foliage: The grey-green leaves of Nepeta racemosa are aromatic. When crushed, they emit a pleasant scent which can add an additional sensory element to your garden.
Versatility: It can be used in various landscape applications, including border edging, mass planting, and container gardening. It's also suitable for cottage gardens, rock gardens, or in naturalized areas.
Companion Planting: This plant pairs well with other perennial plants like roses, making it a good choice for those planning a perennial border.
Easy to Grow: This plant is not fussy about soil type and can grow in a variety of conditions, making it a good choice for beginner gardeners.
Garden Design with Catmint
When incorporating Nepeta racemosa (raceme catmint) into your garden design, there are several strategies to consider for maximizing its impact and visual appeal.
Borders and Edging: With its mounding habit and spiky flower spikes, Nepeta racemosa is perfect for the front of a border or as an edging plant along paths or walls. Its long flowering period also ensures visual interest throughout most of the growing season.
Mass Planting: Nepeta racemosa has a spreading growth habit and can be used to create a sea of blue when planted en masse. This is especially effective on slopes, in rock gardens, or in larger borders.
Companion Planting: Raceme catmint is a fantastic companion plant. It pairs well with other perennials that have similar growing requirements like roses, salvia, and ornamental grasses. Its bluish-purple flowers provide a nice color contrast to plants with yellow, orange, or white flowers. And its gray-green leaves provide an excellent backdrop to other plants.
Container Gardening: You can also grow Nepeta racemosa in containers. Combine it with other sun-loving, drought-tolerant plants for a low-maintenance, high-impact container garden.
Wildlife Garden: Given its attraction to bees, butterflies, and other pollinators, consider incorporating Nepeta racemosa into a wildlife-friendly garden design.
Cottage Gardens: With its informal charm and attractive flowers, Nepeta racemosa is a classic choice for cottage-style gardens.
Remember that Nepeta racemosa prefers full sun and well-drained soil, so choose a location that provides these conditions. The plant is fairly low maintenance and doesn't typically require staking, pruning, or deadheading, although you can shear back the plants after the first flush of flowers to tidy up the plant and encourage another round of blooming.
Given its drought tolerance, it can also be a good choice for xeriscaping or low-water gardening designs. Keep in mind, though, that while it's drought-tolerant once established, it will need regular water when first planted and until it gets established.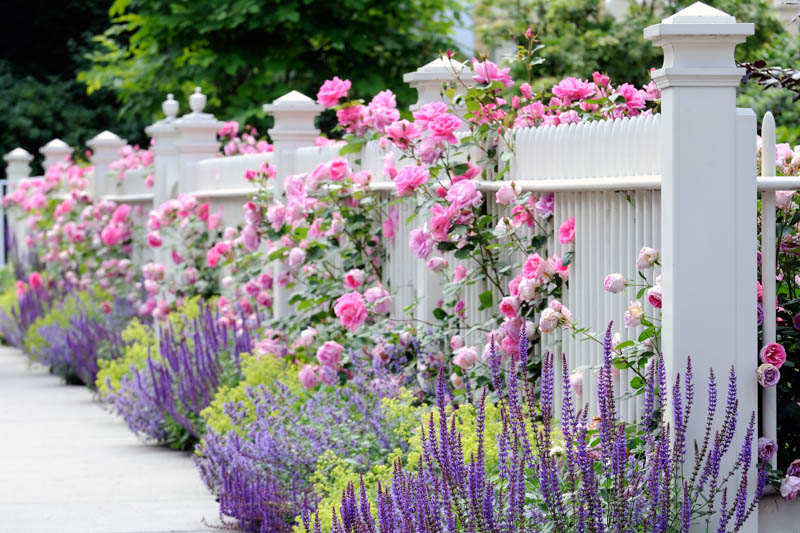 Companion Plants
Nepeta racemosa, also known as raceme catmint, is a beautiful perennial that is versatile and easy to grow. When choosing companion plants, consider those that thrive in similar conditions and offer contrasting or complementary colors, shapes, and textures. Here are a few great companion plants for Nepeta racemosa:
Roses: Catmint and roses are a classic combination. The bluish-purple flowers of the catmint contrast beautifully with the roses, and the gray-green leaves provide a nice backdrop.
Salvia: Salvia also pairs well with catmint, offering a bold, vertical accent to the mounding habit of the catmint. Consider Salvia 'Caradonna' with its deep purple spikes or 'May Night' with its bright blue flowers.
Ornamental Grasses: The wispy and airy nature of ornamental grasses can provide a beautiful contrast to the more substantial form of Nepeta racemosa. Try pairing it with Panicum virgatum (switchgrass) or Stipa tenuissima (Mexican feather grass).
Achillea (Yarrow): Yarrow's flat-topped flower clusters contrast nicely with the spiky flowers of catmint. Try 'Moonshine' yarrow with its bright yellow flowers.
Echinacea (Coneflower): With their large, daisy-like flowers, coneflowers provide a lovely contrast to the small, delicate flowers of catmint. Plus, they come in a variety of colors, from white to yellow to pink and purple, offering plenty of options for color contrast.
Rudbeckia (Black-eyed Susan): The bright yellow flowers of Rudbeckia contrast beautifully with the blue flowers of Nepeta racemosa.
Lavender: Both plants have gray-green foliage and bluish-purple flowers, and they share similar cultural requirements. They make for a lovely, monochromatic planting scheme.
Coreopsis: The vibrant yellow flowers of Coreopsis contrast beautifully with the cool tones of Nepeta racemosa, providing a stunning color combination in the garden.
Remember to consider factors like the mature size of the plants, bloom time, and cultural needs when choosing companion plants. With a little planning, Nepeta racemosa can be a stunning addition to your garden, adding color and attracting beneficial insects and pollinators.