Combining flower bulbs in the traditional manner means lots of colors and large quantities for an impressive effect.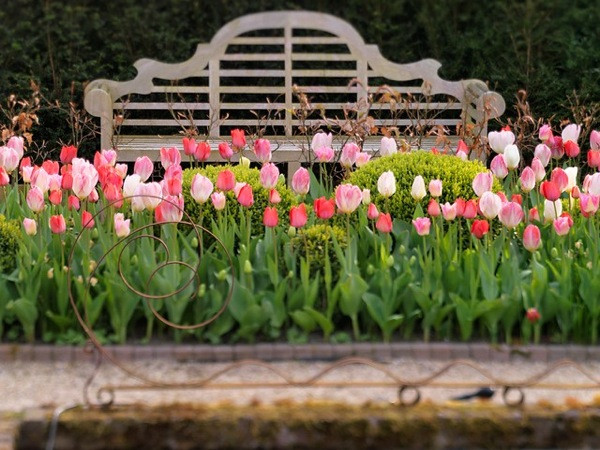 Tulips 'Flaming Purissima', 'Dynasty', 'Creme Upstar', 'Van Eyck', 'Cheers'
Hyacinths are favorites for use in traditional flowerbeds because all their cultivars grow to about the same height; this always provides a nice, flush overall look, even when using various shades. And then there's the added charm of their almost intoxicating fragrance.
Hyacinths combined with Grecian Windflowers (Anemone blanda)
| | |
| --- | --- |
| Hyacinth Blue Jacket, Tulip 'Apricot Beauty' | Mix of pink and purple hyacinths |
Tulips and daffodils pair up beautifully as well since the shapes of their flowers can be synchronized so well: the somewhat more natural-looking, less pretentious daffodil next to the haughty regal tulip: a casting of leading players and extras to create an exciting play sure to make everyone smile.
| | |
| --- | --- |
| Tulips 'Purissima', 'Orange Emperor', Yellow Purissima' | Anemone blanda,Tulips 'Ballade','Ballerina','White Triumphator' |
| Hyacinth 'Carnegie', Muscari botryoides, Tulip 'Dyanito' | Tulips 'Dordogne', 'Negrita', 'Purple Dream', 'Shirley', 'Yonina' |
And don't miss out on the dramatic effect of mixing crocuses or Grecian windflowers (Anemone blanda) with low-growing tulips for a colorful and spectacular show in early spring!
| | |
| --- | --- |
| Anemone blanda, Muscari,Tulip 'Peach Blossom' | Crocus 'Remembrance',Tulip 'Stresa' |
| Anemone blanda 'Blue Shades', Tulip Pinocchio | Crocus vernus 'Pickwick',Tulip 'Cape Cod' |
Another advantage to these combinations is that these flowering bulbs provide enough gradations of color to create a beautiful composition again and again. Yellow with orange, yellow with white and off-whites, and a combination of white with rosy-red and purple are always satisfying. Another factor in the ultimate result is the number of bulbs planted per square yard or square foot. For a traditional combination, this is at least 40.
Go wild and create outstanding borders!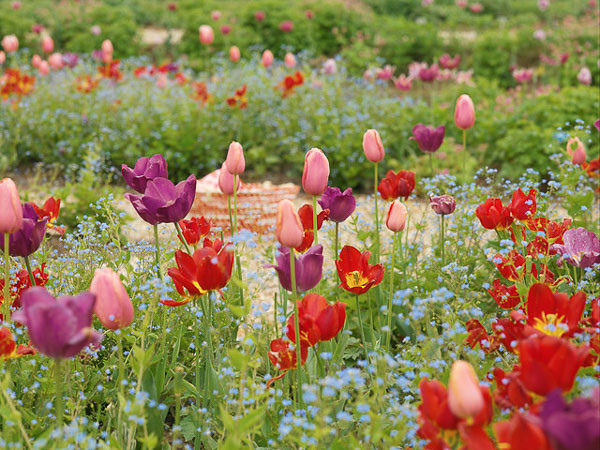 Tulips 'Menton', 'Ile de France' & 'Negrita'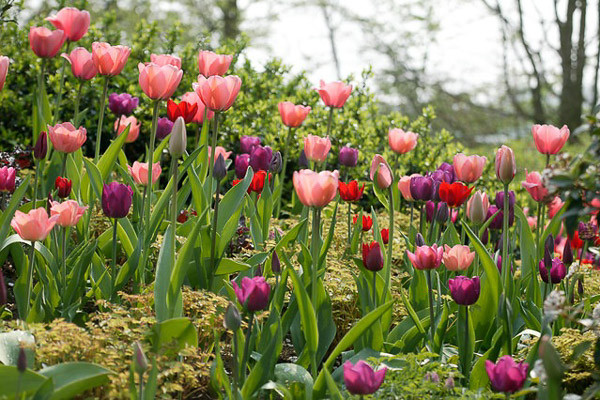 Tulip 'Cassini', 'Christmas Dream', 'Negrita', Apricot & 'Pink Impression'
While every effort has been made to describe these plants accurately, please keep in mind that height, bloom time, and color may differ in various climates. The description of these plants has been written based on numerous outside resources.