According to the international garden designer and bulbs specialist, Jacqueline van der Kloet, "Bulbs don't need to overpower the spring landscape to have an impact. If we make the planting more natural-looking, with interesting combinations of color and texture, it adds dimension, which is more sophisticated and ultimately more powerful." The great news is that there is a cornucopia of choice in bulbs in terms of flower colors, silhouettes, sizes, and blooming periods. But it can be a bit overwhelming. Assembled below are some helpful tips on how to effectively use bulbs.
Design Tips
Always plant low-growing bulbs in front of taller plants.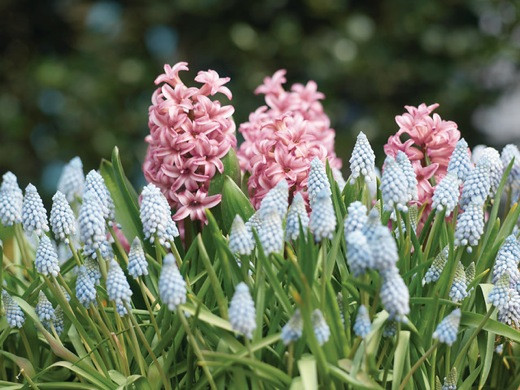 Hyacinth & Muscari
Plant your bulbs in groups for more striking effects and avoid planting them on a stand-alone basis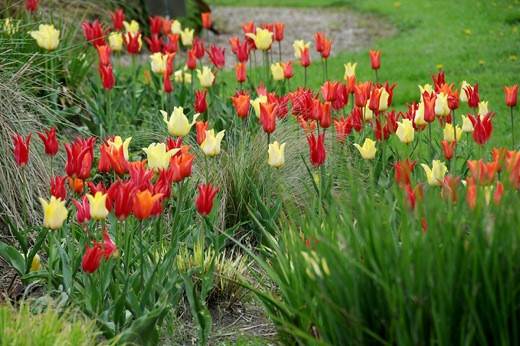 Tulips 'Aladdin', 'Ballerina' & 'West Point'
For a natural look, scatter bulbs throughout your lawn.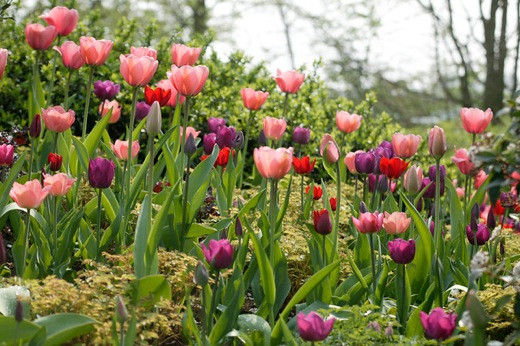 Tulips 'Beauty Queen', 'Negrita', 'Cassini', 'Christmas Marvel' & 'Pink Impression'
Alternatively, if you like more formal gardens, you could plant them in narrow lines to create stripes or narrow flower carpets.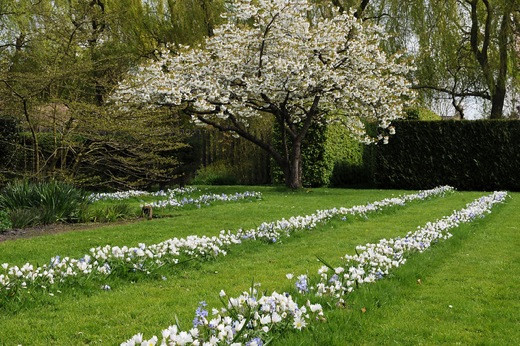 Chionodoxa Forbesii, Muscari Azureum, Anemone Blanda Blue Shades
For a bouquet effect, plant them in circular groupings.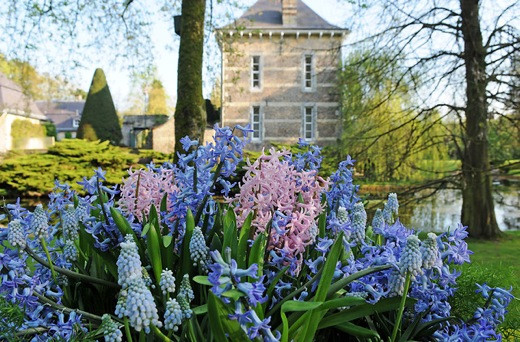 Hyacinths 'Blue Festival' & 'Pink Festival', Muscari Armeniacum 'Lady Blue'
Perfume your garden almost all year round with the delightful fragrances generously offered by many bulbs. Enjoy in spring the scent of hyacinths, bluebells, or some daffodils. In summer, those of the delicate oriental or longiflorum lilies and in fall, profit from the fragrant crinum x powelli.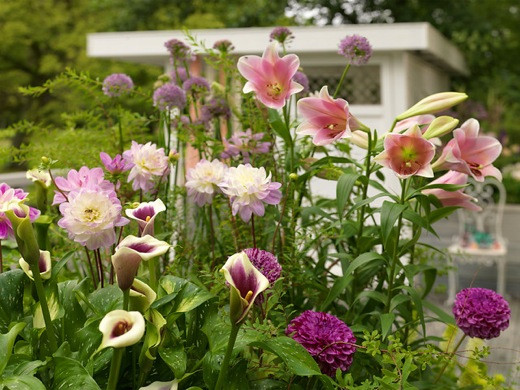 Allium senescens, Dahlia 'Ferncliff Illusion', Dahlia 'Marble Ball', Zantedeschia 'Picasso®'
Use pots or containers to add color and create eye-catching seasonal displays.
Hyacinth 'Blue Festival', Tulip 'Calgary', Viola
Introduce the exotic with the impressive and vibrant cannas, either in the ground if weather permits, or in containers.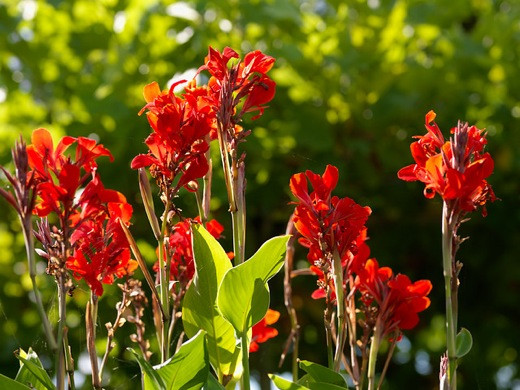 Canna 'Brilliant'
If you can't buy the requisite number of bulbs to create a color impact, plant them in a triangle pattern. This will give the impression that you have more flowers than those you have actually planted.
Finally, if you'd like your tulip garden to look more like Jacqueline's, try her signature "sprinkling" which means taking handfuls of bulbs and gently tossing onto the ground, to be planted where they fall.
If after these few tips, you are still unsure as to what to do with your garden or patio, why don't you browse through our collection of planting ideas and flowers combinations?
While every effort has been made to describe these plants accurately, please keep in mind that height, bloom time, and color may differ in various climates. The description of these plants has been written based on numerous outside resources.