Learn How To Plant, Grow and Harvest Chives
Planting Chives, Growing Chives, Harvesting Chives, Allium schoenoprasum, Allium tuberosum
---
Chives are a popular culinary herb in the home garden. Grown for the mild onion flavor of their leaves and pretty flowers, they attract bees and other pollinators to the garden while helping deter damaging insects such as Japanese beetles. Used in cooking for over 5000 years, Chives are also cultivated for their ornamental value in flower gardens and traditionally have been used for their medicinal properties. Easy to grow, they are rewarding little plants to grow outdoors in the garden or indoors in pots.
All you need to know about Chives
Chives are bulbous hardy perennial plants in the same family (Alliaceae) as onions, garlic, shallots, leeks, scallions, or elephant garlic.
There are four culinary species of chives
Allium schoenoprasum (Common Chives, Onion Chives): grown for its mild, onion-flavored leaves and edible, pink, purple, or red flowers (depending on varieties) that bloom in late spring and early summer. Native to Europe, Asia, and North America. Zones 3-9.

Allium tuberosum (Garlic Chives, Chinese Chives): grown for its deliciously garlic-scented, straplike foliage and profuse white flowers in late summer and fall. Native to southeastern Asia. Zones 4-9.

Allium nutans (Siberian Garlic Chives): edible and highly ornamental, with 2-inch (5 cm) rounded umbels of rosy-violet flowers in mid to late summer. Native to western and central Siberia. Zones 3-10.

Allium ledebourianum (Giant Siberian Chives): taller than Common Chives, it has a richer taste, more blue-green foliage, and large rose-violet flowers in late spring and early summer. Native from central and northeastern Asia. Zones 4-8.

Common Chives and Garlic Chives are the two species commonly grown in home gardens.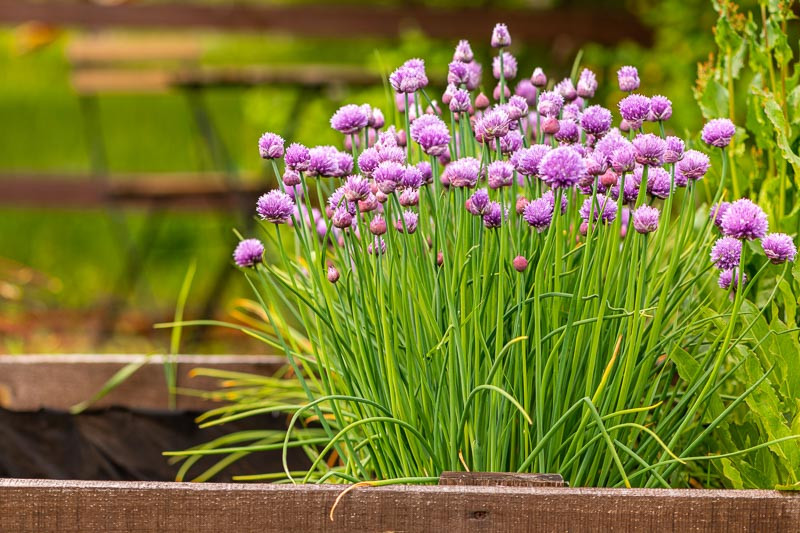 In mild climates, Chives may remain evergreen, but in cold climates, these hardy perennial plants die back naturally in late fall and re-sprout in spring for new harvests.

They are best used fresh or frozen. Their leaves are widely used to add mild onion flavor to sauces, stews, mashed vegetables, fish, poultry, egg dishes, and salads. The colorful pompom flowers are edible in the bud stage or freshly opened and may be added to salads - or used in flower arrangements.

Besides their culinary uses, Chives have been used traditionally as a medicinal herb. Fresh, they are a good source of vitamin A and provide a fair amount of potassium, calcium, and vitamin C.

Chives are typically grown in the herb or vegetable garden but can also be planted in cottage gardens, rock gardens, or border fronts, thanks to their ornamental appeal. Their clump-forming habit, grass-like foliage, pretty flowers, and cold hardiness make them attractive garden perennials. They grow well in containers too.

Rich in nectar, Chive flowers are excellent at attracting bees, butterflies, and other pollinating insects to the garden. They are ranked amongst the top ten plants for nectar production.

Chives are also used for their insect-repelling properties. Their onion-like scent helps deter aphids, snails, slugs, mosquitoes, and Japanese beetles and makes them great companion plants for tomatoes, carrots, broccoli, cabbage, roses, squash, and strawberries. They are not favored by deer or rabbits.
One of the easiest herbs to grow, Chives thrive in full sun to light shade in moist, well-drained soil rich in organic matter.

A low-maintenance perennial herb, they tend to be trouble-free if grown in the right conditions.

Chives should be deadheaded before seeds are formed. This is especially necessary with Garlic Chives that self-sow aggressively.
Guide Information
| | |
| --- | --- |
| Hardiness | 3 - 9 |
| Plant Type | Bulbs, Herbs |
| Plant Family | Allium |
| Exposure | Full Sun |
| Water Needs | Average |
| Maintenance | Low |
| Soil Type | Chalk, Clay, Loam, Sand |
| Soil pH | Acid, Alkaline, Neutral |
| Soil Drainage | Moist but Well-Drained, Well-Drained |
| Characteristics | Fragrant, Showy |
| Tolerance | Deer, Drought, Rabbit |
| Attracts | Bees, Butterflies |
| Landscaping Ideas | Beds and Borders, Edging, Patio and Containers |
| Garden Styles | Gravel and Rock Garden, Informal and Cottage |
Compare All Allium
Great Plant Combination Ideas with Allium
Guides with Allium
Anna Shepulova, Svetlana Monyakova, Julia Shepeleva, Shuttertock
While every effort has been made to describe these plants accurately, please keep in mind that height, bloom time, and color may differ in various climates. The description of these plants has been written based on numerous outside resources.
Guide Information
| | |
| --- | --- |
| Hardiness | 3 - 9 |
| Plant Type | Bulbs, Herbs |
| Plant Family | Allium |
| Exposure | Full Sun |
| Water Needs | Average |
| Maintenance | Low |
| Soil Type | Chalk, Clay, Loam, Sand |
| Soil pH | Acid, Alkaline, Neutral |
| Soil Drainage | Moist but Well-Drained, Well-Drained |
| Characteristics | Fragrant, Showy |
| Tolerance | Deer, Drought, Rabbit |
| Attracts | Bees, Butterflies |
| Landscaping Ideas | Beds and Borders, Edging, Patio and Containers |
| Garden Styles | Gravel and Rock Garden, Informal and Cottage |
Compare All Allium
Great Plant Combination Ideas with Allium
Guides with Allium