Most Beautiful Dinner Plate Dahlias
Dinner Plate Dahlias, Dinnerplate Dahlias, Giant Dahlias
---
For those who love "everything large," say hello to giant "dinner plate" dahlias. Each of these zoftig glamour gals produces up to a dozen 9 to 11 inches (22-28 cm) flowers per season on sturdy stems towering four feet or more! Dinner Plate Dahlias is not an official classification. In fact, these robust dahlias are registered under several different classifications, but nonetheless all are huge and magnificent.
Favorite Dinner Plate Dahlias
You may want to review these useful guides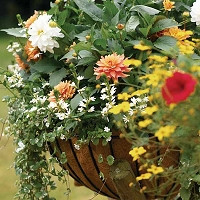 For containers and low borders, the best choices are the shorter dahlias with more compact shapes. Keep well watered and place in full sun. You can count on these powerhouses to produce abundant blooms from summer through fall – with some producing up to 40 flowers per plant!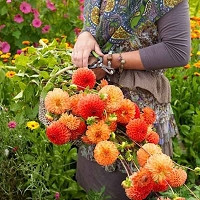 Dahlias are absolutely breathtaking flowers. They are widely available in such a huge range of intense colors that they can be used in any setting. All dahlias make tremendous cut flowers – the more you cut them, the more they bloom! Still, some are considered superstars.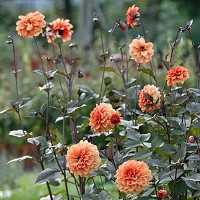 These unusual dahlia varieties are really worth mentioning and should not be overlooked by the gardener. Why? Because these beauties offer masses of stunning flower colors that contrast strikingly with their deep mahogany-to-black foliage. Effect in the garden guaranteed! Here is the roster of these most popular beauties.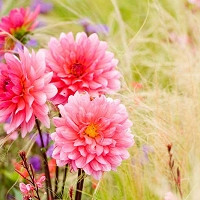 Fabulous planting partners for dahlias, ornamental grasses help create incredibly beautiful planting combinations. In contrast with dahlias which boldly inject bright colors and broad-petalled flowers in the garden, grasses contribute their beauty in a more subtle fashion through their transparency, luminosity, texture, and seasonal changes.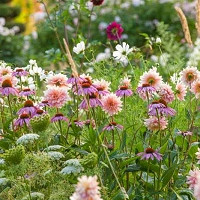 Injecting color, drama, and late-summer fireworks in the garden, dahlias look fabulous on their own or combined with other plants. Many are graceful and integrate well into most borders, creating appealing planting combinations and providing interest from mid-summer until the first frost.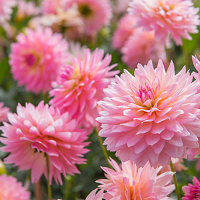 The rich variety of their flower colors, shapes and sizes added to their extensive blooming season have turned dahlias into a popular addition to our landscapes. There are thousands of varieties of dahlias (!!!) and they are all classified by the shape, size and color of their flowers.
Keep on cutting:
The more you cut them, the more flowers you get. This makes dahlias twice as nice: pretty in a vase, pretty in the garden. A great big flower in a vase or floating in a shallow bowl makes the perfect eye-catcher.
Preferred location and planting
Dahlias prefer a sunny location. This could be in the border, but they will also thrive in pots on the terrace or balcony. If planted in containers, however, they will require large ones filled with enough potting compost for proper growth.
When planting in the border, dig a large hole of at least 15 cm across and 15 cm deep. Cover the tubers with 2-3 cm of soil, tamp down the soil after planting, and water the plants generously.
These plants will also require sufficient quantities of water during cultivation, whether this is in a container or in the garden. This is important for their development as well as for the initiation of flower buds. A soil that retains moisture is definitely an advantage. When watering with a watering can, adding a little liquid fertilizer can't hurt. The plants will then produce even more flowers.
Guide Information
Hardiness
8 - 11

Heat Zones
1 - 10

Climate Zones
1, 2, 3, 4, 5, 6, 7, 8, 9, 10, 11, 12, 13, 14, 15, 16, 17, 18, 19, 20, 21, 22, 23, 24
Plant Type
Bulbs, Perennials
Plant Family
Dahlia
Exposure
Full Sun
Season of Interest
Summer (Early,Mid,Late)
Fall

Water Needs
Average
Maintenance
Average
Soil Type
Clay, Loam, Sand
Soil pH
Acid, Alkaline, Neutral
Soil Drainage
Moist but Well-Drained
Characteristics
Cut Flowers, Showy
Attracts
Butterflies
Landscaping Ideas
Beds and Borders, Patio and Containers
Garden Styles
City and Courtyard, Cutting Garden, Informal and Cottage
Compare All Dahlia
Great Plant Combination Ideas with Dahlia
Guides with Dahlia
While every effort has been made to describe these plants accurately, please keep in mind that height, bloom time, and color may differ in various climates. The description of these plants has been written based on numerous outside resources.
Guide Information
Hardiness
8 - 11

Heat Zones
1 - 10

Climate Zones
1, 2, 3, 4, 5, 6, 7, 8, 9, 10, 11, 12, 13, 14, 15, 16, 17, 18, 19, 20, 21, 22, 23, 24
Plant Type
Bulbs, Perennials
Plant Family
Dahlia
Exposure
Full Sun
Season of Interest
Summer (Early,Mid,Late)
Fall

Water Needs
Average
Maintenance
Average
Soil Type
Clay, Loam, Sand
Soil pH
Acid, Alkaline, Neutral
Soil Drainage
Moist but Well-Drained
Characteristics
Cut Flowers, Showy
Attracts
Butterflies
Landscaping Ideas
Beds and Borders, Patio and Containers
Garden Styles
City and Courtyard, Cutting Garden, Informal and Cottage
Compare All Dahlia
Great Plant Combination Ideas with Dahlia
Guides with Dahlia
Related Items