Virginia is divided into seven main ecological regions: the Middle Atlantic Coastal Plain, the Southeastern Plains, the Piedmont, the Northern Piedmont, the Blue Ridge Mountains, the Ridge and Valley, and the Appalachian Plateau. Unique in topography, soil depth, pH, elevation, light, and hydrology, each region provides a rich variety of ecological habitats, supporting many native plant species.
Virginia's Northern Piedmont Region encompasses a large portion of the Northern Piedmont as well as a portion of the Blue Ridge Mountains. It includes the City of Charlottesville and the counties of Fauquier, Rappahannock, Culpeper, Madison, Orange, Greene, Louisa, Albemarle, Fluvanna, Nelson, and Buckingham.
Piedmont is Virginia's largest region. It is a region of low rounded hills, irregular plains, and open valleys. The region's bedrock is composed of a variety of rocks covered by a thick blanket of deeply weathered rock that has been chemically changed by Piedmont's humid climate. Northern Piedmont is a transitional region of low rounded hills, irregular plains, and open valleys in contrast to the low mountains of ecoregions to the north and west and the flat coastal plains of the ecoregion to the east.
The Blue Ridge Mountains extend from southern Pennsylvania to northern Georgia, varying from narrow ridges to hilly plateaus to more massive mountainous areas with high peaks. The mostly forested slopes, high-gradient, cool, clear streams, and rugged terrain occur on a mix of igneous, metamorphic, and sedimentary geology.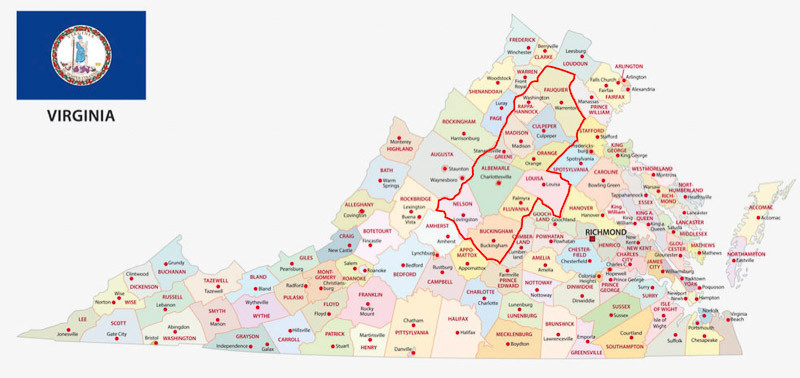 Virginia's Northern Piedmont Region is home to many species of trees, shrubs, and flowering plants. It can also support many non-native species which are beginning to make their way across the landscape. Regrettably, some of these exotic immigrants are invasive and are threatening the native flora and ecology of the state.
According to the U.S. Forest Service, Invasive species have contributed to the decline of 42% of U.S. endangered and threatened species, and 18% of U.S. endangered or threatened species. Invasive species compete directly with native species for moisture, sunlight, nutrients, and space. They displace and alter native plant communities, degrade wildlife habitat and water quality, and potentially lead to increased soil erosion.
The federal government has estimated that nearly 25 percent of the 20,000 plant species native to North America are at risk of extinction, many of these through habitat loss. You can help reverse this trend by planting great native plants in your garden.
A plant is considered native if it has occurred naturally in a particular region or ecosystem without human introduction. There are many benefits to growing native plants.
First, these plants are better adapted to soils, moisture, and weather than exotic plants that evolved in other parts of the world. They need fewer fertilizers, and pesticides or use less water.
Second, they are unlikely to escape and become invasive, destroying natural habitats.
Third, they support wildlife, providing shelter and food for native birds and insects, while exotic plants do not.
Here is a list of native vines that are well-suited for plantings in gardens of Virginia's Northern Piedmont Region.
Never collect native plants from the wild as it will deplete natural ecosystems.
When possible, plant species grown straight from local seed sources. These native originals are the best choice, as they co-evolved with specific wildlife, which supports migration, breeding, and other seasonal interdependencies.
While every effort has been made to describe these plants accurately, please keep in mind that height, bloom time, and color may differ in various climates. The description of these plants has been written based on numerous outside resources.