Cotinus coggygria (Smokebush)
Smokebush, Smoketree, Eurasian Smokebush, Smoke Bush, Smoke Tree, Rhus Cotinus
---
Cotinus coggygria is noted for its attractive foliage and large, airy flower plumes that extend into yellowish-pink to pinkish-purple in late spring and which cover the plant with fluffy, hazy 'smoky' puffs throughout summer. When viewed en masse these have a wispy 'smoke-like' appearance, hence the common name of Smoketree or Smokebush.
Growing up to 10-15 ft. high and across (3 - 4.5 m), Smoketree is an upright and open, multiple-branching, deciduous shrub with beautiful round leaves, that is native to Southern Europe and central China. Depending on the varieties, the foliage color ranges from various shades of green to rich purple. Small and insignificant, the flowers are borne in clusters (panicles) whose hairs, pink or purple, give an effect of fluffy clouds.
The purple-leaved varieties of Cotinus Coggygria are spectacular in summer when they add a strong accent color to the landscape. The green varieties deliver a colorful show in the fall when they turn peach, scarlet, or gold.
| | |
| --- | --- |
| | |
A tough plant, Cotinus Coggygria performs best in full sun, in average, medium, well-drained soils. Purple-leaved varieties planted in shade may see their leaves turn green. Smoketree is not fussy about soils provided they are not soggy or wet. Good drainage is essential. Poor, rocky soils are tolerated. Keep the soil evenly moist during the growing season and apply a 1-2 in. (3-5 cm) layer of mulch to help retain moisture. Drought tolerant, once established.
Fairly pest-free, easy to grow and easy to care for, and deer resistant.
Smoketree is an excellent choice as a single specimen plant, massed in shrub borders, or as an informal hedge or privacy screen. Combine Smokebush with Hydrangea, Philadelphus (Mock Orange), Helenium (Sneezeweed), Rudbeckias (Black Eyed Susan), or Achillea (Yarrow).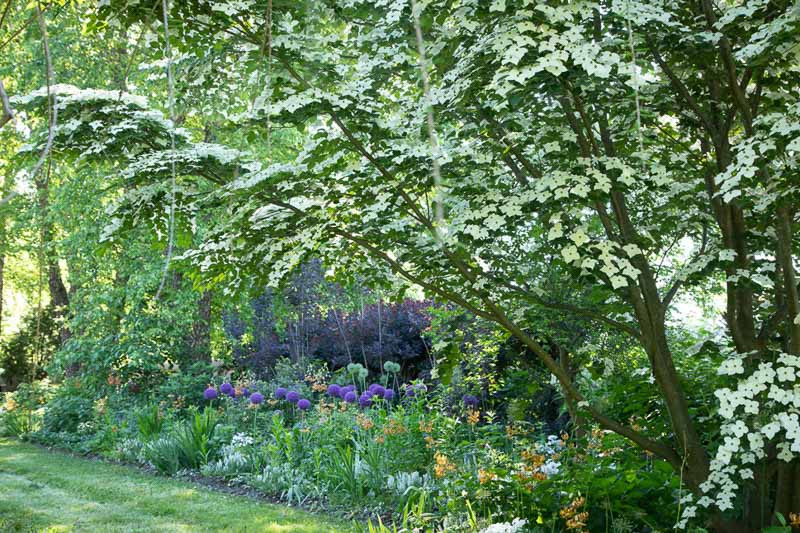 Cut back hard in late winter or early spring to promote the growth of new shoots and enhance the lovely leaf coloration of purple-leaved varieties. Note that such hard pruning, while controlling the plant's size, will be done at the expense of abundant flowering.
Cotinus Coggygria, syn. Rhus Cotinus is a species of flowering plant in the family Anacardiaceae. It is commonly grown as an ornamental plant, whose available cultivars have been selected for their foliage and flowers.
Not sure which Cotinus - Smoke Trees to pick?
Compare All Cotinus - Smoke Trees
Buy Cotinus coggygria (Smokebush)
Requirements
Hardiness
5 – 7

Heat Zones
3 – 9

Climate Zones
2, 2A, 2B, 3, 3A, 3B, 4, 5, 6, 7, 8, 9, 10, 11, 12, 13, 14, 15, 16, 17, 18, 19, 20, 21, 22, 23, 24
Plant Type
Shrubs, Trees
Plant Family
Cotinus - Smoke Trees
Exposure
Full Sun, Partial Sun
Season of Interest
Spring (Early,Mid,Late)
Summer (Early,Mid,Late)
Fall

Height
10' – 15' (3m – 4.5m)
Spread
10' – 15' (3m – 4.5m)
Spacing
144" (360cm)
Water Needs
Average
Maintenance
Low
Soil Type
Chalk, Clay, Loam, Sand
Soil pH
Acid, Alkaline, Neutral
Soil Drainage
Moist but Well-Drained, Well-Drained
Characteristics
Dried Arrangements, Showy
Tolerance
Clay Soil, Deer, Drought
Attracts
Butterflies
Garden Uses
Beds and Borders, Hedges and Screens
Garden Styles
Informal and Cottage, Prairie and Meadow
*Pictures courtesy of Botanik Foto, Chanticleer Garden, © Martin Ogden /www.teddingtongardener.com
While every effort has been made to describe these plants accurately, please keep in mind that height, bloom time, and color may differ in various climates. The description of these plants has been written based on numerous outside resources.
Requirements
Hardiness
5 – 7

Heat Zones
3 – 9

Climate Zones
2, 2A, 2B, 3, 3A, 3B, 4, 5, 6, 7, 8, 9, 10, 11, 12, 13, 14, 15, 16, 17, 18, 19, 20, 21, 22, 23, 24
Plant Type
Shrubs, Trees
Plant Family
Cotinus - Smoke Trees
Exposure
Full Sun, Partial Sun
Season of Interest
Spring (Early,Mid,Late)
Summer (Early,Mid,Late)
Fall

Height
10' – 15' (3m – 4.5m)
Spread
10' – 15' (3m – 4.5m)
Spacing
144" (360cm)
Water Needs
Average
Maintenance
Low
Soil Type
Chalk, Clay, Loam, Sand
Soil pH
Acid, Alkaline, Neutral
Soil Drainage
Moist but Well-Drained, Well-Drained
Characteristics
Dried Arrangements, Showy
Tolerance
Clay Soil, Deer, Drought
Attracts
Butterflies
Garden Uses
Beds and Borders, Hedges and Screens
Garden Styles
Informal and Cottage, Prairie and Meadow