Saintpaulia ionantha, more commonly known as the African violet, is a captivating houseplant prized for its lush, velvety leaves and vibrant, petite flowers that can bloom throughout the year. Its rosette form, combined with its adaptability to indoor conditions, has made it a beloved choice for plant enthusiasts and novices alike.
African Violet: A Gem among Houseplants
Native: This captivating plant hails from the cloud forests of Tanzania and Kenya, thriving in the understory with filtered light and high humidity. It is fairly long-lived with a life span up to 50 years.
Habit: African violet is a compact, evergreen perennial exhibiting a rosette growth habit with leaves emerging in a circular arrangement around the plant's center. Its petite nature adds to its charm, allowing it to grace windowsills, desktops, and other small spaces.
Size:  African violets generally span from 6 to 18 inches (15-45 cm) in both height and width, depending on the cultivar and growing conditions.
Flowers: Its flowers are its crowning glory, appearing in hues of blue, purple, pink, or white. Some cultivars may even showcase bicolored or multicolored blooms, further enhancing their visual appeal. African Violets can bloom 10-12 months a year.
Hardiness: This plant thrives in USDA hardiness zones 11-12. However, it's primarily grown as a houseplant in temperate regions due to its sensitivity to cold.
Uses: Given its compact size and striking flowers, the African violet makes an excellent tabletop plant. It's also popular in terrariums and mixed indoor plant arrangements.
Toxicity: Good news for pet owners: African violets are non-toxic to both cats and dogs. However, as with any plant, it's advisable to place it out of reach of curious pets to prevent any digestive upset or potential damage to the plant.
Benefits:
Easy Maintenance: African violets are relatively easy to care for, needing moderate light and watering only when the soil feels dry.
Air Purifying: Like many houseplants, Saintpaulia ionantha can help improve indoor air quality by absorbing pollutants.
Variety: With numerous cultivars available, there's an African violet to match every aesthetic preference, from ruffled to variegated leaves and myriad flower colors.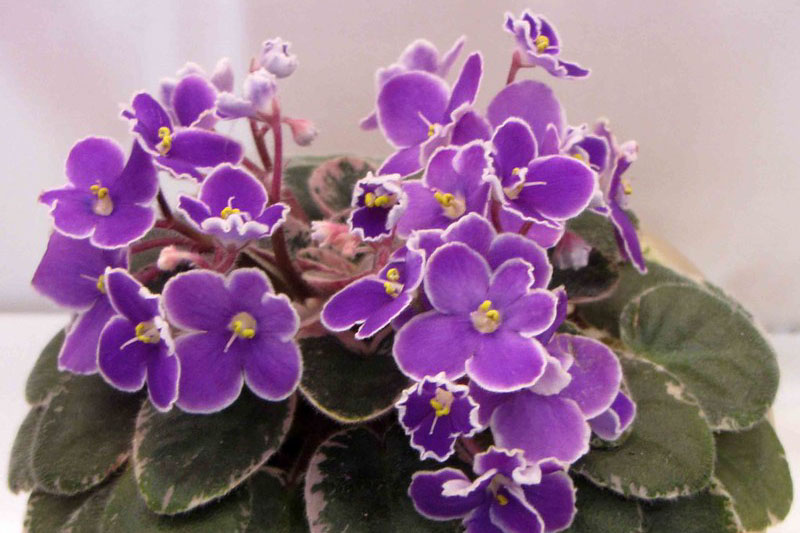 Saintpaulia 'Pat Champagne' (African Violet)
Growing and Caring for African Violets: A Comprehensive Guide
African violets have been a staple in homes for generations, delighting with their velvety foliage and radiant blooms. Their charm lies not just in their beauty, but also in their relatively straightforward care requirements. Here's a comprehensive guide on nurturing these vibrant houseplants:
Light:
African violets prefer bright, indirect light. East-facing windows are ideal, offering morning sunlight without the harsh intensity of the afternoon. If natural light is limited, fluorescent grow lights can suffice. Ensure they receive about 10-12 hours of light daily. Too little light can cause elongated, thin leaves, while too much might lead to bleached or scorched foliage.
Watering:
Water is crucial, but overwatering can be detrimental. Let the topsoil dry out between waterings. When you water, use room-temperature water to avoid shocking the plant. To prevent leaf spotting, water the soil directly, ensuring that water doesn't splash on the leaves. Alternatively, bottom-water by filling the saucer beneath the pot and allowing the roots to absorb water upwards.
Soil and Potting:
A well-draining potting mix, specifically designed for African violets, is crucial. Repot your plant annually or when it outgrows its container. When choosing a pot, ensure it has drainage holes to prevent waterlogging.
Humidity:
Originating from tropical regions, African violets thrive in higher humidity. If your home's air is dry, consider placing a humidifier nearby or positioning the plant on a tray filled with water and pebbles. The evaporating water increases ambient humidity.
Temperature:
They prefer temperatures between 65-75°F during the day (18-24°C) and a slight drop, about 10 degrees cooler, at night. Avoid sudden temperature changes, which can stress the plant.
Fertilization:
Feed with a balanced, water-soluble fertilizer specifically designed for African violets every 2 weeks. Remember the golden rule: it's better to under-fertilize than over-fertilize.
Grooming:
Remove faded flowers and yellowing leaves to encourage new growth and maintain the plant's aesthetic appeal. This also helps in preventing potential disease and pest issues.
Propagation:
African violets can be propagated from leaf cuttings. Cut a healthy leaf with its stem, and insert it into a pot with African violet mix. With consistent moisture and warmth, it'll root in a few weeks, giving birth to new plants.
Dormancy:
Allow the plant to have a natural dormancy period during the fall and winter. During this time, reduce watering and limit fertilization to promote rest and prepare for new growth in the spring.
Special Tips:
Avoid Direct Contact: Their leaves can be sensitive. It's best to handle them minimally and keep them free from water and direct sunlight.
Rotate Regularly: For even growth and flowering, rotate your African violet regularly, ensuring all sides receive equal light exposure.
Grouping: Placing several African violets together can create a microenvironment with higher humidity, benefiting all the plants.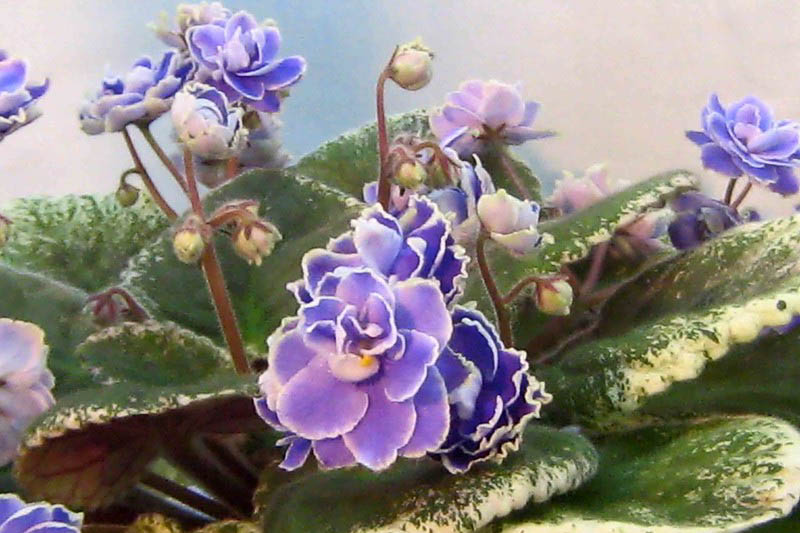 Saintpaulia 'Sansoucy Coco' (African Violet)
Pests and Diseases
African violets (Saintpaulia ionantha) are generally easy to care for, but they are not immune to pests and diseases. Here's an overview of the most common issues you might encounter:
Pests:
Diseases:
Crown and Root Rot: This is caused by a fungus and leads to wilted, discolored leaves and a rotted crown.

Treatment: Ensure proper watering practices. Overwatering and letting the plant sit in water are common causes. Infected plants are often better discarded to prevent spread.

Powdery Mildew: Appears as white, powdery spots on leaves.

Treatment: Improve air circulation and avoid getting water on the leaves. Fungicides can also be used if the infection is severe.

Botrytis Blight: A gray mold that often appears when conditions are too humid.

Treatment: Improve ventilation, reduce humidity, and remove affected parts of the plant. Fungicides can help in severe cases.

Ringspot Virus: Causes ring-like patterns on leaves and is unfortunately incurable.

Treatment: Infected plants should be discarded to prevent the spread to other plants.
Prevention:
To keep your African violets healthy:
Quarantine any new plants before adding them to your collection to ensure they aren't bringing pests or diseases.
Ensure good air circulation.
Water from the bottom to avoid getting the leaves wet.
Always use sterilized soil mixes and pots.
Regularly inspect plants for early signs of pests or diseases.
With proper care, vigilance, and timely intervention, your African violets can thrive and remain free from the most common pests and diseases.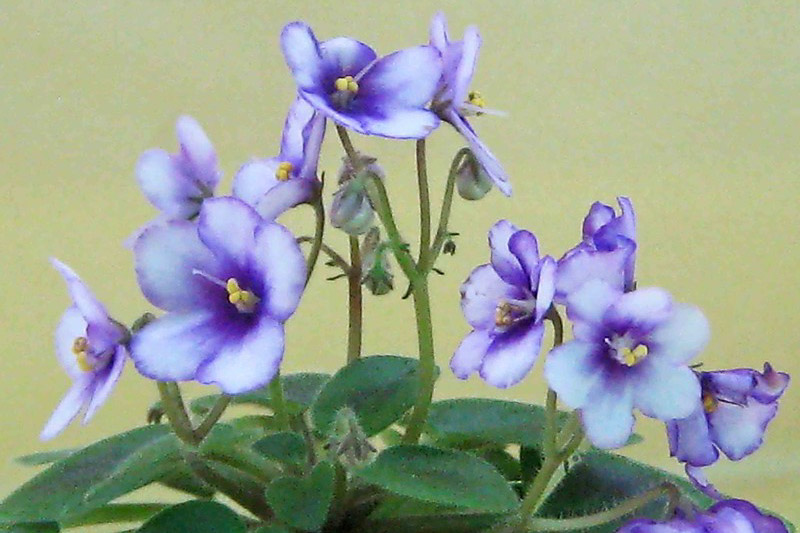 Saintpaulia 'Rob's Penny Ante Sport' (African Violet)
Frequently Asked Questions
My African Violet Does Not Bloom
To encourage prolific blooming, ensure that your African violet gets adequate light. If your plant isn't flowering, it might be receiving either too much or too little light. Adjusting its position might do the trick.
How do you keep African violets blooming all year?
Keeping African violets blooming all year requires a harmonious balance of the right conditions. Firstly, provide bright, indirect light, ideally using a grow light for 12-14 hours daily. Consistently maintain temperatures between 65-75°F (18-24°C). Use a high-phosphorus fertilizer every 2 weeks to encourage blossoms. Ensure the soil is well-draining and water when it feels dry an inch below the surface, using lukewarm water to avoid shocking the roots. Water from the bottom, ensuring leaves remain dry. Finally, deadhead spent blooms to stimulate new flower production, and periodically inspect for pests, which can deter blooming.
Should I Mist my African Violet?
When it comes to African violets, misting is not recommended. Here's why:
Leaf Spotting: African violet leaves are prone to spotting when water sits on them. Misting can cause water droplets to remain on the leaves, leading to unsightly spots.
Potential for Disease: Moisture that remains on the leaves can create an environment conducive to fungal diseases. Powdery mildew, for example, thrives in humid conditions.
Natural Environment Mimicry: African violets naturally grow in environments with high ambient humidity, but they don't get water on their leaves in their natural habitats. Thus, it's best to increase humidity around the plant without wetting the foliage.
Instead of misting, if you want to increase humidity for your African violets:
Humidity Tray: Place the pot on a tray filled with pebbles and water. Ensure the pot is sitting on the pebbles and not directly in the water. As the water evaporates, it'll increase the humidity around the plant without wetting the leaves.
Grouping Plants: By placing several plants close together, they can create a micro-environment with increased humidity.
Room Humidifier: Consider using a room humidifier to increase ambient humidity without directly wetting the plant.
Remember, while African violets appreciate higher humidity, it's essential to ensure the leaves remain dry to keep the plant healthy and aesthetically pleasing.
Is it OK to Touch African Violet Leaves?
While it's generally recommended to avoid touching African violet leaves unnecessarily, light and gentle handling is usually fine. Excessive touching or rough handling can potentially damage the delicate leaves.
Are African Violets Easy to Keep Alive?
African violets are easy to keep alive, primarily when provided with the right care. They require consistent attention to light, watering, humidity, and temperature to ensure their well-being.
How Often Do You Water an African Violet?
Watering frequency depends on various factors such as temperature, humidity, pot size, and soil type. Generally, you should water African violets when the top inch of the soil feels dry to the touch. It's essential to water from below by placing the pot in water and letting the plant soak up moisture through the roots, as getting the leaves wet can encourage diseases.
While every effort has been made to describe these plants accurately, please keep in mind that height, bloom time, and color may differ in various climates. The description of these plants has been written based on numerous outside resources.