Salpiglossis sinuata, commonly known as Scalloped Tube Tongue or Painted Tongue, is an annual flowering plant recognized for its intricate, velvety blooms.
Salpiglossis sinuata: An In-depth Look
Native: This plant is native to southern Chile.
Plant Type and Habit: Painted Tongue is an herbaceous annual with an upright growth habit. It's often grown for its striking flowers.
Size: The plant typically reaches a height of 18-30 inches (45-75 cm) and spreads about 12-18 inches (30-45 cm) wide.
Flowers: Resembling petunia, the flowers feature velvety, trumpet-shaped blooms, about 2 inches across (5 cm), in deep hues like purple, red, and orange, often adorned with striking, contrasting veins.
Bloom Time: The flowering period for Painted Tongue is generally from late spring to early autumn.
Foliage: The plant has lance-shaped, medium-green leaves that are lightly hairy and can be up to 6 inches (15 cm) long.
Hardiness: This is a tender annual, suitable for USDA zones 2-11. It is frost-sensitive and prefers moderate climates.
Award: Winner of the prestigious Award of Garden Merit of the Royal Horticultural Society for its noteworthy qualities.
Uses: Given its ornamental value, it's primarily used in gardens for visual interest, particularly in flower beds, borders, and containers. These flowers are excellent for cutting gardens.
Wildlife: The plant attracts pollinators like bees and butterflies.
Toxicity: There's limited information on its toxicity, but it's generally considered non-toxic to humans and pets.
Invasiveness: Salpiglossis sinuata is not known to be invasive.
Painted Tongue offers a kaleidoscope of colors and patterns, making it a captivating addition to any garden. Its moderate care requirements and adaptability to various growing conditions also make it an excellent choice for both novice and experienced gardeners alike.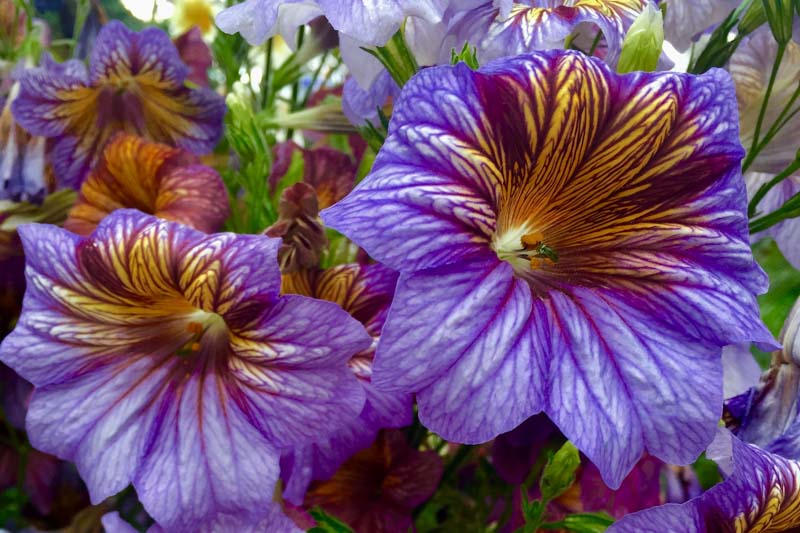 How to Grow and Care for Painted Tongue Flowers
Growing and caring for Painted Tongue Flowers can be a rewarding endeavor if you're looking for blooms that offer vibrant colors and intricate patterns. Here's how to care for them:
Soil
Salpiglossis prefers well-drained, humus-rich soil. A slightly acidic to neutral pH range (6.0 to 7.0) is optimal.
Light
Place the plants in a location where they will receive at least 6 hours of sun a day. They tolerate partial shade but bloom best in full sun.
Temperature
These plants are cool-weather annuals and perform best in areas with cool summer temperatures. They may struggle in extreme heat. Provide some shade if temperatures soar.
Planting Time
Start seeds indoors 10-12 weeks before the last expected frost, or sow directly outdoors in late spring when the soil has warmed up.
Watering
Keep the soil consistently moist but not waterlogged. Do not allow the soil to dry between waterings.
Fertilizing
Use a balanced, slow-release fertilizer at the time of planting and again mid-season. Over-fertilizing can lead to more leaves and fewer flowers.
Pruning and Maintenance
Deadhead spent flowers to encourage continuous blooming.
Propagation
Painted Tongue can be propagated from seeds. Start indoors 10-12 weeks before the last frost or sow directly in the garden after the soil warms. Germination typically takes 10-21 days.
Painted Tongue Common Problems
Common problems encountered while growing Painted Tongue (Salpiglossis sinuata) include:
Aphids: These small insects can suck sap from the plant, leading to weakened growth.
Spider Mites: Another sap-sucking pest, they can cause leaves to yellow and drop.
Poor Flowering: Insufficient sunlight can result in poor blooming.
Leggy Growth: Inadequate light can also lead to tall, spindly plants with few flowers.
To manage these issues, it's essential to maintain proper watering, good air circulation, and appropriate fertilization. Pesticides and fungicides can be used if the infestation or disease becomes severe.
While every effort has been made to describe these plants accurately, please keep in mind that height, bloom time, and color may differ in various climates. The description of these plants has been written based on numerous outside resources.