What is Pentas?
Pentas, also known as star cluster or Egyptian star flower, are cherished for their star-shaped flowers that cluster into vibrant, rounded bouquets. With a bushy, upright demeanor, these plants add a splash of persistent color to any landscape.
Native: Originating in Africa and the Arabian Peninsula, Pentas have adapted to a wide range of tropical and subtropical environments.
Description: Pentas boast lush green foliage and clusters of five-petaled flowers that resemble stars, spanning a spectrum from white to deep red. These hardy plants stand upright, with robust stems and a bushy habit, making them a visually appealing and vibrant addition to any garden space.
Growth Habit: This perennial is herbaceous in habit, offering a woody base with soft, green stems above. It tends to grow upright and can be cultivated as an annual in temperate zones.
Size: Typically, Pentas reach heights of 1 to 3 feet (30-90 cm) with a spread equally as wide, forming a lush, mounded shape.
Flowers: The starry flowers come in shades of white, pink, red, and purple. Each cluster can be a beacon for pollinators. Pentas bloom profusely, especially in warm climates, from early summer through early fall, and in some tropical regions, they may bloom year-round.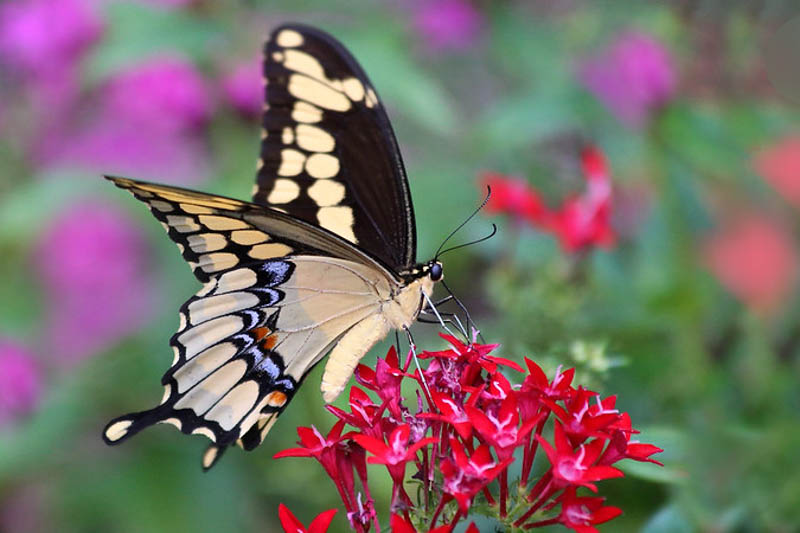 Giant Swallowtail on Red Pentas
Foliage: Its leaves are lance-shaped, medium green, and sometimes with a slightly fuzzy texture, which adds to the plant's tactile appeal.
Hardiness: Pentas are hardy in USDA zones 10-11 but are commonly grown as annuals in cooler regions.
Uses: Primarily used for ornamental purposes, Pentas are excellent for borders, bedding, and container gardening. They are also used as cut flowers due to their long-lasting color.
Pollinators: The flowers are a magnet for bees, butterflies, and hummingbirds, enhancing the ecological value of a garden.
Toxicity: These plants are not known to be toxic to humans or pets, making them a safe choice for varied garden settings.
Deer and Rabbit: Pentas are somewhat resistant to deer and rabbits, though not immune to browsing if food is scarce.
Drought: While Pentas prefer consistent moisture, they are somewhat drought-tolerant once established.
Invasiveness: Pentas are not considered invasive and are easy to manage in a garden setting.
While every effort has been made to describe these plants accurately, please keep in mind that height, bloom time, and color may differ in various climates. The description of these plants has been written based on numerous outside resources.