Garden Design with Angelonia
Angelonia, with its vibrant colors, upright growth habit, and continuous blooms, can be a fantastic addition to garden designs. Here are some ideas:
Mixed borders: Plant in mixed borders along with other annuals, perennials, and shrubs. Its vertical growth creates visual interest and provides a backdrop for lower-growing plants. Combine it with plants that have complementary colors and textures, such as petunia, marigold, or salvia.
Containers and hanging baskets: Use in container gardens or hanging baskets, either as a stand-alone plant or mixed with other flowering plants. Its upright habit works well as a "thriller" in combination with "filler" and "spiller" plants, such as trailing verbena or calibrachoa.
Mass plantings: Create a stunning display by planting Angelonia en masse. The continuous blooms and vibrant colors will create a striking visual impact in your garden.
Cottage gardens: Include in cottage garden designs, where its abundant blooms, fragrance, and pollinator appeal will fit in perfectly among other traditional cottage garden plants.
Cutting gardens: Grow in a cutting garden, as its upright flower spikes and long vase life make it an excellent choice for cut flower arrangements.
Pollinator gardens: Plant in a pollinator garden to attract bees, butterflies, and hummingbirds with its fragrant blooms.
Heat-tolerant gardens: Incorporate into gardens that experience high temperatures or intense sun, as it is highly heat-tolerant and will thrive in these conditions.
When designing your garden with Angelonia, consider factors such as color combinations, plant heights, and the overall theme of your garden. By incorporating this versatile plant, you'll add vibrant color, fragrance, and visual interest to your outdoor space.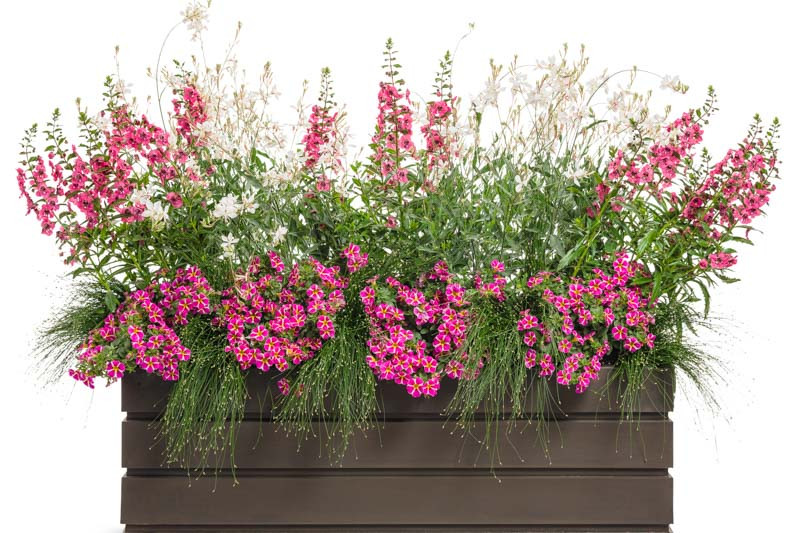 Growing Tips
To grow healthy and vibrant Angelonia plants, follow these growing tips:
Sunlight: Angelonia thrives in full sun, so choose a location that receives at least 6 to 8 hours of direct sunlight daily. Partial shade is tolerated, but the plant may become leggy and produce fewer blooms in lower light conditions.
Soil: Plant in well-draining soil. If your soil is heavy clay or tends to retain water, consider amending it with compost or planting in raised beds to improve drainage.
Watering: Angelonia needs consistent moisture, especially during the establishment phase. Water regularly, ensuring the soil stays evenly moist but not waterlogged. Once established, the plant is moderately drought-tolerant but will perform best with consistent watering.
Fertilizing: Apply a balanced, slow-release fertilizer at the time of planting, following package instructions. Alternatively, use a water-soluble fertilizer every 4 weeks during the growing season to promote healthy growth and abundant blooms.
Spacing: Space plants about 12 to 18 inches (30-45 cm) apart to allow for proper air circulation and growth.
Pruning: While not necessary, you can pinch back young plants to encourage bushier growth. No deadheading is required, as Angelonia is a self-cleaning plant that will continue to bloom without intervention.
Overwintering: In USDA hardiness zones 9 to 11, Angelonia can be grown as a tender perennial. Protect the plants from frost or bring them indoors during the winter months. In colder climates, it is typically grown as an annual or propagated from cuttings for the following season.
Pests and diseases: Angelonia is relatively pest and disease-resistant, but it may occasionally be affected by pests like aphids, spider mites, or whiteflies. Diseases such as powdery mildew or root rot develop if the plant is exposed to poor air circulation or overly wet conditions.
By following these growing tips, you can enjoy beautiful, fragrant, and long-lasting blooms throughout the growing season.