Cactus and Semi Cactus Dahlias
Cactus Dahlias, Semi Cactus Dahlias
---
Dahlias are absolutely breathtaking flowers. Flowering for months, they inject color and drama wherever you grow them: in mixed borders in the garden, in containers or window boxes on balconies and on patios.
They are available in a rich variety of bloom colors, shapes and sizes. Flowers can be as small as 2 inches in diameter or up to one foot. They can be single-flowering (orchid-flowering, anemone and collarettes) or double flowering (cactus, semi-cactus, formal or informal decorative dahlias, ball and pompons). Their wide height range can start as low as 12 inches and go up to 6 feet.
Cactus and semi-cactus dahlias feature double flowers with long pointed ray petals that revolute or roll back along half their length, giving the flowers a spiky look. Their blooms come in many sizes and most cultivars reach a height of more than 40 inches.
Dramatic-looking, their star-like flowerheads stand up well to inclement weather, since they are less weighed down by heavy rain, or blown about by wind, than other dahlia types.
There are hundreds of Cactus and Semi-Cactus Dahlias (!!!). Here is the list of our favorite Cactus and Semi-Cactus Dahlias.
Most Beautiful Cactus and Semi Cactus Dahlias
You may want to review these useful guides too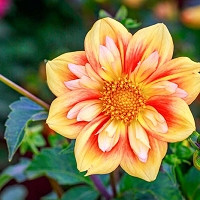 Anemone Dahlias feature an outer ring of flat ray petals arranged in a wreath and surrounding masses of tiny, elongated disk florets which form an intriguing floral pincushion. Collarette Dahlias are small to medium flowers with large flat ray petals surrounding an open center. Within the ray and surrounding the center is a wreath of shorter petals, often of a different color: this forms the "collar."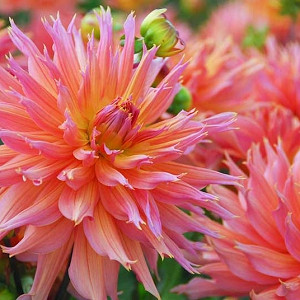 Dahlias are absolutely breathtaking flowers. Flowering for months, they inject color and drama wherever you grow them: in mixed borders in the garden, in containers or window boxes on balconies, and on patios.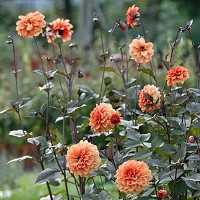 These unusual dahlia varieties are really worth mentioning and should not be overlooked by the gardener. Why? Because these beauties offer masses of stunning flower colors that contrast strikingly with their deep mahogany-to-black foliage. Effect in the garden guaranteed! Here is the roster of these most popular beauties.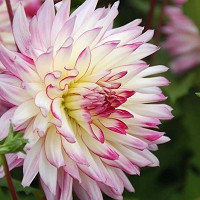 Decorative Dahlias can be formal with flat petals evenly and regularly placed throughout the flowers, or informal with generally flat petals, sometimes slightly rolled at the tips, but with irregular arrangement of formation.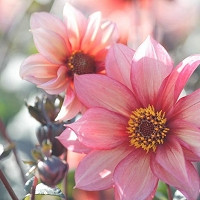 Single Dahlias feature blooms with a single row of flat or slightly cupped ray florets arranged in a flat plane, uniformly overlapping, preferably in the same direction with no gaps. The disc flowers may have up to three rows of bright yellow or orange pollen and the blooms are over two inches in diameter (5 cm). Pollinators love these Single-Flowered Dahlias!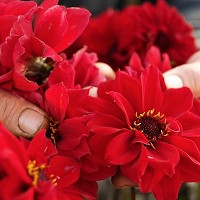 Peony Dahlias are open centered flowers with two or more rows of large and voluptuous petals surrounding a disc. Orchid Dahlias are also open centered flowers with one ray of florets surrounding a disc (Single Orchid) or a fully double bloom showing no disc (Double Orchid). The florets involute for two-thirds or more of their length.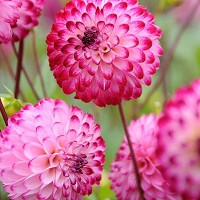 Pompon and Ball Dahlias feature relatively small, fully double, globe-shaped flowers with petals blunt or slightly rounded at their tips. How not to marvel at the perfect petal arrangement of these dahlias? They display an infinite swirl of florets with fold upon fold of incredibly flawless petals.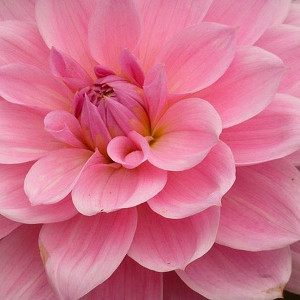 Waterlily Dahlias do resemble waterlily flowers and make excellent cut flowers, as the stems of many varieties have been bred to be very long and sturdy. Whether in a vase or elegantly floating in a shallow bowl, they are perfect eye-catchers!
Keep on cutting:
The more you cut them, the more flowers you get. This makes dahlias twice as nice: pretty in a vase, pretty in the garden. A great big flower in a vase or floating in a shallow bowl makes the perfect eye-catcher.
Preferred location and planting
Dahlias prefer a sunny location. This could be in the border, but they will also thrive in pots on the terrace or balcony. If planted in containers, however, they will require large ones filled with enough potting compost for proper growth.
When planting in the border, dig a large hole of at least 15 cm across and 15 cm deep. Cover the tubers with 2-3 cm of soil, tamp down the soil after planting, and water the plants generously.
These plants will also require sufficient quantities of water during cultivation, whether this is in a container or in the garden. This is important for their development as well as for the initiation of flower buds. A soil that retains moisture is definitely an advantage. When watering with a watering can, adding a little liquid fertilizer can't hurt. The plants will then produce even more flowers.
Guide Information
Hardiness
8 - 11

Heat Zones
1 - 10

Climate Zones
1, 2, 3, 4, 5, 6, 7, 8, 9, 10, 11, 12, 13, 14, 15, 16, 17, 18, 19, 20, 21, 22, 23, 24
Plant Type
Bulbs, Perennials
Plant Family
Dahlia
Exposure
Full Sun
Season of Interest
Summer (Mid,Late)
Fall

Water Needs
Average
Maintenance
Average
Soil Type
Clay, Loam, Sand
Soil pH
Acid, Alkaline, Neutral
Soil Drainage
Moist but Well-Drained
Characteristics
Cut Flowers, Showy
Attracts
Butterflies
Landscaping Ideas
Beds and Borders, Patio and Containers
Garden Styles
City and Courtyard, Cutting Garden, Informal and Cottage
Compare All Dahlia
Great Plant Combination Ideas with Dahlia
Guides with Dahlia
While every effort has been made to describe these plants accurately, please keep in mind that height, bloom time, and color may differ in various climates. The description of these plants has been written based on numerous outside resources.
Guide Information
Hardiness
8 - 11

Heat Zones
1 - 10

Climate Zones
1, 2, 3, 4, 5, 6, 7, 8, 9, 10, 11, 12, 13, 14, 15, 16, 17, 18, 19, 20, 21, 22, 23, 24
Plant Type
Bulbs, Perennials
Plant Family
Dahlia
Exposure
Full Sun
Season of Interest
Summer (Mid,Late)
Fall

Water Needs
Average
Maintenance
Average
Soil Type
Clay, Loam, Sand
Soil pH
Acid, Alkaline, Neutral
Soil Drainage
Moist but Well-Drained
Characteristics
Cut Flowers, Showy
Attracts
Butterflies
Landscaping Ideas
Beds and Borders, Patio and Containers
Garden Styles
City and Courtyard, Cutting Garden, Informal and Cottage
Compare All Dahlia
Great Plant Combination Ideas with Dahlia
Guides with Dahlia
Related Items