Midseason Flowering Cherry Trees for Your Garden
Japanese Flowering Cherries, Sakura, Cherry Blossom
---
Among the most popular and spectacular spring-flowering trees, flowering cherries with their frothy masses of pink or white blossoms usually signal the end of winter and reveal the first blush of spring.
Most cherry tree varieties bloom in spring over a season that usually lasts several weeks. However, changes in weather conditions may have an impact on the time of flowering, advancing or delaying the appearance of the beloved cherry blossoms by several weeks. Generally, the milder the climate, the earlier the blossoms open.
Not all cherry trees bloom at the same time. There are early bloomers (mid-to-late March), midseason bloomers (late March to mid-April), and late bloomers (mid-to-late April).
Here is a list of pretty cherry trees for midseason color in your spring garden. Most make good ornamental trees for smaller gardens thanks to their modest size.
Midseason Flowering Cherry Trees for Your Garden
You may want to review these useful guides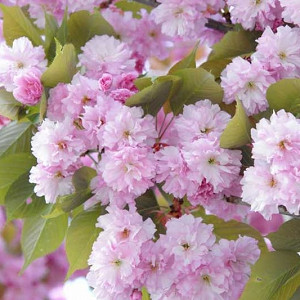 Here is a list of pretty cherry trees for early color in your spring garden. In the last two weeks of March, they will surely wipe away those memories of our most recent winter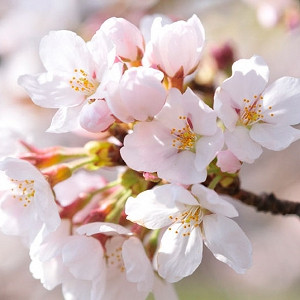 Here is a list of pretty cherry trees for late season color (late March to mid April) in your spring garden. They will make a wonderful addition to your garden and be one of your spring delights with their clouds of blossom.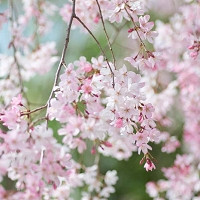 Weeping cherry trees make a terrific focal point in the landscape, with their black limbs holding up an umbrella-shaped crown of flowers. Easy to grow, they rarely need pruning. Just give them some sun and a well-drained soil and you will be rewarded with infinite beauty in your garden.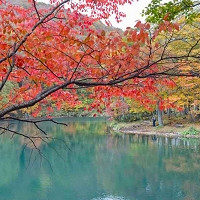 Ornamental cherry trees are typically planted for the majestic yet delicate beauty of their flowers. However, many varieties are noted for their multi-season interest. Some display wonderful fall colors, with their foliage turning brilliant shades of gold, red, or orange. Others enjoy a graceful shape that commands attention with their cascading branches creating an umbrella that everyone would want to stand under.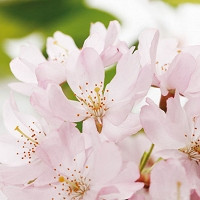 Many Japanese flowering cherries are fragrant and exude a pleasing scent of crushed almond. Prunus 'Amanogawa' is reported by some as having a freesia fragrance. However, on cold and rainy days, their fragrance is barely perceptible, except for strongly scented cherries such as 'Amanogawa' or 'Jo-nioi'.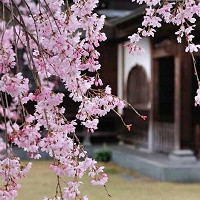 Although flowering cherry trees are typically planted for the majestic yet delicate beauty of their flowers, many varieties are noted for their multi-season interest.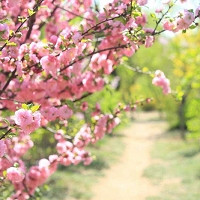 According to the Flower Association of Japan, there are over three hundred species, varieties, and hybrids of Japanese flowering cherries. These flowering cherries come in a wide variety of sizes and shapes and several are excellent additions to the garden. All are incredibly beautiful.
Growing Flowering Cherries
Flowering cherry trees do well in most gardens and their care requirements are minimal. There are a few things to bear in mind though before purchasing flowering cherry tree:
Flowering cherries require full sun and good air circulation. Therefore it is important to plant your tree in a spot that is not too shady or crowded. Make sure the mature height and spread of the tree you wish to purchase will fit your intended area.
Flowering cherries require a moist, relatively fertile, well-drained soil. Easy to grow, they are not fussy, although they dislike poorly drained soil and will not tolerate boggy conditions. They should be watered thoroughly after planting and until the tree is well-established.
Flowering cherries grow best if left alone so it is best to avoid pruning aside from removing dead, diseased or damaged growth. If you need to shape your tree, do so after flowering in early summer, because there are fewer diseases then and you won't remove the flower buds.
Flowering cherries are susceptible to insect and fungal disease problems. Regular pruning to thin out branches and allow for better air and light circulation will help keep your tree healthy. Watch for caterpillars, leaf-mining moths, bullfinches, silver leaf, bacterial canker and blossom wilt.
The best time to plant is in early spring, after the danger of frost has past, or in early fall, allowing plenty of time for roots to establish before the first freeze.
Apply a layer of mulch around the trees after planting.
Guide Information
| | |
| --- | --- |
| Plant Type | Trees |
| Plant Family | Prunus - Flowering Trees |
| Exposure | Full Sun |
| Season of Interest | Spring (Early,Mid) |
| Water Needs | Average |
| Maintenance | Low |
| Soil Type | Chalk, Clay, Loam, Sand |
| Soil pH | Acid, Alkaline, Neutral |
| Soil Drainage | Moist but Well-Drained, Well-Drained |
| Attracts | Birds, Butterflies |
| Landscaping Ideas | Beds and Borders |
| Garden Styles | City and Courtyard, Informal and Cottage, Japanese Garden, Traditional Garden |
Compare All Prunus - Flowering Trees
Great Plant Combination Ideas with Prunus - Flowering Trees
Guides with Prunus - Flowering Trees
rockthestock / 123RF Stock Photo
While every effort has been made to describe these plants accurately, please keep in mind that height, bloom time, and color may differ in various climates. The description of these plants has been written based on numerous outside resources.
Guide Information
| | |
| --- | --- |
| Plant Type | Trees |
| Plant Family | Prunus - Flowering Trees |
| Exposure | Full Sun |
| Season of Interest | Spring (Early,Mid) |
| Water Needs | Average |
| Maintenance | Low |
| Soil Type | Chalk, Clay, Loam, Sand |
| Soil pH | Acid, Alkaline, Neutral |
| Soil Drainage | Moist but Well-Drained, Well-Drained |
| Attracts | Birds, Butterflies |
| Landscaping Ideas | Beds and Borders |
| Garden Styles | City and Courtyard, Informal and Cottage, Japanese Garden, Traditional Garden |
Compare All Prunus - Flowering Trees
Great Plant Combination Ideas with Prunus - Flowering Trees
Guides with Prunus - Flowering Trees
Related Items