Recommended Sun-Loving Native Shrubs for the Northern California Coast Region
About 25 percent of the plant species native to North America are at risk of extinction. You can help reverse this trend by planting great native plants in your garden.
---
California is divided into 8 main ecological regions and 19 sub-regions. Unique in topography, soil depth and pH, elevation, light and hydrology, each region provides a rich variety of ecological habitats, supporting many native plant species.
The Northern California Coast region encompasses all coastal watersheds from the Russian River north to the Chetco River in extreme southwestern Oregon. It is mostly characterized by a series of mountain ranges that parallel the coast with each range becoming successively higher inland. Between the mountain ranges are long, narrow valleys through which some of the ecoregion's major rivers flow before reaching the coast.
Climate in the North Coast Ecoregion is dominated by the marine influence of the Pacific Ocean. Along the coast, temperatures average between 40-60ºF and summers are characterized by fog and cool breezes. Inland, the marine influence is greatly diminished resulting in hotter summers and colder winters. Precipitation, as much as 120 inches, falls primarily in the winter months as rain, with snow in the higher elevations.
The Northern California Coast region lies in Climate Zones 4, 7, 14, 15 and 17.
Coastal ecological systems include grasslands such as bald hills and coastal terrace prairies, dunes, saltmarsh, and closed-cone pine forests. Lowland areas near the coast are dominated by redwood and Douglas fir-tan oak forests. These redwood groves are among the most ancient and tallest conifers in the world, many are older than 2,000 years and reach heights over 200 feet. Inland, the ecoregion is dominated by Douglas fir-tan oak forest, Oregon oak woodland, annual grasslands, and mixed evergreen forests. Higher elevations contain montane mixed coniferous forests (white fir, ponderosa pine, and Douglas fir). The interior southeastern portion of the ecoregion is characterized by mixed chaparral, foothill pine, and blue oak.
Six counties make up the North Coast Ecoregion: the northern portions of Napa and Sonoma Counties as well as Mendocino, Lake, Humboldt, and Del Norte Counties. The largest towns are Eureka, Windsor, Arcata, Ukiah, and Clearlake.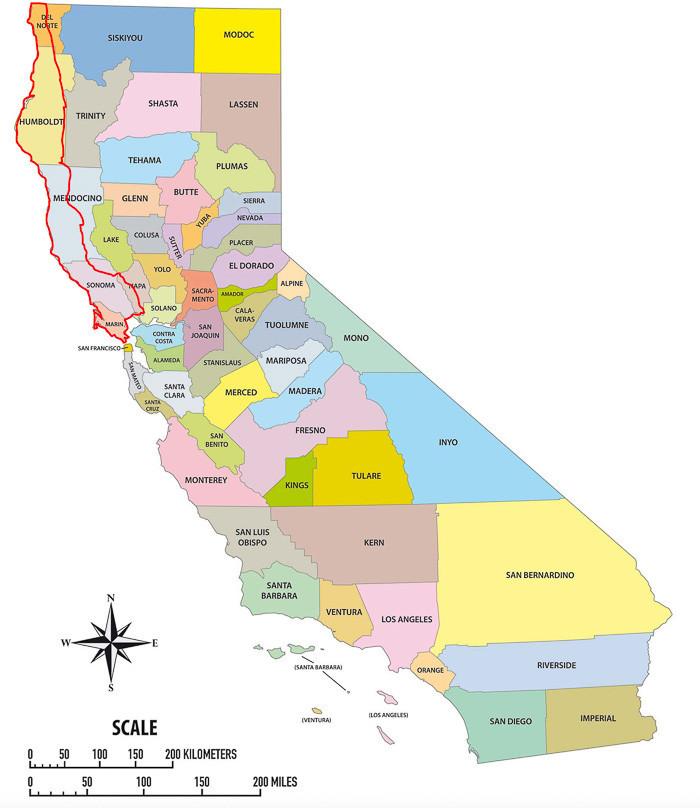 According to the U.S Forest Service, Invasive species have contributed to the decline of 42% of U.S. endangered and threatened species, and for 18% of U.S. endangered or threatened species. Invasive species compete directly with native species for moisture, sunlight, nutrients, and space. They displace and alter native plant communities, degrade wildlife habitat and water quality, and potentially lead to increased soil erosion.
The federal government has estimated that nearly 25 percent of the 20,000 plant species native to North America are at risk of extinction, many of these through habitat loss. You can help reverse this trend by planting great native plants in your garden.
A plant is considered native if it has occurred naturally in a particular region or ecosystem without human introduction. There are many benefits in growing native plants.
First, these plants are better adapted to soils, moisture and weather than exotic plants that evolved in other parts of the world. They need less fertilizers, pesticides or use less water.
Second, they are unlikely to escape and become invasive, destroying natural habitat.
Third, they support wildlife, providing shelter and food for native birds and insects, while exotic plants do not.
Here is a list of California native shrubs that are well-suited for plantings in sunny gardens of the Northern California Coast Region.
Never collect native plants from the wild as it will deplete natural ecosystems.
When possible, plant species grown straight from local seed sources. These native originals are the best choice, as they co-evolved with specific wildlife, which supports migration, breeding and other seasonal interdependency.
While every effort has been made to describe these plants accurately, please keep in mind that height, bloom time, and color may differ in various climates. The description of these plants has been written based on numerous outside resources.