What is a Christmas Cactus?
Christmas Cactus (Schlumbergera x buckleyi) is a popular houseplant prized for its vibrant, tubular flowers that bloom in winter. Unlike typical cacti, it lacks sharp spines, making it friendly for household placement.
Native: Christmas Cactus originates from the coastal mountains of southeastern Brazil, where it grows in cloud forests.
Growth habit: It's an epiphytic cactus, meaning it naturally grows on trees. Its habit is pendulous, with branches hanging downward.
Size: The plant generally reaches a height of 6-12 inches (15-30 cm), with a spread of about 18-24 inches (45-60 cm).
Flowers: Its flowers are tubular and come in hues of pink or red, sometimes even white or yellow, with soft petal-like structures.
Blooming season: It primarily blooms in late fall to winter, giving it its common name, Christmas Cactus.
Hardiness: Christmas cactus prefers temperatures between 60-70°F (15-21°C). Protect it from freezing temperatures.
Award: Recipient of the prestigious Award of Garden Merit of the Royal Horticultural Society.
Uses: Commonly used as a houseplant, especially around the holidays due to its festive blooming period.
Toxicity: Non-toxic to humans or pets.
Why Should I Grow a Christmas Cactus?
Growing a Christmas Cactus offers multiple benefits:
Seasonal Blooms: It blooms during the holiday season, adding a festive touch with its vibrant flowers when most plants are dormant.
Low Maintenance: Once established, it requires minimal care compared to other houseplants.
Air Purifier: Like many plants, it helps improve indoor air quality.
Non-Toxic: Safe around pets and children, unlike some other popular houseplants.
Long-lived: With proper care, it can last for decades, often becoming a cherished heirloom.
Unique Appearance: Its arching segmented stems are distinct from typical cacti, making it an interesting conversational piece.
Propagation: Easily propagated from stem segments, allowing you to share the plant with friends or expand your collection.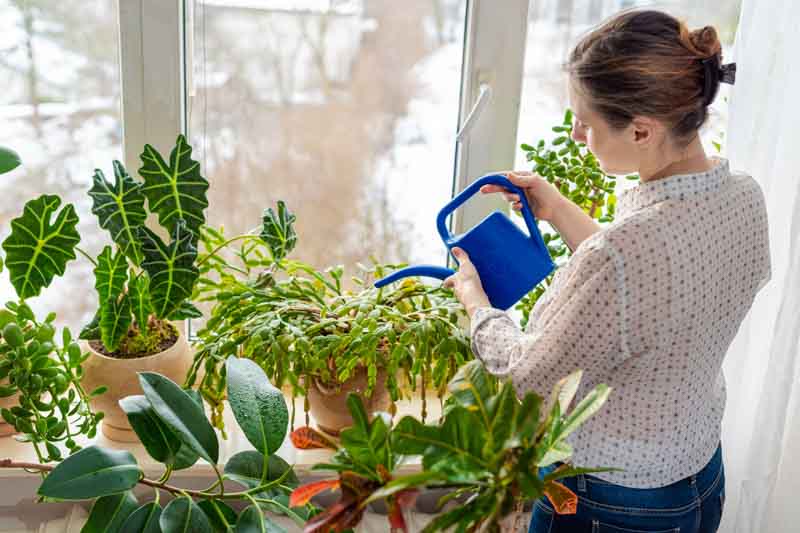 How to Grow and Care for a Christmas Cactus
Growing a Christmas Cactus successfully involves providing the right conditions and understanding its natural habits. Here's a guide to help you grow and nurture this festive plant:
Light: Provide bright but indirect light. Too much direct sunlight can cause the plant to become sunburned.
Soil: Use a well-draining potting mix, preferably one designed for cacti or succulents.
Water: Keep the soil moderately moist but not soggy. Water when the top inch of soil feels dry to the touch. Reduce watering during its dormant period.
Humidity: Christmas Cactus prefers higher humidity. If your home is dry, consider placing the pot on a tray filled with pebbles and water to increase the surrounding humidity or occasionally mist the plant.
Temperature: Keep the plant in a room with temperatures between 60-70°F (15-21°C). Avoid sudden temperature fluctuations.
Fertilizer: During its growing season, feed it with a balanced houseplant fertilizer, diluted to half the recommended strength, every 2-4 weeks.
Pruning: After blooming, you can prune the Christmas Cactus to encourage branching. This also helps in shaping the plant.
Remember, Christmas Cacti are native to Brazilian rainforests, so they have different care requirements from typical desert cacti. They thrive on attention, and with proper care, you can enjoy their beautiful blooms year after year.
How to Get Your Christmas Cactus to Bloom
Getting your Christmas Cactus to bloom requires mimicking its natural habitat and triggering its bloom cycle. Here's a step-by-step guide:
Light Exposure: Christmas Cacti require long nights to set buds. About 6-8 weeks before the desired bloom time, ensure the plant gets 12-14 hours of uninterrupted darkness each day. Place it in a room that is not used in the evening or cover it with a dark cloth or bag.
Temperature: The plant prefers cooler temperatures for bud development. Maintain nighttime temperatures between 50-55°F (10-13°C) and daytime temperatures not exceeding 65°F (18°C).
Watering: Reduce watering during the bud-inducing period. Allow the soil to begin to dry out before watering again. However, don't let it become bone dry.
Avoid Moving: Once the plant starts budding, avoid moving it around too much. Changes in its environment, like light and temperature, can cause bud drop.
Fertilizing: Hold off on fertilizing when inducing blooms. Once the bloom cycle is over, you can resume fertilization.
Humidity: Christmas Cacti thrive in higher humidity. If the air is dry, place a tray filled with water and pebbles beneath the plant pot, ensuring the pot isn't sitting directly in the water. The water will evaporate and increase the surrounding humidity.
Avoid Stress: Any stress can cause bud drop. This includes sudden changes in temperature, over-watering, drafts, or even moving the plant frequently.
Check for Pests: Make sure the plant is free from pests like aphids, spider mites, and mealybugs, which can hinder blooming.
Remember, even with these steps, there's no 100% guarantee your Christmas Cactus will bloom. However, by mimicking its natural conditions, you significantly increase the chances of seeing those beautiful holiday flowers. If it doesn't bloom one year, don't get discouraged. It might simply be adjusting to its environment or recovering from stress. With continued care, it's likely to reward you in subsequent years.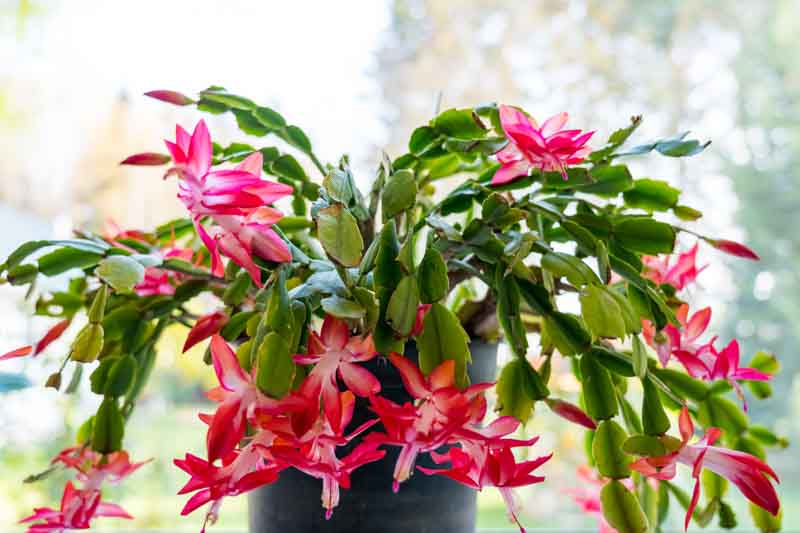 Christmas Cactus Common Problems
Christmas Cactus, like all plants, can face certain problems. Here are some common issues and their potential causes:
Dropping Buds:
Caused by sudden changes in temperature, light, or humidity.
Moving the plant frequently can also stress it, leading to bud drop.
Yellow or Wilting Leaves:
Overwatering is the most common reason. Ensure the soil dries out slightly between waterings.
Ensure the pot has good drainage.
Failure to Bloom:
Insufficient darkness during its bloom-inducing period.
Inconsistent or overly warm temperatures.
Leaves Turning Reddish-Purple:
Typically due to exposure to excessive light. Move it to a location with more indirect light.
Segment Drop:
It can occur if the plant is exposed to cold drafts or under-watered.
Rotting Stems:
Caused by overwatering or fungal diseases. Ensure the plant isn't sitting in water and the potting mix is well-draining.
Pests and diseases:
Lackluster Growth or Pale Leaves:
Indicates potential nutrient deficiency. Consider repotting with fresh soil or using a balanced, water-soluble fertilizer.
Edema:
Caused when the plant takes up more water than it can use. It appears as corky, raised bumps on the underside of its leaves.
Shrinking or Wrinkled Segments:
Typically due to underwatering or extremely dry air.
To avoid most of these problems with a Christmas Cactus, provide consistent care, keep it away from drafts, ensure it has well-draining soil, and water it appropriately. Regularly inspect for signs of pests or diseases, and take action promptly if you spot any issues.
| | |
| --- | --- |
| Aphids | Mealybug |
How to Propagate a Christmas Cactus
Propagating a Christmas Cactus (Schlumbergera) is a relatively straightforward process that involves using cuttings. Here's a step-by-step guide to propagate your Christmas Cactus:
Materials:
Healthy Christmas Cactus
Sharp, clean scissors or pruning shears
Small pots
Well-draining potting mix, preferably cactus or succulent mix
Rooting hormone (optional)
Steps:
Choose Healthy Segments:
Select a healthy, mature segment (stem) of the Christmas Cactus. Choose a segment that is green and plump, with 2-3 joined segments.
Take Cuttings:
Using sharp scissors or pruning shears, cut the segment off.
Leave the cuttings in a dry, warm place for a few hours or overnight to allow the cut end to callous over.
Prepare Pots:
Fill small pots with fresh, well-draining potting mix.
Moisten the mix slightly but avoid making it too wet.
Plant Cuttings:
Once the cut end has calloused, plant it about 1 inch deep in the potting mix.
Optionally, you can dip the calloused end in rooting hormone before planting, but this isn't essential.
Provide Right Conditions:
Place the pot in a bright, indirect light.
Keep the potting mix slightly moist but avoid overwatering to prevent rot.
Wait for Root Development:
Be patient and wait for roots to develop, it usually takes 3-6 weeks.
Avoid disturbing the cuttings during this period; do not tug or pull them.
Care for the New Plant:
Once the cutting has rooted, care for it as you would a mature Christmas Cactus.
Keep it in bright, indirect light and water it when the top inch of the soil feels dry.
By following these steps, you can successfully propagate Christmas Cactus and enjoy more of these lovely plants in your home or share them with friends and family.
Frequently Asked Questions
What is the lifespan of a Christmas cactus?
A Christmas cactus (Schlumbergera) can live for several decades when provided with proper care. Some plants have been known to live over 50 years, and with optimal conditions, they may even surpass a century.
How often do you water a Christmas cactus?
Water your Christmas cactus when the top inch of soil begins to feel dry. In general, this means watering every 2-3 weeks, but the frequency might vary based on environmental factors. During its growing season (spring and summer), it may require more frequent watering compared to the dormant winter months.
Do you water Christmas cactus from the top or bottom?
Both methods can be effective:
Top Watering: When watering from the top, pour water onto the soil until it starts to drain out of the bottom. Ensure the pot has good drainage to prevent root rot.
Bottom Watering: Place the pot in a tray filled with water and allow the roots to soak up moisture for about 30 minutes. This method helps ensure the entire root system gets adequately hydrated.
Regardless of the method, always ensure excess water is drained, and the plant isn't left sitting in water.
How do I know if my Christmas cactus is happy?
A thriving Christmas cactus will display the following signs:
Healthy Growth: New stem segments are growing.
Bright Green Color: The stems are a vibrant green. If they're reddish, it might be receiving too much direct sunlight.
Flowering: Under the right conditions, it should bloom once (sometimes twice) a year.
No Pests or Diseases: A happy plant typically has no signs of pests like mealybugs or issues like stem rot.
If your cactus seems stressed, it's essential to evaluate its care conditions and make necessary
While every effort has been made to describe these plants accurately, please keep in mind that height, bloom time, and color may differ in various climates. The description of these plants has been written based on numerous outside resources.