Clitoria ternatea: An In-depth Look
Clitoria ternatea is a strikingly beautiful flowering vine known for its vibrant blue flowers, which are shaped like small conch shells. It is commonly known as butterfly pea, blue pea, or Asian pigeonwings and is a member of the Fabaceae family, which includes peas and beans.
Native: Native to tropical equatorial Asia, including locations in South Asia and Southeast Asia, Clitoria ternatea has also been introduced to Africa, Australia, and the Americas.
Plant Type and Habit: It is a perennial climber or trailer, often grown as an annual in temperate climates. Its twining stems and lush growth make it ideal for covering trellises or fences.
Size: The plant can reach 1 to 15 feet in height (30 to 450 cm) with a spread of 3-6 feet (90-180 cm). It grows rapidly under the right conditions and can reach its full size within a single growing season.
Flowers: Butterfly Pea produces distinctive, two-inch, deep blue flowers with a pale yellow or white center, resembling human female genitalia, hence the name.
Bloom Time: It blooms profusely throughout the warmer months, from early summer until fall. In tropical regions, it may flower year-round. After flowering, it produces small, linear legumes containing several seeds.
Foliage: The leaves are green, pinnate, with leaflets in pairs, giving the foliage a feathery appearance.
Uses: Beyond its ornamental appeal, the flowers are edible and used to make an herbal tea known for its antioxidant properties. They are also used as a natural food coloring.
Hardiness: It thrives in USDA zones 10-12 and does not tolerate frost.
Pollinators: The flowers attract various pollinators, especially bees, and butterflies.
Toxicity: It is not known to be toxic and is consumed in various culinary applications.
Deer and Rabbit: Generally, it is not a preferred plant for deer and rabbits, but they may sample or eat it, especially in areas where their food is scarce.
Drought: It is drought-tolerant once established, and it can grow in dry and semiarid habitats.
Invasiveness: Butterfly Pea has spread beyond cultivation, aggressively invading riverbanks, waterhole edges, and disturbed lands in Australia, Hawaii, the Galapagos, Fiji, and numerous Pacific islands. It thrives in these environments, often overwhelming and displacing indigenous flora, posing a significant threat to native ecosystems.
Benefits: Butterfly pea is a leguminous vine recognized for its nitrogen-fixing abilities. Through symbiosis with rhizobia bacteria in its root nodules, it enriches the soil by converting atmospheric nitrogen into a form usable by plants, promoting soil fertility and reducing the need for chemical fertilizers.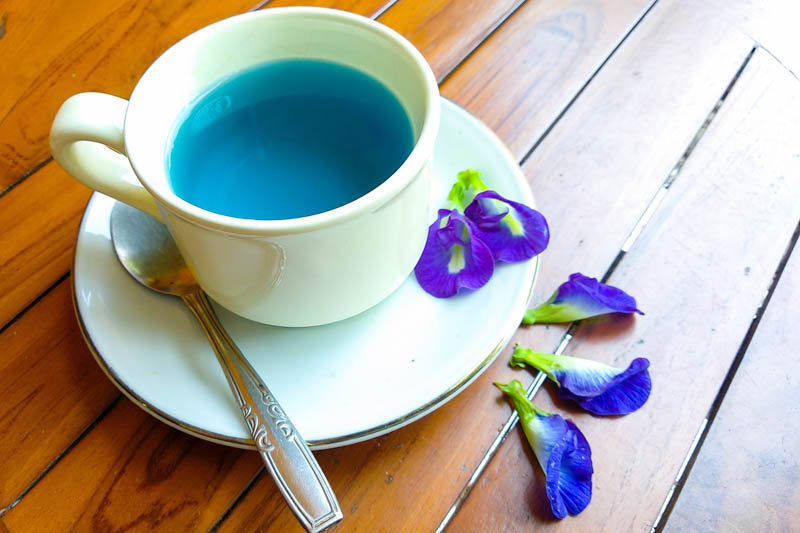 Butterfly Pea Tea
Butterfly Pea: Culinary Uses and Health Benefits
Culinary Uses:
Tea: Butterfly pea flower tea is perhaps the most popular culinary use. It's known for its vibrant blue color, which can change to purple with the addition of acidic ingredients like lemon juice.
Rice: In Southeast Asian cuisine, the flowers are used to color rice dishes naturally, offering a mild flavor and striking blue hue.
Desserts: The petals are used in a variety of desserts, from cakes to puddings, providing a natural coloring agent and a subtle floral note.
Cocktails: Bartenders use the flower for its color-changing properties and mild taste to create visually stunning drinks.
Health Benefits:
Antioxidant Properties: Butterfly pea is touted for its antioxidants, particularly anthocyanins, which may help fight free radicals and reduce inflammation.
Nootropic Effects: Some claim it enhances cognitive function and can reduce anxiety, although scientific evidence is limited.
Stress Relief: It's believed to have adaptogenic properties, helping the body to manage stress more effectively.
Anti-diabetic Potential: Early research suggests it may help reduce blood sugar levels, although more research is needed to validate this.
Skin Health: Due to its antioxidant content, butterfly pea may contribute to improved skin health and anti-aging effects when used in skincare products.
It's important to note that while butterfly pea has a history of traditional use and some promising benefits, many of its purported health effects require more scientific research to fully understand their extent and mechanisms. Always consult healthcare professionals before using herbal supplements for medicinal purposes.
Butterfly Pea Growing Tips
Light: Full sun to partial shade; blooms best in full sun (at least 6 hours of direct sunlight daily).
Soil: Well-draining, fertile soil; can tolerate a range of soil types.
Water: While Butterfly Peas has a reputation for drought tolerance, it will do best with consistent watering.
Fertilizer: Apply a balanced fertilizer once or twice a year.
Pruning: Regularly deadhead spent flowers to encourage more blooms. Prune for shape and to control size.
Propagation: Easily propagated by seeds or stem cuttings; pre-soak seeds for better germination.
Pests & Diseases: Watch for common pests like spider mites and whiteflies. It can be susceptible to anthracnose and bacterial soft rot.
While every effort has been made to describe these plants accurately, please keep in mind that height, bloom time, and color may differ in various climates. The description of these plants has been written based on numerous outside resources.