This peaceful haven is part of Andrew Grossman's garden located in Seekonk, Massachusetts. It looks like an Impressionist painting, but this is real. Extensively flowering from Spring to Frost in geographic areas where the average minimum winter temperatures are higher than -28°C or -20°F, this is a place where wandering is a marvelous renewing experience. This beautiful garden was started in 1998. While always evolving, its basic structure and planting were finished in three months. Following a blue and white pattern, a mulched pathway leads down to a rectangular lily pond. What a gorgeous display of colors!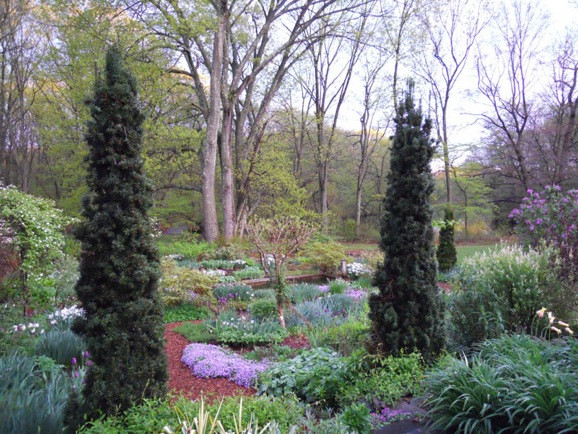 April – White & Blue Garden by Andrew Grossman
Monet would have surely enjoyed placing his easel between these Thuja Occidentalis Nigra and playing with his French Ultramarine blue, Windsor violet, and Titanium white colors.
This garden is a superb mix of shrubs and perennials and offers a generous display of colors during most seasons, each of them bringing new prima divas: Daffodils (Narcissus), Tulips, and Creeping Phlox in spring followed by the Iris, Azalea, and Delphinium in early summer. Later in the season, white and blue Hydrangeas steal the show in concert with the Avalanche Lilies.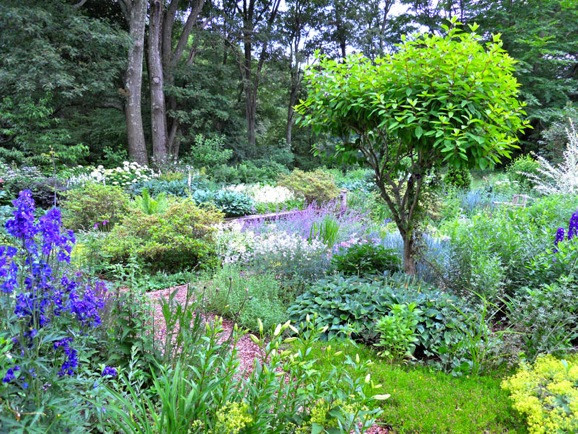 June – White & Blue Garden by Andrew Grossman
The ultra blue Delphinium belladonna is a nice spicy touch of color that will persist until fall, just like the Nepeta Six Hill Giants by the lily pond.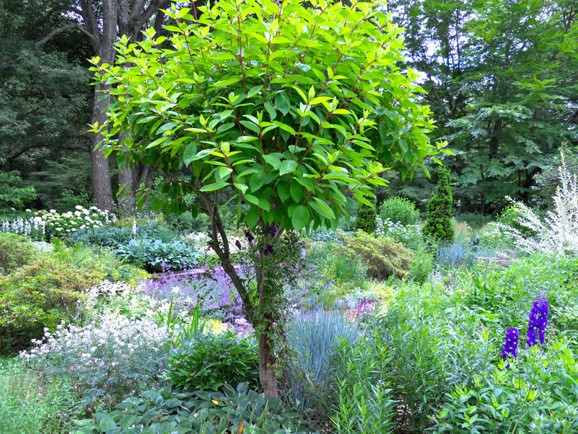 June – White & Blue Garden by Andrew Grossman
The beautiful blooms of the Oakleaf and Lacecap Hydrangeas and low-growing hosta are followed by the blue bell-shaped flowers of the Clematis heracleifolia that twines around the urn.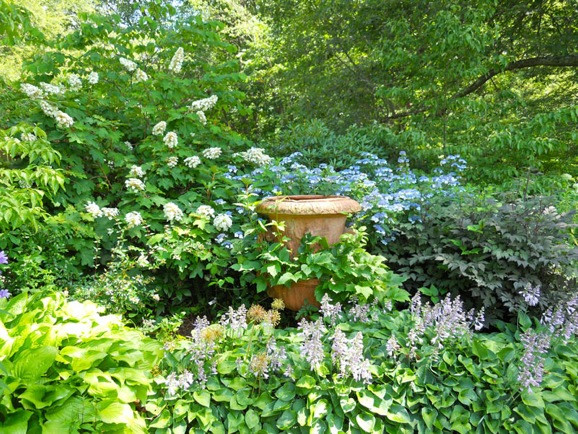 July – White & Blue Garden by Andrew Grossman
The Avalanche Lilies, Bellflowers, and Hosta 'Blue Cadet' have finally awakened, competing for our attention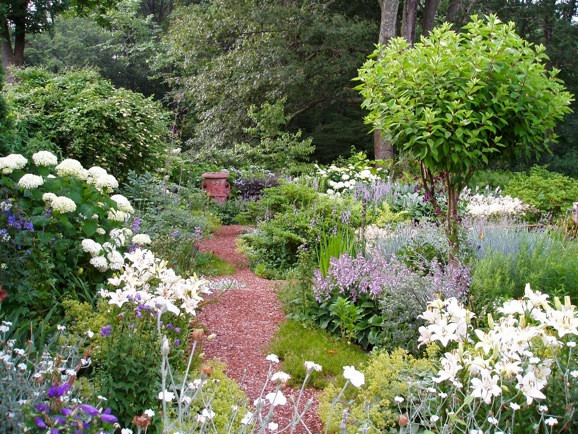 August – Blue & White Garden by Andrew Grossman
Considering the number of plants and their different needs, this garden requires a fairly high level of maintenance such as deadheading, shrub pruning, and weeding but how good it must feel to sit and relax in this chair and let your eyes embrace this lovely scenery!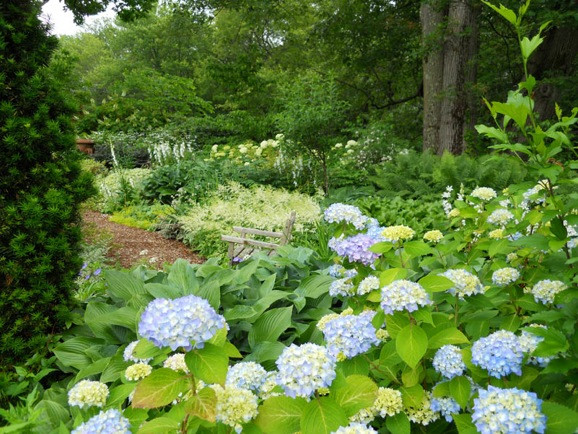 White & Blue Garden by Andrew Grossman
Plants in the garden

Bulbs

Daffodil 'Cheerfulness'
Daffodil 'Bell Song'
Daffodil 'Cragford '
Daffodil 'Sundisk'
Daffodil 'Stainless'
Tulip 'Negrita'
Avalanche Lily
Iris louisiana 'Black Gamecock'


Perennials

Amethyst Sea Holly (Eryngium)
Astilbe 'Bridal Veil'
Campanula 'Sarastro' (Bellflower)
Blue Lyme Grass
Creeping Phlox
Delphinium 'Belladonna'
Hosta 'Blue 'Cadet'
Hosta sieboliana 'Elegans'
Lady's Mantle (Alchemilla mollis)

Shrubs

Dappled Willow (Salix integra Hakuro Nishiki)
Azalea Delaware 'Valley White'
Hydrangea 'Annabelle'
While every effort has been made to describe these plants accurately, please keep in mind that height, bloom time, and color may differ in various climates. The description of these plants has been written based on numerous outside resources.