Native to South America, Pampas Grass (Cortaderia selloana) is considered one of the most spectacular ornamental grasses.
What is Pampas Grass?
Cortaderia selloana, commonly known as Pampas Grass, is a perennial grass native to South America, primarily Argentina, Chile, and Brazil. It was introduced to other parts of the world as an ornamental plant in the 19th century.
Description: Pampas Grass is an impressive, tall grass known for its graceful, arching stems and fluffy, white or pale pink plumes. The plant has a strikingly bold appearance that can create a dramatic effect in the garden.
Growth Habit: This grass grows in a clump-forming habit. It is fast-growing and can quickly reach its mature size, making it an excellent choice for creating privacy screens or focal points in the garden.
Size: Pampas Grass is a large plant with mature clumps reaching up to 8 feet (2.4 meters) in width and 6 to 10 feet (1.8-3 meters) in height. The plumes can add 2 to 3 feet (60-90 cm) to the plant's height.
Flowers: The flowers are dense, fluffy plumes that appear in late summer and persist into winter. They can range from silvery-white to pale pink, depending on the variety, and are prized for their dramatic, feathery appearance.
Foliage: The long, slender leaves are arching, with a grey-green color. They are razor-edged, making handling the plant difficult without protective gloves. This showy grass remains evergreen in warm areas (Zone 9 and higher) and turns tan in colder zones.
Blooming Season: The plumes appear in late summer and persist into winter, providing visual interest in the garden during a time when many other plants have finished blooming.
Hardiness: Pampas Grass is hardy in USDA zones 7 to 11. It is highly tolerant of heat and can withstand a variety of soil conditions, from fertile loam to sandy or rocky soil.
Uses: It is widely used as an ornamental grass in large gardens, parks, and public spaces due to its striking appearance. It's also used as a privacy screen, windbreak, or focal point in the landscape. the plumes are excellent for dried flower arrangements.
Pollinators: Pampas Grass is not a significant source of nectar or pollen for pollinators.
Toxicity: Pampas Grass is not generally considered toxic to humans or pets. However, the sharp edges of the leaves can cause skin irritation.
Deer and Rabbit: Pampas Grass is generally resistant to deer and rabbits due to the sharp, cutting edges of the foliage.
Drought: Once established, it is remarkably drought-tolerant, making it a good choice for xeriscaping or areas with low rainfall.
Invasiveness: In some areas, particularly along the western coast of the United States, Pampas Grass has become invasive. It can spread rapidly and crowd out native vegetation, so check with local guidelines before planting.
Find where this species is invasive in the United States. Cultivars are also considered to be invasive. Given the many seeds that the plants produce, being "nearly sterile" is not safe enough for use in several US states.
Discover beautiful U.S. native plant alternatives.
Despite its beauty, the sharp foliage of Pampas Grass can make it unsuitable for gardens where children or pets will be playing. Its large size also means it is better suited to larger landscapes rather than small gardens.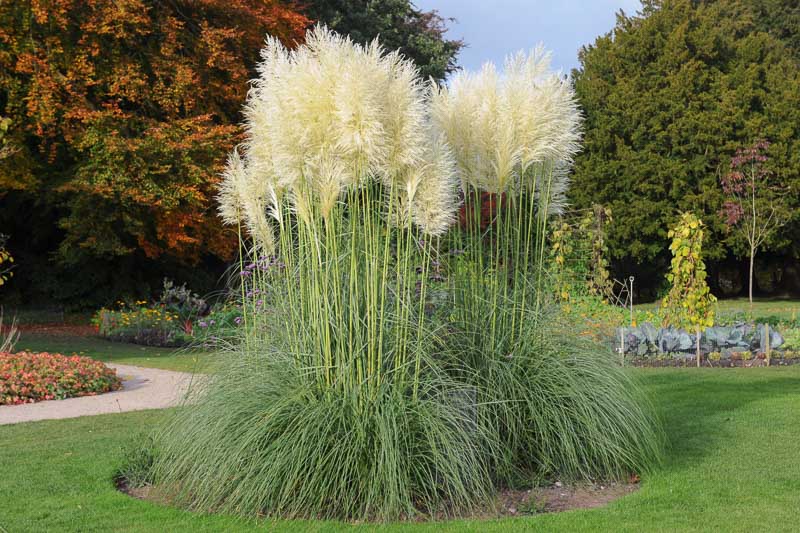 Should I Grow Pampas Grass?
Whether or not you should grow Pampas Grass in your garden depends on various factors, including size, regional climate, and aesthetic preferences. Here are a few considerations to help you make the decision:
Pros of Growing Pampas Grass:
Dramatic Impact: With its tall, arching leaves and large feathery plumes, Pampas Grass makes a striking visual statement in the garden. It can act as a focal point or create a privacy screen.
Drought Tolerance: Once established, the plant is drought-tolerant, making it a good choice for areas with dry climates or for gardeners interested in conserving water.
Resilient: Pampas Grass is a robust plant that can thrive in a wide range of soil conditions and withstand heat. It's also generally resistant to pests and diseases.
Year-Round Interest: The tall stems and plumes remain attractive throughout the winter, providing year-round interest in the garden.
Cons of Growing Pampas Grass:
Size: Pampas Grass is a large plant that requires ample space to grow. It might not be the right choice for small gardens.
Invasiveness: In some areas, particularly in California and other coastal regions, Pampas Grass is considered invasive, and its planting is discouraged or regulated.
Maintenance: The plant requires annual pruning, which can be a difficult task due to the sharpness of the leaves.
Wildlife: While it can provide shelter for some birds, it doesn't offer significant benefits for pollinators.
Before you plant Pampas Grass, consider your specific situation and preferences, and consult with local garden centers or extension services to ensure it's a suitable and responsible choice for your area.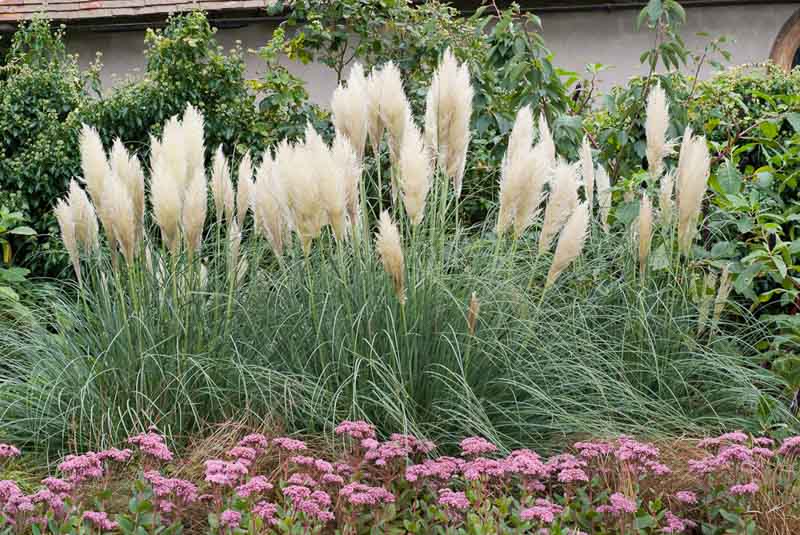 Cortaderia selloana + Sedum 'Joyce Henderson'
Garden Design with Pampas Grass
Integrating Pampas Grass into your garden design can offer dramatic beauty thanks to its impressive height and striking feathery plumes. Here are a few design ideas:
Focal Point: Due to its grand size and eye-catching appearance, Pampas Grass can serve as an excellent focal point in a garden. Plant it in a central location where its full glory can be appreciated.
Privacy Screen: You can use this ornamental grass as a natural privacy screen because of its dense growth. Plant a row of these grasses along the edge of your property to create a living wall. They can mask unsightly views and add a sense of seclusion to your outdoor space.
Backdrop: Plant Pampas Grass at the back of a border, where it can tower over smaller plants and provide an impressive backdrop. This also helps in drawing the eye upwards, adding a sense of depth to your garden.
Water-wise Garden: Pampas Grass is drought-tolerant, making it a good candidate for xeriscaping or water-wise gardens. Pair it with other drought-tolerant plants for a low-maintenance landscape.
Coastal Theme: If you're aiming for a beach or coastal-themed garden, Pampas Grass is an excellent choice due to its tolerance to salt spray and sandy soils.
Wildlife Garden: Although not a significant source of nectar or pollen, it can provide shelter for birds and other wildlife, encouraging biodiversity in your garden.
Winter Garden: Many plants die back in winter, but Pampas Grass remains vibrant, with its plumes persisting throughout winter, providing much-needed visual interest in a winter garden.
Remember that Pampas Grass can become invasive in some regions, so always check with your local extension service or nursery before planting it.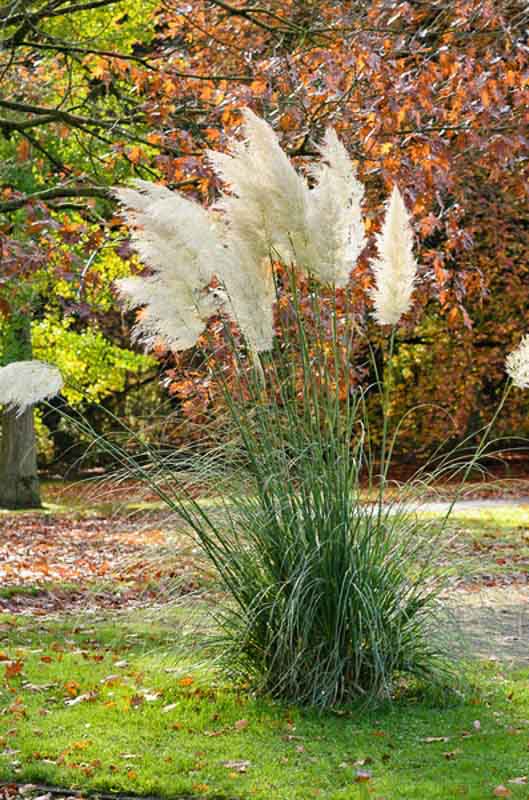 Companion Plants
Pampas Grass (has a grand presence in the garden, and its tall, feathery plumes can create a stunning contrast with many other plants. Here are some companion plants that can complement its appearance and growth habits:
Perennials: Consider planting Pampas Grass with late-blooming perennials like Black-Eyed Susans, Coneflowers, Coreopsis, Sedum, or Russian Sage to maintain color in the garden when the grass is at its peak.
Ornamental Grasses: Smaller ornamental grasses like Switchgrass, Fountain Grass, or Blue Fescue can provide a textural contrast and soften the base of the Pampas Grass.
Mediterranean Plants: Drought-tolerant plants such as Lavender, Rosemary, or Olive Trees can be planted alongside Pampas Grass to create a water-wise garden that's low maintenance.
Evergreens: Pairing Pampas Grass with evergreens can provide year-round structure and interest in your garden. Try pairing with Boxwood or Juniper for a landscape that looks good in all seasons.
Remember, Pampas Grass grows quite large, so ensure all companion plants have enough room to grow and aren't overshadowed. And, as always, consider your specific growing conditions and local regulations, as Pampas Grass can be invasive in some areas.
While every effort has been made to describe these plants accurately, please keep in mind that height, bloom time, and color may differ in various climates. The description of these plants has been written based on numerous outside resources.