Miscanthus sinensis (Chinese Silver Grass) is a fast-growing grass that offers multi-season interest – fresh green leaves in spring, beautiful flowers in late summer and fall, and dried seed heads and golden-brown foliage in winter. The dry stalks also create a lovely rustling sound in the wind.
What is Chinese Silver Grass?
Native: Miscanthus sinensis, also known as Chinese Silver Grass or Maiden Grass, is native to eastern Asia, including China, Japan, and Korea. Traditionally used in Japan in decorative art and gardens, Miscanthus made a royal entrance into occidental gardens about a century ago, thanks to the spectacular feathery plumes towering above their graceful arching foliage and their year-long interest in the garden.
Description: This perennial ornamental grass is highly esteemed for its arching, narrow leaves, and feathery, plume-like flowers that sway gracefully in the breeze. Its upright form, delicate textures, and year-round interest make it a striking addition to the landscape.
Growth Habit & Size: Typically, Miscanthus sinensis forms a compact, upright clump with a rounded, fountain-like shape. It offers an exhaustive array of heights, from dwarf grasses no taller than 32 inches (80 cm) to majestic giants reaching 8 feet (240 cm).
Flowers: Miscanthus sinensis produces spectacular feathery flowers or 'inflorescences' that range from silver to pink to reddish-brown. Shining in the summer sun, they all fade to silver within 3-4 weeks and turn soft and fluffy. They generally retain their good looks well into the winter, adding interest to the dormant season landscape.
Foliage: The linear leaves of Miscanthus sinensis have a prominent midrib and sharp edges, with colors ranging from green to silver-green, often with a white midrib. Many cultivars offer striking autumn colors.
Blooming Season: Miscanthus sinensis typically flowers from late summer to fall, with the blossoms often lasting into winter.
Hardiness: Miscanthus sinensis is hardy to USDA zones 5-9, tolerating winter temperatures as low as -20°F (-28°C).
Uses: Due to its impressive height and beautiful flowers, Miscanthus sinensis is often used as a specimen plant, in mass plantings, or as a privacy screen or windbreak. It's also excellent in mixed borders or as a backdrop to shorter plants.
Pollinators: Chinese silver grass attracts various forms of wildlife to the garden. Its tall plumes offer food and shelter for birds, while the dense foliage provides cover and nesting opportunities for small mammals.
Toxicity: Miscanthus sinensis is not known to be toxic to humans or animals.
Deer and Rabbit: It's generally considered resistant to deer and rabbits, which typically ignore this plant in favor of tastier options.
Drought: Miscanthus sinensis is notably drought-tolerant once established, making it a great option for dry or xeriscaping gardens.
Invasiveness: Chinese silver grass spreads vegetatively by rhizomes and also by seed. The species form of Miscanthus sinensis is invasive in several US states. The invasive potential is of less concern for many of its ornamental cultivars, some of which are sterile. However, as a general rule, do not plant more than one cultivar on your property. Use only a vegetatively propagated cultivar showing no evidence of self-seeding in your area. Discover beautiful U.S. native plant alternatives.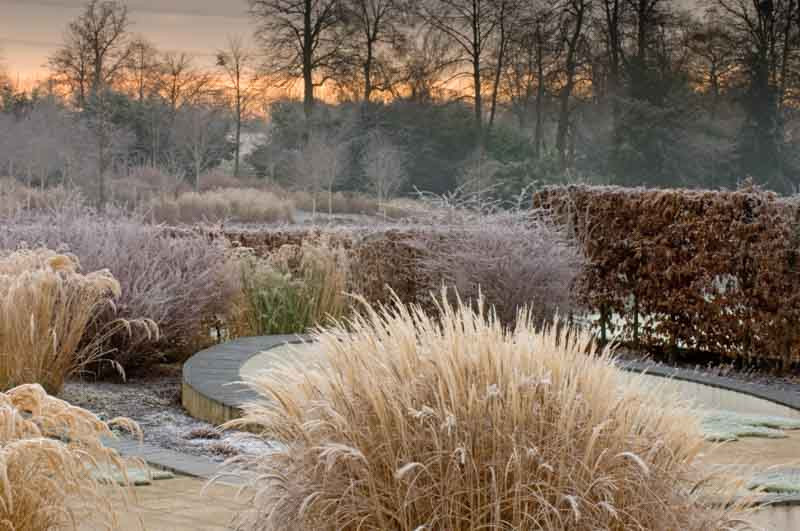 Choosing the Right Chinese Silver Grass
Choosing the right Chinese Silver Grass for your garden depends on several factors. Here are a few considerations to help you make an informed decision:
Size: The size of the mature plant is a crucial factor to consider when choosing a cultivar of Miscanthus sinensis. Some varieties can grow up to 8 feet (2.4 meters) tall, while others remain under 5 feet (1.5 meters). The right size will depend on where in your landscape you're planning to plant the grass and what role it will play – whether as a focal point, a border plant, or a privacy screen.
Foliage and Flower Color: Chinese Silver Grass comes in an array of colors and textures. Some varieties boast bright green foliage, while others feature silvery or variegated leaves. Flower plumes can range from silvery-white to pinkish or reddish tones. Choose based on what will best complement your existing landscape and color scheme.
Bloom Time: Although most Chinese Silver Grass flowers in late summer or fall, the exact timing and duration of blooming can vary by cultivar. Choose a variety that will provide visual interest when you most frequently enjoy your garden.
Hardiness: Although most Miscanthus sinensis varieties are hardy in USDA zones 5-9, specific cultivars may be more suited to the colder or warmer ends of this range. Choose a variety that can comfortably withstand your area's lowest winter temperatures.
Invasiveness: You might want to opt for a sterile cultivar that doesn't produce viable seeds, such as 'Silberpfeil', 'Cabaret', or Miscanthus × giganteus, to prevent the plant from spreading uncontrollably. However, please note that Chinese silver grass also spreads vegetatively. It is best not to plant it adjacent to wildland areas.
Sunlight and Soil Requirements: Lastly, make sure the variety you choose is well-suited to the light levels and soil type in your garden. Most Miscanthus sinensis prefer full sun and well-drained soil.
Remember, the "right" plant is ultimately one that brings you joy and fits well within your garden's conditions and aesthetic.
Below is a comparative list of popular Chinese Silver Grasses to help you select the right plant for the right space.
While every effort has been made to describe these plants accurately, please keep in mind that height, bloom time, and color may differ in various climates. The description of these plants has been written based on numerous outside resources.