Landscaping with Miscanthus sinensis (Chinese Silver Grass)
Designing with Ornamental Grasses
---
Adding drama and powerful structure to the landscape, Miscanthus sinensis (Chinese Silver Grass) are fabulous ornamental grasses that should have a spot in any garden. Very gifted, these grasses are easy to grow, wonderful in winter, add elegance and movement to the landscape, are generally pest and disease free, and require little maintenance. Traditionally used in Japan in decorative art and gardens, Miscanthus made a royal entrance into the occidental gardens about a century ago, thanks to their spectacular feathery plumes towering above their graceful arching foliage and their year-long interest in the garden.
Native to China, Japan, South Korea, and Taiwan, Miscanthus sinensis are sun-loving deciduous grasses that have become so popular that they are now available in a wide range of lovely cultivars varying in height, leaf width, leaf color, or flower plume color.
While all grasses produce flowers, Miscanthus are among those that draw attention and get the "wow" effect. Their erect, airy, flower plumes are typically produced in late summer (August or September) or early fall (October) and range from pale silver through to buff and to deep purplish-red depending on the variety. Shining in the summer sun, they all fade to silver within 3-4 weeks and turn soft and fluffy. They generally retain their good looks well into the winter, providing a charming architectural display.​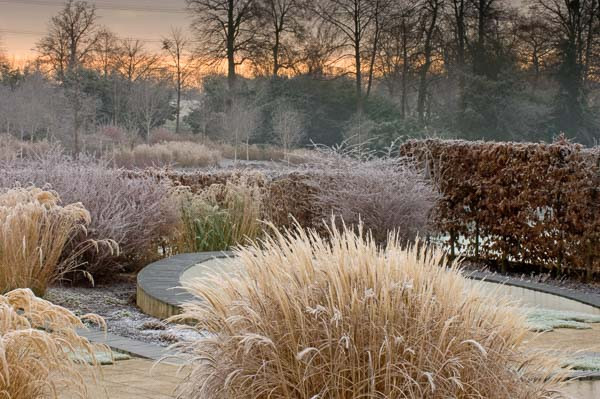 Most Chinese Silver grasses are clump-forming with a rounder outline, usually taller than wide, in which the leaves grow up and then cascade out and down like a fountain. They offer an exhaustive array of heights, starting from dwarf grasses no taller than 32 in. (80 cm) to majestic giants reaching 8 ft. (240 cm).
Their arching foliage remains handsome over a long season extending from spring to winter. Many varieties of Chinese Silver Grasses provide attractive fall colors with their leaves turning shades of red, orange, or bronze as the first frosts approach.
| | | |
| --- | --- | --- |
| | | 'Strictus' |
Miscanthus sinensis prefer full sun in moderately fertile, moist, well-drained soils. They can survive partial shade, but they tend to get thin and flop over. Cultivar 'Variegatus' is more shade-tolerant than most.
Amongst the easiest ornamental grasses to grow, there is a Miscanthus variety for almost every garden use. While most Miscanthus make substantial specimens, several are much more compact and suitable for small gardens or pots, reaching only 3-4 ft. in height (90-120 cm).
Good dwarf varieties include 'Yakushima Dwarf' (the smallest of all), 'Kleine Silberspinne', 'Little Kitten', or 'Kleine Fontane'. They look great at the back of sunny borders and combine beautifully with Aster, Rudbeckia, Japanese Anemone or Culver's Root, and other fall perennials.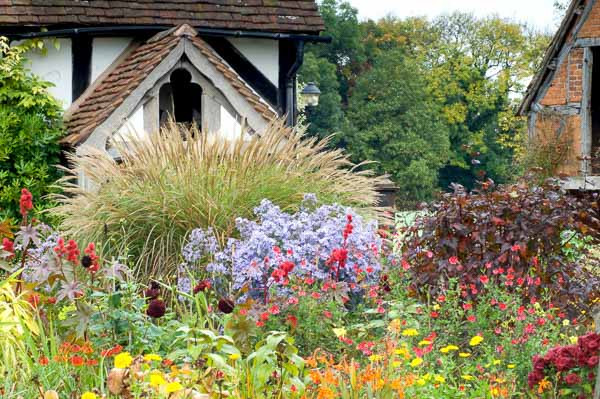 The larger varieties of Miscanthus Sinensis make a striking focal point or specimen plant thanks to their sculptural qualities. They also create outstanding backdrops for perennials and shrubs. Amongst the most spectacular, 'Cosmopolitan', with its beautifully variegated foliage, illuminating the garden with its fine texture and brightening the other plants nearby.
Other tall and impressive Miscanthus varieties, highly popular amongst gardeners, are 'Kaskade', 'Grosse Fontane', or 'Silberfeder'. They have all won the prestigious Award of Garden Merit of the Royal Horticultural Society for their outstanding excellence in garden decoration.
| | | |
| --- | --- | --- |
| 'Kaskade' | | |
Depending on their height, Miscanthus can be effectively used as informal hedges or privacy screens. Standing out beautifully in the garden, their fine-textured foliage sways gracefully in the slightest breeze, delicately softening the landscape and bringing the hedge 'alive'.
While many Miscanthus varieties are recommended for such purpose, 'Gracillimus' seems to be the favorite amongst gardeners. This old, established cultivar forms gracefully rounded mounds and has an incredible ability to capture light. Other lovely candidates, to name a few, are 'Grosse Fontane' or Malepartus'.
Extremely versatile, Miscanthus can be planted along borders, in groups or in mass plantings, in raised planters, city gardens, cottage gardens, and prairie plantings, where their majestic stature and flower power will combine beautifully with other large perennials.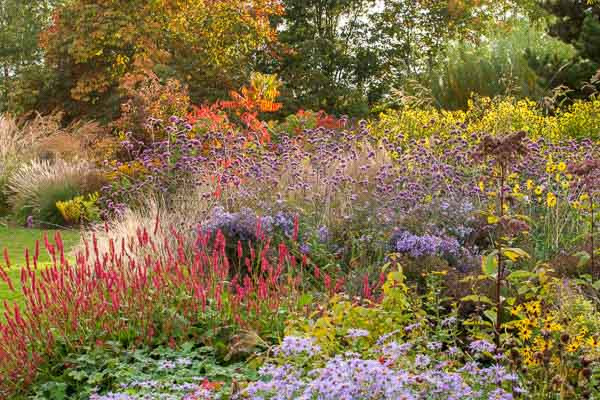 Miscanthus look amazing when planted with Dahlias and create incredibly elegant plantings with deep-colored Dahlias with good foliage. Gardeners' favorite picks are Dahlia 'Bishop of Llandaff, Dahlia 'Fascination, Dahlia 'David Howard', or Dahlia 'Nuit d'Ete'. Vibrant Crocosmia (Montbretia) and Echinacea purpurea (Purple Coneflower) are also companion choices. Their display will last for months and require little maintenance.
Do not hesitate to combine Miscanthus with other ornamental grasses and create "wow" sceneries, mixing their colors, shapes and textures. ​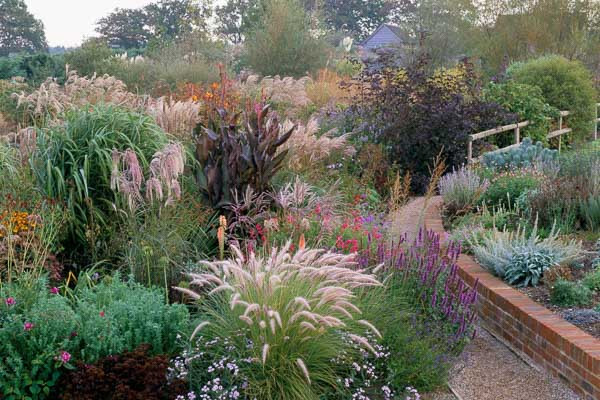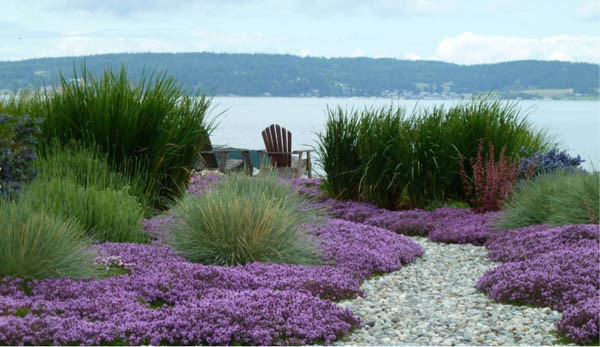 While most Miscanthus Sinensis will tolerate drought periods once established, moist soils are required for the best performance. Plant them near ponds and pools. 'Strictus'

(Porcupine Grass) is more tolerant of wet soils than other cultivars.

Miscanthus sinensis are very hardy (USDA Zones 5 - 9). A few varieties, Sarabande, Purpurascens, and ''Silberfeder', are hardy to zone 4. Some cultivars are hardy only to zone 6.
Miscanthus sinensis may be planted in the fall, although spring is the best time. Cut their foliage to the ground in late winter before new shoots appear.
Miscanthus sinensis may self-sow (particularly in the case of early flowering varieties) and is considered invasive in several US states. Clip off the developing seed heads to prevent seeds from forming or discover beautiful U.S. native plant alternatives.
Guide Information
Hardiness
5 - 9

Plant Type
Ornamental Grasses
Plant Family
Miscanthus - Maiden Grasses
Exposure
Full Sun, Partial Sun
Season of Interest
Summer (Mid,Late)
Fall
Winter

Water Needs
Average
Maintenance
Low
Soil Type
Chalk, Clay, Loam, Sand
Soil pH
Acid, Alkaline, Neutral
Soil Drainage
Moist but Well-Drained, Well-Drained
Characteristics
Dried Arrangements, Cut Flowers, Showy
Tolerance
Deer, Drought, Rabbit, Salt
Attracts
Birds
Landscaping Ideas
Beds and Borders, Hedges and Screens
Garden Styles
City and Courtyard, Coastal Garden, Informal and Cottage, Modern Garden, Prairie and Meadow, Traditional Garden
Compare All Miscanthus - Maiden Grasses
Great Plant Combination Ideas with Miscanthus - Maiden Grasses
Guides with Miscanthus - Maiden Grasses
Pictures are courtesy of Botanik Foto and Gap Photos/ Richard Bloom, Christa Brand, Elke Borkowski
While every effort has been made to describe these plants accurately, please keep in mind that height, bloom time, and color may differ in various climates. The description of these plants has been written based on numerous outside resources.
Guide Information
Hardiness
5 - 9

Plant Type
Ornamental Grasses
Plant Family
Miscanthus - Maiden Grasses
Exposure
Full Sun, Partial Sun
Season of Interest
Summer (Mid,Late)
Fall
Winter

Water Needs
Average
Maintenance
Low
Soil Type
Chalk, Clay, Loam, Sand
Soil pH
Acid, Alkaline, Neutral
Soil Drainage
Moist but Well-Drained, Well-Drained
Characteristics
Dried Arrangements, Cut Flowers, Showy
Tolerance
Deer, Drought, Rabbit, Salt
Attracts
Birds
Landscaping Ideas
Beds and Borders, Hedges and Screens
Garden Styles
City and Courtyard, Coastal Garden, Informal and Cottage, Modern Garden, Prairie and Meadow, Traditional Garden
Compare All Miscanthus - Maiden Grasses
Great Plant Combination Ideas with Miscanthus - Maiden Grasses
Guides with Miscanthus - Maiden Grasses