Birch Tree: An Iconic Beauty and Landscape Favorite
Birch trees, part of the Betula genus, are admired for their distinctive, often peeling, bark and slender, graceful forms. Native to various parts of the world, including North America, Europe, and Asia, they adapt well to different climates but thrive best in cooler conditions. Birch trees range widely in size, from small shrubs to towering 80-foot trees, and grow in various habits, including upright and weeping forms.
Their leaves are simple and serrated, turning vibrant shades of yellow in the fall.
Birches produce elongated flower clusters called catkins that generally bloom from late spring to early summer, attracting a range of pollinators.
The bark is a highlight feature, varying in color from white to gray or even silver, and often peeling in paper-like layers.
While primarily ornamental, birches have practical uses: their wood is ideal for furniture, and their sap can be tapped for syrup. They're a charming and versatile addition to any landscape.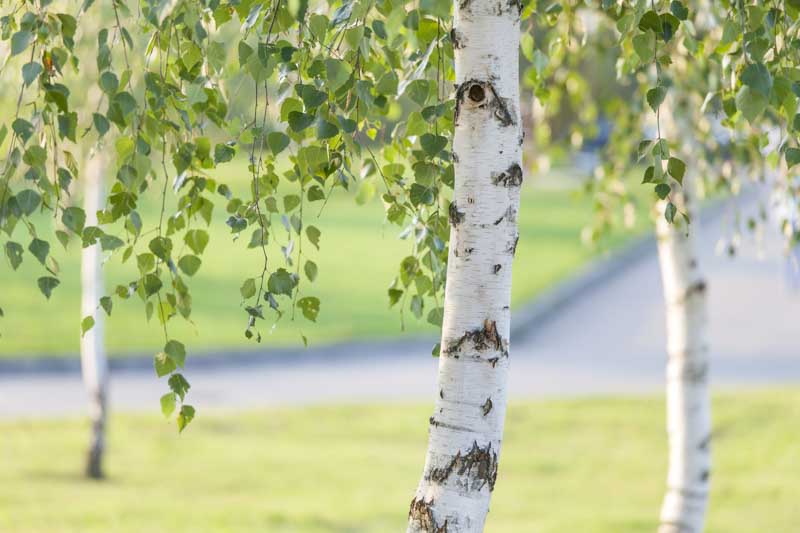 Birch Tree: Pest Issues
Birch trees are often targeted by various pests such as bronze birch borers, leaf miners, and aphids. These pests can compromise the tree's health, weaken its structure, and mar its aesthetic appeal. Early identification and proper management are essential for maintaining the health of these iconic trees.
While every effort has been made to describe these plants accurately, please keep in mind that height, bloom time, and color may differ in various climates. The description of these plants has been written based on numerous outside resources.