Viburnum: The All-Season Shrub for Diverse Garden Styles
Hailing from the Adoxaceae family, viburnum is a multifaceted genus of flowering shrubs with over 150 species. Originating from regions as diverse as North America, Europe, and Asia, these plants captivate gardeners with their attractive blossoms, colorful leaves, and decorative fruit. Their adaptability to various conditions makes them a universally appealing option for numerous landscape layouts.
Ranging from low-spreading forms to towering shrubs or even small trees, the growth patterns of viburnum are incredibly varied. Their leaves are equally diverse, from straightforward, oval shapes to intricate, lobed designs, and they can be evergreen, semi-evergreen, or deciduous, depending on the specific variety and local climate.
Typically, viburnum shrubs feature clusters of fragrant, small flowers in shades of white or pink, which appear in late spring or early summer. These blossoms often give way to ornamental berries that offer a visual feast in hues like red, blue, black, and yellow and serve as nourishment for local wildlife.
Suited for USDA Zones 2-10, these sturdy plants are notably robust, capable of growing in a multitude of soils and climates. They're generally drought-resistant after being established and can endure chilly and hot environments. Although largely resilient to pests and diseases, they're not entirely immune, with some varieties being prone to ailments like aphids or fungal infections like powdery mildew.
In a garden setting, viburnums are incredibly versatile. They can steal the spotlight as centerpieces, create natural barriers as hedges, or provide a lush backdrop for other plantings. They're especially fitting for rustic woodland settings or as part of water garden landscapes. Some types also offer added advantages such as drawing pollinators or having medicinal uses.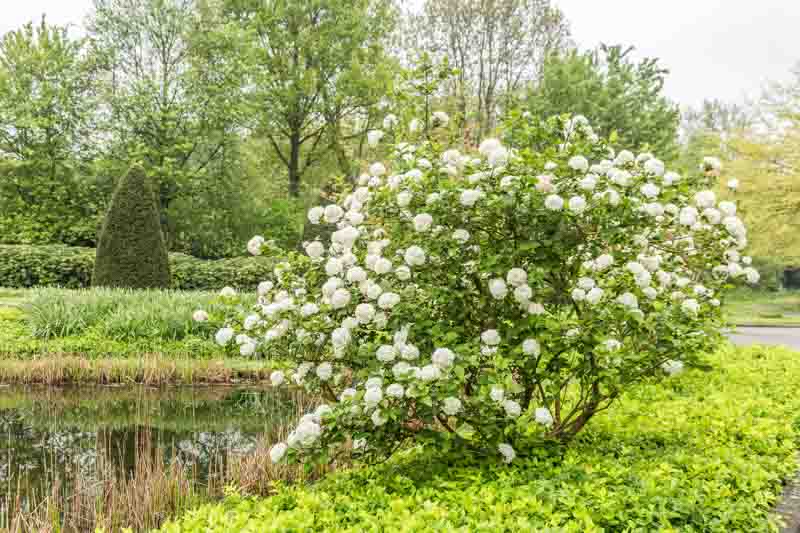 Viburnum carlesii (Koreanspice Viburnum)
Viburnum – Pest Issues
Viburnum, while breathtakingly beautiful, is not immune to pest issues. Here's a list of some of the most common pests that target Viburnums, with their associated damages and suggested treatments:
| | | |
| --- | --- | --- |
| Pest | Damage | Treatment |
| Aphids | Tiny, soft-bodied insects that suck plant sap, often leading to curled, yellowed, or distorted leaves. They also excrete a sticky substance called honeydew which can lead to sooty mold. | Use insecticidal soaps or neem oil. Encourage natural predators such as ladybugs, lacewings, damsel bugs, or hoverflies. |
| Root-knot nematodes | Infested plants often display stunted growth, yellowing, wilting, and reduced yield because the nematodes interfere with the plant's ability to take up water and nutrients. Root examination reveals the presence of galls or swellings. | Crop rotation, soil polarization, beneficial nematodes, Marigold cover crops, soil amendments. |
| Root Weevils | Notched leaf edges from adult feeding. Larvae feed on roots leading to wilting and yellowing of leaves. | Soil-applied systemic insecticides for adult control. Use nematodes for larval control. |
| Scale Insects | Presence of small, flat or slightly raised brown or white bumps on the stems and leaves. Reduced plant vigor and leaf drop. | Horticultural oils and soaps can suffocate scale insects. Chemical insecticides can effectively control these insects. Introducing natural predators, such as ladybugs, lacewings, soldier beetles, and parasitic wasps, can help. |
| Spider Mites | Very tiny spider-like creatures, they cause stippling or a dusty look on leaves. Severe infestations can turn leaves yellow or red; fine webbing might be visible. | Avoid overcrowding, introduce natural predators like ladybugs, lacewings, and predatory mites. Use horticultural oil or insecticidal soap. |
| Thrips | Thrips are tiny insects that can cause discoloration and stippling on leaves. In severe infestations, leaves may become distorted. | Insecticidal soaps or pyrethroid-based insecticides can be effective. Multiple treatments may be required. |
| Viburnum Leaf Beetle | Skeletonized leaves, leading to defoliation. The beetle affects the foliage during its larval and adult stages. | Control may involve pruning and destroying infested twigs and using insecticides as a last resort. |
| Whiteflies | Tiny, white, moth-like insects that suck plant sap and excrete honeydew. They can lead to yellowed leaves and sooty mold. | Remove and destroy infested leaves. Use sticky traps, insecticidal soaps, or garlic oil. Encourage predators such as lacewings and ladybugs. |
To minimize pest problems, it's essential to maintain good garden hygiene. This includes regularly inspecting plants for signs of infestation, removing affected plant parts promptly, ensuring plants are not overly crowded. Healthy, well-tended plants are also generally more resistant to pests and diseases.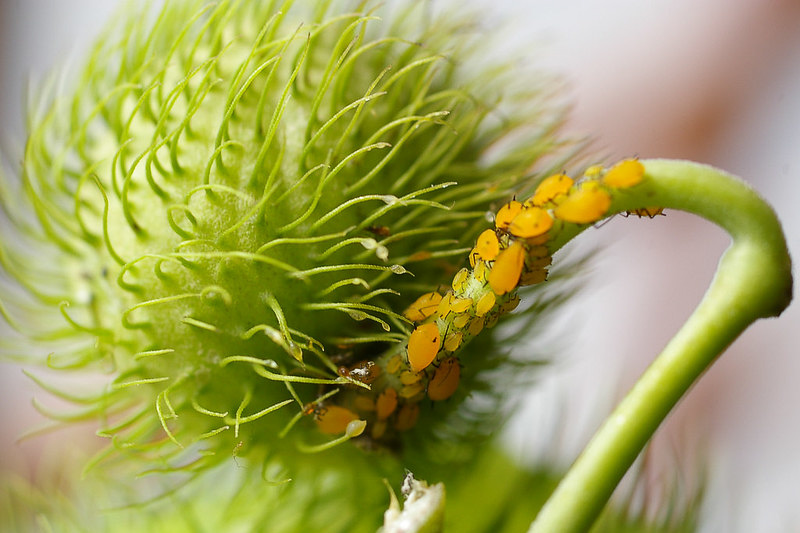 Aphids
Viburnum – Disease Issues
Viburnums are stunning plants, but they can be susceptible to a range of diseases. Here's a rundown of some of the most common diseases that can afflict Viburnums:
Name
Symptom
Management
Algal Leaf Spot
Appears as green, orange, or reddish-brown spots on the leaves. Generally, it is more of an aesthetic issue than a serious health problem for the plant.
Reducing leaf wetness through proper spacing and watering can help. If the problem is severe, copper-based fungicides can be used according to the manufacturer's guidelines.
Anthracnose
Dark, sunken lesions on leaves, stems, and flowers. During wet conditions, the spots may expand rapidly, causing premature leaf drop.
Remove and discard infected leaves and branches. Apply a fungicide containing copper-based compounds. Ensure good air circulation through pruning and proper spacing.
Armillaria Root Rot (Honey Fungus)
Yellowing, wilting, and premature leaf drop. Mushrooms may grow at the base.
No effective chemical treatment. Remove and replace infected plants and soil.
Bacterial Leaf Spot
(Bacterial pathogens)
Water-soaked spots turning brown.
Remove infected leaves. Ensure proper plant spacing. Avoid overhead watering. Apply copper-based fungicides.
Botryosphaeria Canker and Dieback
This fungal disease results in cankers or lesions on the stems and dieback of shoots.
Prune out and dispose of infected branches. Improving air circulation and reducing plant stress through proper watering and fertilization can also help manage this disease.
Crown Gall
Crown gall manifests as tumor-like growths on the roots and sometimes at the base of the stem. The galls can interfere with the plant's ability to take up water and nutrients.
There is no effective chemical control for crown gall. Infected plants should be removed and destroyed to prevent the spread of the bacterium to other plants.
Downy Mildew
This appears as yellow patches on the upper leaf surface and purplish mold on the underside.
Like powdery mildew, it is more common in humid conditions. Fungicides can be used for control.
Fungal Leaf Spot
Dark brown or black spots with a yellow halo on the leaves. Severe infections can lead to leaf drop.
Remove and dispose of affected leaves. Apply fungicides containing chlorothalonil or mancozeb. Increase air circulation and avoid overhead watering to reduce leaf wetness.
Powdery Mildew
White, powdery substance on the leaves.
Improve air circulation, reduce humidity, and use fungicides.
Verticillium Wilt
Yellowing, wilting, and death of plants.
No effective chemical treatment. Prune out affected branches and improve drainage.
Prevention is often the best cure for many of these diseases. Regularly inspecting plants, providing good airflow, using clean tools, ensuring good soil drainage, and planting in optimal conditions can help keep your viburnums healthy.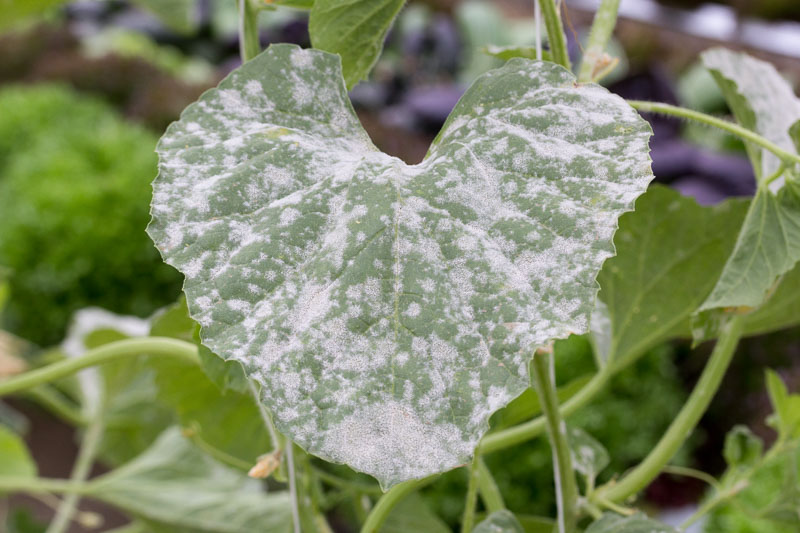 Powdery mildew
Viburnum – Abiotic Problems
Abiotic problems are non-living factors that can adversely affect plant health. For viburnums, these factors can range from environmental stressors to improper care. Here are some common abiotic problems that may affect viburnums:
| | | |
| --- | --- | --- |
| Cause | Symptom | Treatment |
| Water Stress | Wilted, curled, or drooping leaves; brown leaf edges. | Adjust your watering schedule. Water deeply and less frequently for established plants and ensure good drainage. |
| Sunburn | Leaves appear scorched, bleached or have brown patches. | Provide shade during the hottest part of the day or gradually acclimate the plant to full sun conditions. |
| Temperature Stress | Bud drop, leaf scorch, or even dieback in extreme temperature fluctuations. | Use mulch to regulate soil temperature and provide protection during extreme temperatures. |
| Nutrient Deficiency | Yellowing leaves (chlorosis), stunted growth. | Use a soil test to determine needs and apply appropriate fertilizers. |
| Improper pH | Poor growth, yellowing, or stunted plants. | Soil testing and amendments to adjust pH. Appropriate pH range for viburnums is typically between 5.5 and 6.5. For acidic soils, lime can be added to raise the pH; sulfur or acid-forming fertilizers can be used to lower the pH for alkaline soils. |
| Compacted Soil | Poor growth, yellowing leaves, and reduced flowering. | Aerate the soil and consider adding organic matter like compost to improve soil structure. |
| Improper Planting Depth | Poor growth, stem rot at the base. | Replant at the correct depth, ensuring the root flare is visible at the soil surface. |
| Pesticide Burn | Spots or streaks on leaves, leaf curling or drooping. | Rinse the leaves with water to remove residual pesticide. Follow pesticide guidelines carefully in the future. |
| Over-Fertilization | Rapid, weak growth and dark green leaves followed by yellowing, leaf scorch, and root burn. | Leach soil with water, avoid fertilizing until symptoms disappear, and always follow fertilizer guidelines. |
In general, proper cultural practices are key to avoiding abiotic problems. Regular monitoring, adequate spacing, proper planting depth, and appropriate watering and fertilization according to the plant's needs are essential for a healthy viburnum shrub.
While every effort has been made to describe these plants accurately, please keep in mind that height, bloom time, and color may differ in various climates. The description of these plants has been written based on numerous outside resources.