Bird of Paradise: Plant Care and Growing Guide
Strelitzia, Crane Flower, Bird of Paradise Flower, Strelitzia reginae, Strelitzia nicolai, Strelitzia alba, Strelitzia juncea
---
Adding a tropical aesthetic and a spectacular floral display to the garden or in a sunny interior room, Bird of Paradise (Strelitzia) is an evergreen perennial native to South Africa. Highly prized and cultivated worldwide as an ornamental for its exotic flowers and cool foliage, it is grown outdoors in warm climates and as a houseplant elsewhere.
In South Africa, the Bird of Paradise plant is commonly known as a crane flower and is featured on the reverse of the 50-cent coin. It also is the official flower of the city of Los Angeles and the national flower of Madeira.
All you need to know about the Bird of Paradise plant
Species: Strelitzia is a member of the Strelitziaceae family and includes 5 species native to the subtropical coastal areas of southern Africa: Strelitzia alba (White Bird of Paradise), Strelitzia caudata (Mountain Strelitzia), Strelitzia nicolai (Giant Bird of Paradise), Strelitzia reginae (Bird of Paradise) and Strelitzia juncea (Narrow-Leafed Bird of Paradise). 3 strelitzia species (reginae, juncea, and nicolai) are widely used to create a dramatic impact in the garden. 2 species (reginae and nicolai) are frequently treated as houseplants.
Hardiness: Most Strelitzia species are hardy in Zones 10-12, where temperatures do not dip below 50-54°F or 10-12°C. Strelitzia juncea is hardy in Zones 9.
Plant type: Strelitzia are evergreen perennials forming dense clumps of magnificent, glossy, deep green, blue-green, to gray-green, banana-like leaves that emerge from an underground stem (rhizome). An exception is the Narrow-Leafed Bird of Paradise, which has leaves like pointed spikes on mature plants.
Plant size: Strelizia typically grows 4-6 ft. tall (120-180 cm), with the exception of Giant Bird of Paradise, which can reach 20-30ft. in height (6-9 m). White Bird of Paradise (Strelitzia alba), which is the rarest of the three large banana-like Strelitzia species, can reach 15 ft. (450 cm).
Flowers: The flowers of Bird of Paradise plants are truly spectacular: set atop long stalks, they have a complex and interesting structure with a hard, beak-like sheath (spathe) that opens along its top edge to reveal the flower petals and sepals. Two petals are joined together to form an arrow-like nectary. The blossoms can be brilliant orange and vivid blue, bright yellow and electric blue, blue and white, or white only. Streliztia nicolai produces the largest flowers, which can reach 20 in. in length (50 cm).
Blooming season: The flowers are produced in succession, typically from late fall to late spring, depending on the species, latitude, and climate. In the right conditions, they can bloom year-round. A healthy, mature Bird of Paradise plant can produce up to 36 flower spikes per year. They make excellent cut flowers with a long vase life (up to 2 weeks).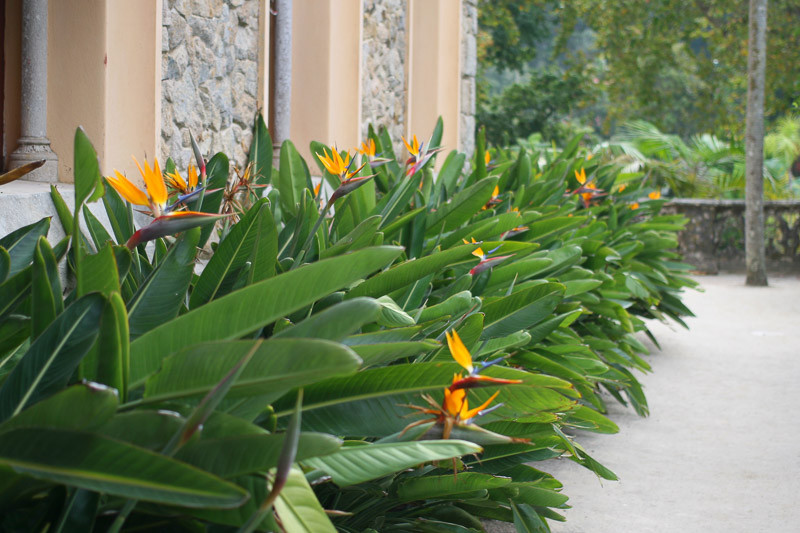 Pollination: Strelitzia species lack natural insect pollinators. They are pollinated by birds that seek out the nectar found in the nectary at the base of the flower, where two petals join together. When a bird sits on the smaller, lower petal, the petals open to cover its feet in pollen.
Uses: Bird of Paradise plants have widespread use in tropical and Mediterranean landscapes around the world. They can also be grown in containers, bringing color and drama to patios and decks, or treated as houseplants. Flowers are a staple for florists in creating exotic bouquets, not only for their looks but also because they are long-lasting.
Air-purifying: The bird of paradise plant is also known for its air-purifying properties, making it a popular choice for indoor spaces.
Deer/rabbits: Bird of paradise is deer and rabbit resistant. It is toxic to dogs, cats, and horses.
Guide Information
Hardiness
10 - 12

Plant Type
Perennials
Plant Family
Strelitzia - Bird of Paradise
Exposure
Full Sun, Partial Sun
Season of Interest
Spring (Early,Mid,Late)
Fall
Winter

Water Needs
Low, Average
Maintenance
Low
Soil Type
Chalk, Loam, Sand
Soil pH
Acid, Alkaline, Neutral
Soil Drainage
Moist but Well-Drained, Well-Drained
Characteristics
Cut Flowers, Showy, Evergreen
Tolerance
Drought, Salt
Landscaping Ideas
Beds and Borders, Patio and Containers
Garden Styles
Coastal Garden, Mediterranean Garden
Compare All Strelitzia - Bird of Paradise
Guides with Strelitzia - Bird of Paradise
Ron Cogswell, Joel, Flickr, Artem Avetisyan, Julia Dresch, Maria Ana Moreno, Shutterstock
While every effort has been made to describe these plants accurately, please keep in mind that height, bloom time, and color may differ in various climates. The description of these plants has been written based on numerous outside resources.
Guide Information
Hardiness
10 - 12

Plant Type
Perennials
Plant Family
Strelitzia - Bird of Paradise
Exposure
Full Sun, Partial Sun
Season of Interest
Spring (Early,Mid,Late)
Fall
Winter

Water Needs
Low, Average
Maintenance
Low
Soil Type
Chalk, Loam, Sand
Soil pH
Acid, Alkaline, Neutral
Soil Drainage
Moist but Well-Drained, Well-Drained
Characteristics
Cut Flowers, Showy, Evergreen
Tolerance
Drought, Salt
Landscaping Ideas
Beds and Borders, Patio and Containers
Garden Styles
Coastal Garden, Mediterranean Garden
Compare All Strelitzia - Bird of Paradise
Guides with Strelitzia - Bird of Paradise