Virginia is divided into seven main ecological regions: the Middle Atlantic Coastal Plain, the Southeastern Plains, the Piedmont, the Northern Piedmont, the Blue Ridge Mountains, the Ridge and Valley, and the Appalachian Plateau. Unique in topography, soil depth, pH, elevation, light, and hydrology, each region provides a rich variety of ecological habitats, supporting many native plant species.
The Middle Atlantic Coastal Plain is a region covering most of the coastal plain from the border of South Carolina and Georgia, northeast to southern New Jersey. This region tends to be flat and poorly drained, with dunes, beaches, and barrier islands along the coastline, usually with extensive wetlands behind them.
Virginia's Coastal Plain is bordered by the Fall line to the west and by the Atlantic Ocean and the Chesapeake Bay to the east. The fall line is a major break in geologic structure between Piedmont and the Coastal Plain which results in differences in ecosystem patterns and a variety of landscape relief and roughness.
Southeast Virginia covers Virginia's Southern Coastal Plain, part of the Northern Coastal Plain as well as a portion of the Outer Coastal Plain. It includes the following cities: Chesapeake, Virginia Beach, Norfolk, Hampton, Poquoson, Newport News, Hopewell, Colonial Heights, Petersburg, Emporia, and counties: Prince George, Sussex, Surry, Southampton, Isle of Wight, James City, York, Greensville, and Gloucester.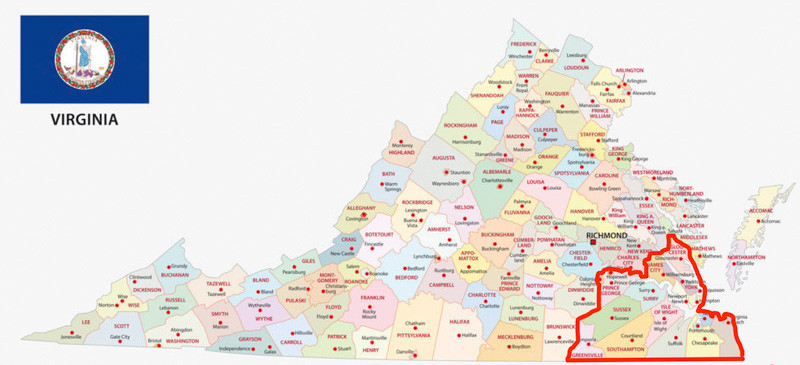 Southeast Virginia is home to many species of trees, shrubs, and flowering plants. It can also support many non-native species which are beginning to make their way across the landscape. Regrettably, some of these exotic immigrants are invasive and are threatening the native flora and ecology of the state.
According to the U.S. Forest Service, Invasive species have contributed to the decline of 42% of U.S. endangered and threatened species, and 18% of U.S. endangered or threatened species. Invasive species compete directly with native species for moisture, sunlight, nutrients, and space. They displace and alter native plant communities, degrade wildlife habitat and water quality, and potentially lead to increased soil erosion.
The federal government has estimated that nearly 25 percent of the 20,000 plant species native to North America are at risk of extinction, many of these through habitat loss. You can help reverse this trend by planting great native plants in your garden.
A plant is considered native if it has occurred naturally in a particular region or ecosystem without human introduction. There are many benefits to growing native plants.
First, these plants are better adapted to soils, moisture, and weather than exotic plants that evolved in other parts of the world. They need fewer fertilizers, and pesticides or use less water.
Second, they are unlikely to escape and become invasive, destroying natural habitats.
Third, they support wildlife, providing shelter and food for native birds and insects, while exotic plants do not.
Here is a list of native grasses that are well-suited for plantings in Southeast Virginia gardens.
Never collect native plants from the wild as it will deplete natural ecosystems.
When possible, plant species grown straight from local seed sources. These native originals are the best choice, as they co-evolved with specific wildlife, which supports migration, breeding, and other seasonal interdependencies.
While every effort has been made to describe these plants accurately, please keep in mind that height, bloom time, and color may differ in various climates. The description of these plants has been written based on numerous outside resources.