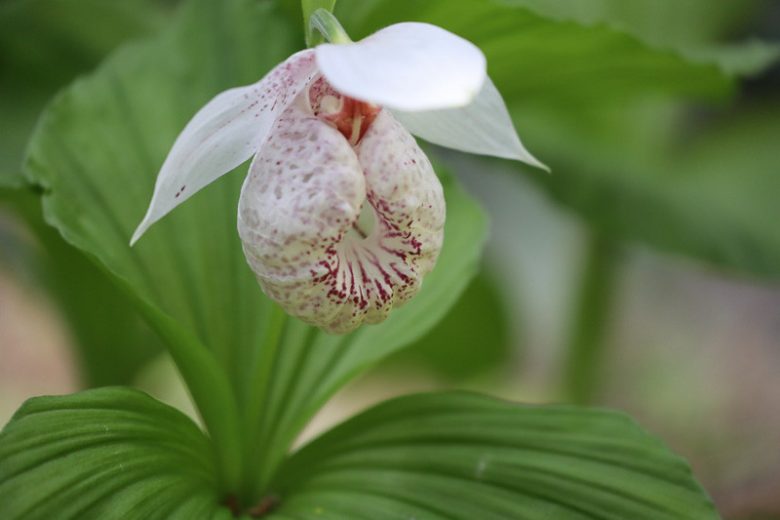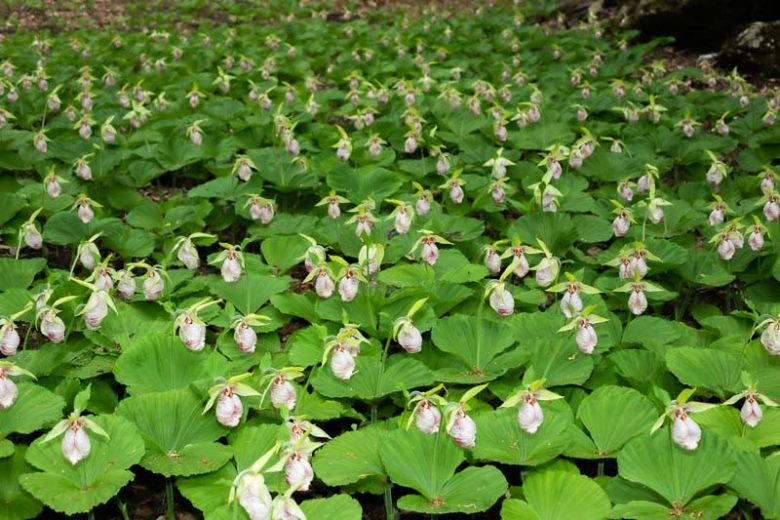 Cypripedium japonicum (Japanese Lady Slipper Orchid) is a small, hardy orchid boasting two broad fan-like, pleated leaves that grow opposed to each other at the center of a smooth single stem. The slender, glabrous stem produces a pink flower, 2.5 in. across (6-7 cm), with broad petals and an inflated, puffy pouch. The slipper-shaped flowers are spotted and mottled with purple-red striations and blotches. Blooming from mid-spring to early summer (depending on geographic locations), the plant spreads by underground runners to form nice colonies where happy. It can form large colonies with thousands of flowering stems, each with a bloom. Cypripedium japonicum is not easy to grow.
Grows up to 8-10 in. tall (20-30 cm).
Thrives in part shade in moist, fertile, humus-rich, alkaline, well-drained soils. Requires 2 to 3 hours of direct early morning or late afternoon sun and be in the dappled shade the remainder of the day. Provide an annual winter mulch of leaf mold.
Excellent choice for borders, city gardens, cottage gardens, and containers.
Allow the foliage to die down naturally.
Propagate by division in early or mid-spring and replant immediately. Some soil from the root ball, which contains beneficial fungi, should be planted with each division.
No serious pest or disease issues. Keep an eye out for slugs and gray molds.
Native to central China, the Korean Peninsula, and throughout the mainland islands of Japan.
Alternative Plants to Consider
Recommended Companion Plants
Find In One of Our Guides or Gardens
Eramiya, norikko, Shutterstock
While every effort has been made to describe these plants accurately, please keep in mind that height, bloom time, and color may differ in various climates. The description of these plants has been written based on numerous outside resources.
Requirements
How Many Plants
Do I Need?
Not sure which Cypripedium (Lady Slipper Orchid( to pick?
Compare Now