What is Catnip?
Catnip (Nepeta cataria) is a perennial herb belonging to the mint family, Lamiaceae. It is native to Europe, Southwestern, and Central Asia but has been widely naturalized in North America. Catnip is well-known for its effects on cats, as it contains a compound called nepetalactone that can induce a euphoric response in many felines.
Description: Nepeta cataria has a bushy growth habit and typically reaches a size of 2-3 feet (60-90 cm) tall and wide. The leaves are grayish-green and have a soft, fuzzy texture.
Flowers: The plant produces long spikes of small, tubular white or lavender flowers with purple spots, which bloom from late spring to early fall.
Hardiness: Nepeta cataria is hardy in USDA zones 3 to 9.
Pollinators: Catnip attracts pollinators like bees, butterflies, and other beneficial insects, thanks to its flowers.
Deer and rabbits: They typically avoid the plant due to its strong scent, making it a suitable choice for gardens where these animals are a concern.
Drought Tolerance: Catnip is relatively drought-tolerant and can withstand dry conditions once established. However, it's important to provide adequate water during the establishment phase.
Invasive: While Nepeta cataria can self-seed and spread in the garden, it is not considered invasive in most areas. To control its spread, you can deadhead the flowers before they set seed. In some regions, though, it may be more aggressive, so it's essential to monitor its growth and manage it accordingly. Find where this species is invasive in the United States.
Catnip: Uses, Benefits, and Side Effects
Nepeta cataria has a variety of uses, benefits, and potential side effects.
Uses
Cat enrichment: Catnip is widely known for its ability to stimulate cats. Cats are attracted to the scent of the nepetalactone compound, which can cause them to exhibit playful behaviors like rolling, rubbing, and purring.
Insect repellent: The plant contains a compound called nepetalactone, which has been found to repel mosquitoes, flies, and other pests. It can be used in the form of essential oil, sprays, or planted around your garden as a natural pest deterrent.
Attract pollinators: Plants can attract bees, butterflies, and other pollinators to your garden, promoting biodiversity and a healthy ecosystem.
Medicinal uses: Catnip has been used in traditional herbal medicine for centuries. It is known for its calming, soothing effects and has been used to treat anxiety, insomnia, and stress-related conditions. It can also help relieve digestive issues, such as gas and indigestion.
Benefits
Stress relief: Catnip can have a relaxing effect on humans, similar to its effects on cats. Drinking catnip tea or using its essential oil may help reduce stress and anxiety.
Sleep aid: Its calming properties can also make it a useful natural sleep aid. Drinking catnip tea before bed may help promote restful sleep.
Digestive support: Catnip has been traditionally used to alleviate digestive issues like bloating, gas, and indigestion.
Pain relief: Catnip is believed to have mild analgesic properties, which can help relieve headaches, toothaches, and other minor aches and pains.
Side Effects
Catnip is generally considered safe for most people when consumed in moderate amounts. However, some potential side effects include:
Allergic reactions: Some individuals may be allergic and could experience itching, redness, or swelling after contact with the plant.
Pregnancy concerns: Catnip should be avoided during pregnancy, as it may cause uterine contractions or stimulate menstruation, leading to potential complications.
Drug interactions: Catnip may interact with medications that affect the central nervous system, such as sedatives and antidepressants. Consult your healthcare provider before using catnip if you are taking any medications.
Overconsumption: Excessive consumption may lead to nausea, vomiting, or diarrhea.
Remember to consult your healthcare provider before using catnip for medicinal purposes, especially if you are pregnant, breastfeeding, or taking medications.
How to use Catnip
Cat toy: Catnip's most popular use is as a natural stimulant for cats. Rub fresh or dried leaves onto a cat toy, or fill a small cloth pouch with dried catnip to create an engaging plaything for your cat.
Tea: Catnip tea is believed to have calming effects on humans. To make this tea, steep 1-2 teaspoons of dried catnip leaves in a cup of boiling water for 10-15 minutes. Strain the leaves and drink the tea to help with relaxation, anxiety, and sleep.
Herbal remedy: Catnip has been traditionally used to alleviate symptoms of colds and flu, such as fever, cough, and congestion. Create an infusion by steeping the leaves in hot water for a longer period of time, then drink the infusion to help relieve symptoms.
Insect repellent: Some studies suggest that catnip oil can repel mosquitoes and other insects. Crush fresh leaves and rub them onto your skin or clothing as a natural insect repellent, or use a commercially available catnip essential oil.
Culinary use: Catnip leaves can be used as a culinary herb, similar to mint or lemon balm. Add fresh or dried leaves to salads, soups, or sauces for a unique flavor.
Aromatic sachets: Fill small cloth bags with dried leaves to create aromatic sachets. Place these sachets in your drawers, closets, or car to enjoy the pleasant, minty fragrance.
Gardening: Planting catnip in your garden can attract beneficial insects, such as bees and butterflies. Additionally, the plant may help repel certain pests like aphids, Colorado potato beetles, flea beetles, Japanese beetles, and squash bugs.
Bath soak: Add a few tablespoons of dried leaves to a muslin bag or tea infuser, then place it in your bathwater to create a relaxing, aromatic soak.
Potpourri: Mix dried catnip leaves with other herbs, flowers, and spices to create a fragrant potpourri for your home.
Compost: Used leaves can be added to your compost pile to help break down organic materials and enrich your garden soil.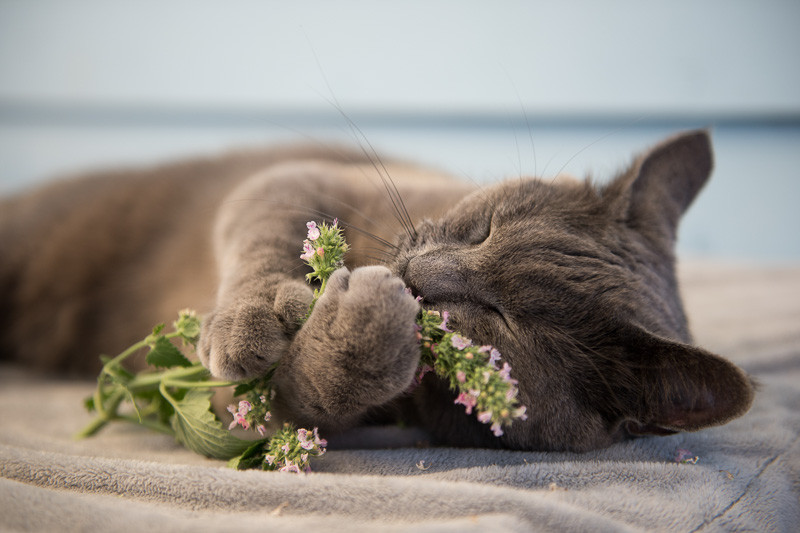 What does Catnip do to Cats?
Catnip has a unique effect on many cats due to a volatile oil called nepetalactone present in the plant. When cats sniff or come into contact with catnip, the nepetalactone can bind to receptors in their noses, stimulating sensory neurons that, in turn, trigger a response in the brain.
The reaction can vary from one cat to another, but common behaviors exhibited by cats under its influence include:
Rolling around
Rubbing their face and body against the catnip or a toy containing it
Purring, meowing, or vocalizing more than usual
Chewing or licking the catnip
Increased playfulness and energy
"Zoning out" or appearing temporarily dazed
These effects usually last for about 10 to 15 minutes, after which the cat becomes temporarily immune to the effects of catnip for an hour or two.
It's important to note that not all cats react to catnip. Sensitivity is hereditary, with an estimated 50-70% of cats being affected by it. Young kittens and senior cats may show little or no response.
Catnip is non-toxic and safe for cats in moderate amounts. However, excessive consumption might cause digestive issues like vomiting or diarrhea. To avoid potential problems, it's best to provide catnip in moderation and monitor your cat's interaction with it.
Why Should I Grow Catnip?
There are several reasons to consider growing catnip in your garden or home:
Cat enrichment: If you have cats, growing catnip can provide them with a source of stimulation and entertainment.
Insect repellent: Catnip contains a compound called nepetalactone, which is known to repel insects like mosquitoes, flies, and even cockroaches. Planting catnip around your garden can help keep these pests at bay.
Attract pollinators: Catnip is known to attract beneficial insects, such as bees and butterflies, which can help improve the overall health and productivity of your garden.
Medicinal uses: Catnip has a long history of use in herbal medicine for its calming and soothing properties. Growing your own ensures a fresh supply for making herbal teas or other home remedies.
Low maintenance: The plant is a hardy, drought-tolerant plant that requires little care once established. It can thrive in various soil types and can even tolerate some neglect, making it an easy plant to grow for beginner gardeners.
Companion planting: Catnip can be grown in your garden to attract beneficial insects like bees, butterflies, and lacewings. It can also help repel certain pests and protect neighboring plants.
Aesthetics: Catnip has attractive, gray-green foliage and produces small, lavender to white flowers that can add a touch of beauty to your garden or home.
Overall, growing catnip can be beneficial for both you and your feline friends while also providing added benefits to your garden ecosystem.
How to Grow and Care for Catnip
Here are some steps to help you grow and maintain a healthy plant:
Choose a location: Catnip prefers full sun to partial shade. It can grow in various types of soil, but well-draining soil is essential to prevent root rot. Choose a location with good air circulation, which will help reduce the risk of fungal diseases. Catnip can be used in many situations: beds and borders, cottage gardens, Mediterranean gardens, and wildlife gardens.
Planting: Catnip can be grown from seeds, cuttings, or transplants. To start from seeds, sow them indoors 6-8 weeks before the last frost date or directly outdoors after the last frost. Keep the soil moist until germination, which usually takes 7-10 days. If starting from cuttings, choose a healthy stem, remove the lower leaves, and place it in moist soil or water until roots develop. Transplanting a nursery-grown plant is also an option.
Spacing: Space plants 18-24 inches apart to ensure adequate airflow and room for growth.
Watering: Catnip is drought-tolerant, but regular watering during dry periods will help the plant thrive. Allow the soil to dry out slightly between waterings to prevent overwatering.
Fertilizing: Catnip doesn't require much fertilization. However, you can apply a balanced, all-purpose fertilizer in the spring if desired.
Pruning: Regularly pinch back the tips of your plant to promote bushier growth. Remove dead or damaged stems and leaves to maintain a healthy appearance. Trim after flowering to keep plants compact and promote continued bloom.
Harvesting: You can harvest catnip leaves and flowers as needed throughout the growing season. The best time to harvest is when the plant is in full bloom, usually in the late morning after the dew has dried. Cut the stems to the ground and hang them upside down in a well-aired place. When perfectly dry, remove the foliage and store it in an airtight container for storage or use immediately for herbal teas, potpourris, or even cat toy fill!
Overwintering: In colder climates, the plant may die back to the ground during winter but will typically regrow from the roots in the spring. You can provide extra protection by applying a layer of mulch around the base of the plant.
Preventing invasiveness: Catnip can self-seed and spread throughout your garden. To prevent this, remove the flowers before they go to seed.
By following these steps, you can successfully grow and care for a healthy and productive plant in your garden.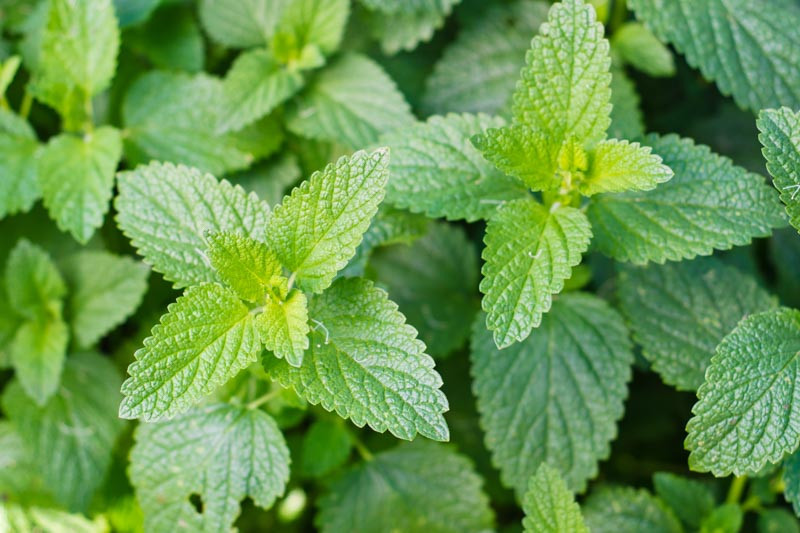 How to Propagate Catnip
Propagating catnip can be done through seeds, stem cuttings, or root division.
Seeds
Start seeds indoors about 6-8 weeks before the last frost date, or sow them directly outdoors after the last frost.
Fill a seed tray or small pots with a well-draining, seed-starting mix.
Sow the seeds on the surface of the soil, then lightly cover them with a thin layer of soil or vermiculite.
Keep the soil consistently moist but not waterlogged, and maintain a temperature of about 65-70°F (18-21°C).
Seeds should germinate within 7-10 days. Once the seedlings have a few sets of true leaves, transplant them outdoors or into larger containers, spacing them about 18-24 inches (45-60 cm) apart.
Stem cuttings
Choose a healthy, non-flowering stem from a mature catnip plant.
Cut a 4-6 inch (10-15 cm) long section of the stem, preferably just below a leaf node.
Remove the leaves from the bottom half of the cutting.
Dip the cut end of the stem in rooting hormone (optional) to encourage root development.
Plant the cutting in a pot filled with moist, well-draining soil or a mix of perlite and peat moss.
Cover the pot with a plastic bag or clear plastic dome to maintain humidity.
Place the pot in a bright location, but avoid direct sunlight, which can overheat the cutting and cause it to dry out.
Keep the soil moist but not soggy, and expect roots to develop within 2-4 weeks.
Once the cutting has established a healthy root system, transplant it into your garden or a larger container.
Root division
In the spring or fall, dig up a mature catnip plant or remove it from its container.
Gently shake off the excess soil and use a clean, sharp tool to divide the root mass into smaller sections, each containing both roots and foliage.
Replant the divisions into the garden or separate containers, ensuring that they are placed at the same depth as they were previously growing.
Water the transplanted divisions well and maintain consistent moisture until they become established.
By using one or more of these propagation methods, you can easily multiply your catnip plants and enjoy their benefits in various areas of your garden or home.
Pests and Diseases
Catnip is generally a low-maintenance plant, but it can still be susceptible to some pests and diseases. Here are a few common issues that may affect catnip plants:
Aphids: These small, sap-sucking insects can cause the leaves to curl and stunt the plant's growth. To control aphids, you can try spraying the affected plants with a strong blast of water to knock the insects off or use insecticidal soap or neem oil.
Spider mites: Spider mites are tiny arachnids that can cause yellowing and speckling on leaves. Like aphids, they can be controlled with a strong blast of water or the use of insecticidal soap or neem oil.
Whiteflies: These small, white insects are another sap-sucking pest that can cause leaves to turn yellow and drop. Control whiteflies by removing infested leaves, using sticky traps, or applying insecticidal soap or neem oil.
Fungal diseases: Catnip can be susceptible to a few fungal diseases, such as powdery mildew, leaf spot, and root rot. To prevent these diseases, ensure proper air circulation around the plants, avoid overhead watering, and remove any affected plant material. Fungicides can also be used if necessary.
To maintain healthy catnip plants, provide proper care, including well-draining soil, adequate water, and appropriate sunlight. Regularly inspect your plants for any signs of pests or diseases, and take prompt action if issues arise.
Frequently Asked Questions
Why do cats like catnip?
Cats like catnip because it contains a volatile oil called nepetalactone, which can have a psychoactive effect on cats. When cats sniff, lick, or chew catnip, the nepetalactone interacts with the olfactory receptors in their noses and stimulates sensory neurons. This leads to a temporary euphoric reaction, causing the cat to exhibit behaviors such as rolling around, purring, and rubbing against objects.
Can cats eat catnip?
Cats can eat catnip; it is non-toxic and safe for them in moderation. Ingesting catnip may cause a milder response compared to sniffing it, but it can still be enjoyable for cats. Some cats may experience mild digestive upset if they consume a large amount of catnip, but this is generally not a cause for concern.
Is catnip bad for dogs?
Catnip is not toxic to dogs, but it does not have the same effect on them as it does on cats. Dogs may be attracted to the smell of catnip, but they usually do not exhibit the same behavioral response. In fact, catnip may even have a calming effect on some dogs. However, it's important to monitor your dog if they consume catnip to ensure they do not experience any adverse effects, such as vomiting or diarrhea, especially if they ingest a large amount.
While every effort has been made to describe these plants accurately, please keep in mind that height, bloom time, and color may differ in various climates. The description of these plants has been written based on numerous outside resources.